Man's best friend as documented by the world's top dog photographers
The Kennel Club announces winners of their annual Dog Photographer competition.
Dogs are the best. These furry creatures are wonderful to be around and endlessly fun to photograph. We're guessing the photographers that entered the 13th annual Kennel Club Photography Competition would agree.
"Good dog photographers know their subject well and take their time in getting a great photograph," says Heidi Hudson, who oversees the annual competition. "Dog photography is mostly about patience—waiting for the right moment to visually capture the personality of the dog."
This year's competition saw nearly 10,000 entries from 70 different countries. Monica van der Maden of the Netherlands took home the top prize for an image featuring a senior great dane named Noa. It's the first time that an image in the 'Oldies' category has topped the competition.
"I always try to capture the image of a dog in a way that you can see the emotion in their eyes," van der Maden says of her winning image. "When I took this picture in the forest early one morning, Noa looked at her owner and you could feel the love between them."
Van der Maden has been professionally photographing dogs for the last decade.
Elke Vogelsang, a German dog photographer and VIP Judge for this year's competition, says that the judges were interested in images with high technical quality that also portrayed an emotional component that hopefully tells an interesting story.
"To me the best shots are of a candid nature that show the natural behaviour of the dog," she says. "It's important to be able to communicate with dogs, motivate them, make them feel at ease and be willing to play."
Her tips for anyone just starting out: volunteer to take portraits at a local shelter or animal rescue to get to know the personalities of dogs and learn your equipment inside and out. If you're fiddling with your camera setting you're likely to miss those candid moments.
Assistance dogs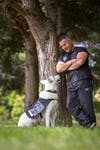 Dogs at play



Dogs at work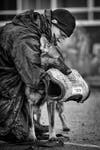 I love dogs because…



Man's best friend


Oldies



Portrait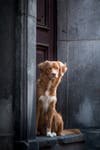 Puppies



Rescue



Young pup



Judges Mentions
Alice Loder, UK – Dogs at Play
Darren Hall, UK – Dogs at Play
Leslie Plesser, US – Dogs at Work
Bendik Almås, Norway – Man's Best Friend
Inés Tafalla, Spain – Man's Best Friend
Viktoria Baranova, Estonia – Portrait
Jonathan Yearsley, UK – Portrait
Alicia Zymslowska, Poland – Puppy
Jarmila Eckardt, Germany – Rescue
Euan Shannon, UK – Young Pup