A fancy New York City shopping center tried to grab photo rights from visitors, but now it's reconsidering
This might not be the ideal place for a selfie.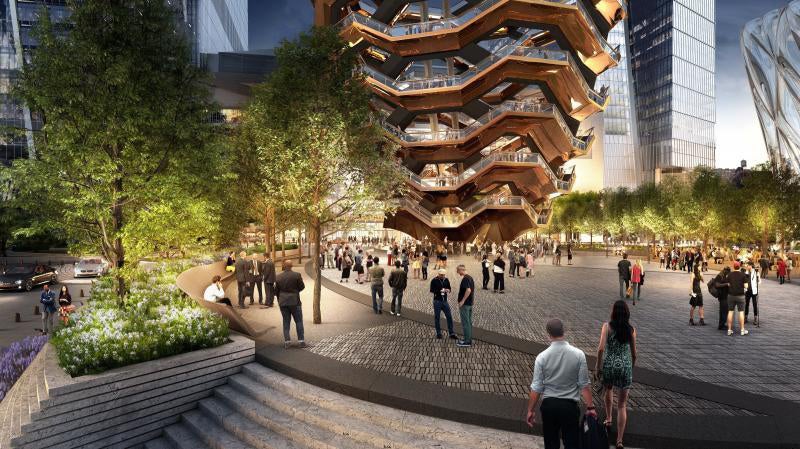 New York City's newest luxury neighborhood, Hudson Yards, opened last Friday and its rights-grabby photo policy immediately caused an outcry. The crown-jewel of the fancy neighborhood is a 150-foot-tall, honeycomb-shaped public art installation made of bronzed steel and concrete. It's known as The Vessel.
The interactive piece of public art was designed to be highly-instagrammable, but the initial Terms & Conditions that came with the free, time-specific ticket would give almost any photographer pause. If you photographed and shared images of The Vessel while visiting it, you were granting Hudson Yards an unrestricted, worldwide, royalty-free and perpetual right to license to the images. It's a nice reminder that nothing in life is actually free.
The language of the original Terms & Conditions is below:
MY NAME AND LIKENESS. If I appear in, create, upload, post, or send any photographs, audio recordings, or video footage depicting or relating to the Vessel, I grant to Company the unrestricted, worldwide, royalty-free, perpetual right and license (with the right to transfer or sublicense) to use my name, likeness, voice, and all other aspects of my persona for the purpose of operating, developing, providing, promoting, advertising, and improving the Vessel or any other products or services provided by Company or its sublicensees (in either case, now known or later developed)….
MY CONTENT. If I create, upload, post or send any photographs, audio recordings, or video footage depicting or relating to the Vessel, I grant to Company and its affiliates the irrevocable, unrestricted, worldwide, perpetual, royalty-free, sublicensable, and transferable right and license to use, display, reproduce, perform, modify, transmit, publish, and distribute such photographs, audio recordings, or video footage for any purpose whatsoever in any and all media…
After online outcry about these overreaching T&C, a spokesperson from the company stated that Hudson Yards would be revising the photo policy.
"The intent of the policy is to allow Hudson Yards to amplify and reshare photos already shared on individual social channels through our website and social channels. This is a practice utilized at nearly all major attractions and we wanted to over communicate, be transparent and disclose to all users. We are refining the language to be more clear."
RELATED: New York judge rules that media companies can't grab photos from social media
There's no info yet on what those revisions might entail, but you might want to think twice before snapping and sharing if you are planning to visit The Vessel.