2009 Camera Of The Year Finalists
Three nominees face off to see who will take top honors this year.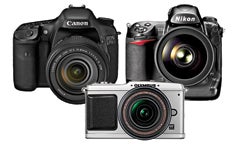 Which camera best refined or redefined photography in the past year? Our editors will evaluate these finalists and tell you in our January 2010 issue of the mag and on popphoto.com.
Canon EOS 7D
By finally providing a truly rugged, pro-oriented APS-C format DSLR, Canon redefines the way people should think about sensor size. Pros now can choose what size sensor best fits their assignment, and enthusiasts have a full range of options based on their shooting style. This solid piece of engineering wowed us with its 18MP CMOS sensor resolution, its fast 8-fps burst rate, and its tough weathersealed body. It also marks a refinement of Canon's metering and autofocus systems, which now work together to track subjects by shape and color. $1,700, street, body only; www.usa.canon.com (Hands On: This 18MP DSLR takes aim at Nikon's D300S.)
Nikon D3x
When we speak of refinement, we think of this 24.6MP full-framer. It delivers more resolution than any other DSLR with a 35mm or smaller sensor. It captures usable images all the way to ISO 6400, has a 5-fps burst rate for action shots, and is built to withstand both Death Valley and Denali. Ample customization and other high-end features expand the capabilities of pro shooters. With Nikon's WT-4a wireless transmitter and Camera Control 2 software, for instance, you can trigger up to 10 D3X bodies from your computer. $7,600, street, body only; www.nikonusa.com (Full Test: The tradeoffs that came with raising the pixel count were well worth it.)
Olympus E-P1
Talk about redefinition: Micro Four Thirds is the first really new concept in interchangeable-lens cameras since the modular 35mm SLR took hold a half-century ago, and Olympus was first to exploit the small size the format permits. The E-P1 evokes the bygone heyday of rangefinders with its beautiful metal body-you can even get a collapsible lens. While not without flaws, it beats some DSLRs in image quality. $750, street, body only; www.olympusamerica.com (Full Test: A Micro Four Thirds shooter that offers a classic design.)