First look: Panasonic Lumix S 35mm f/1.8 lens for L-mount mirrorless
The new Panasonic S 35mm f/1.8 is built with videographers in mind.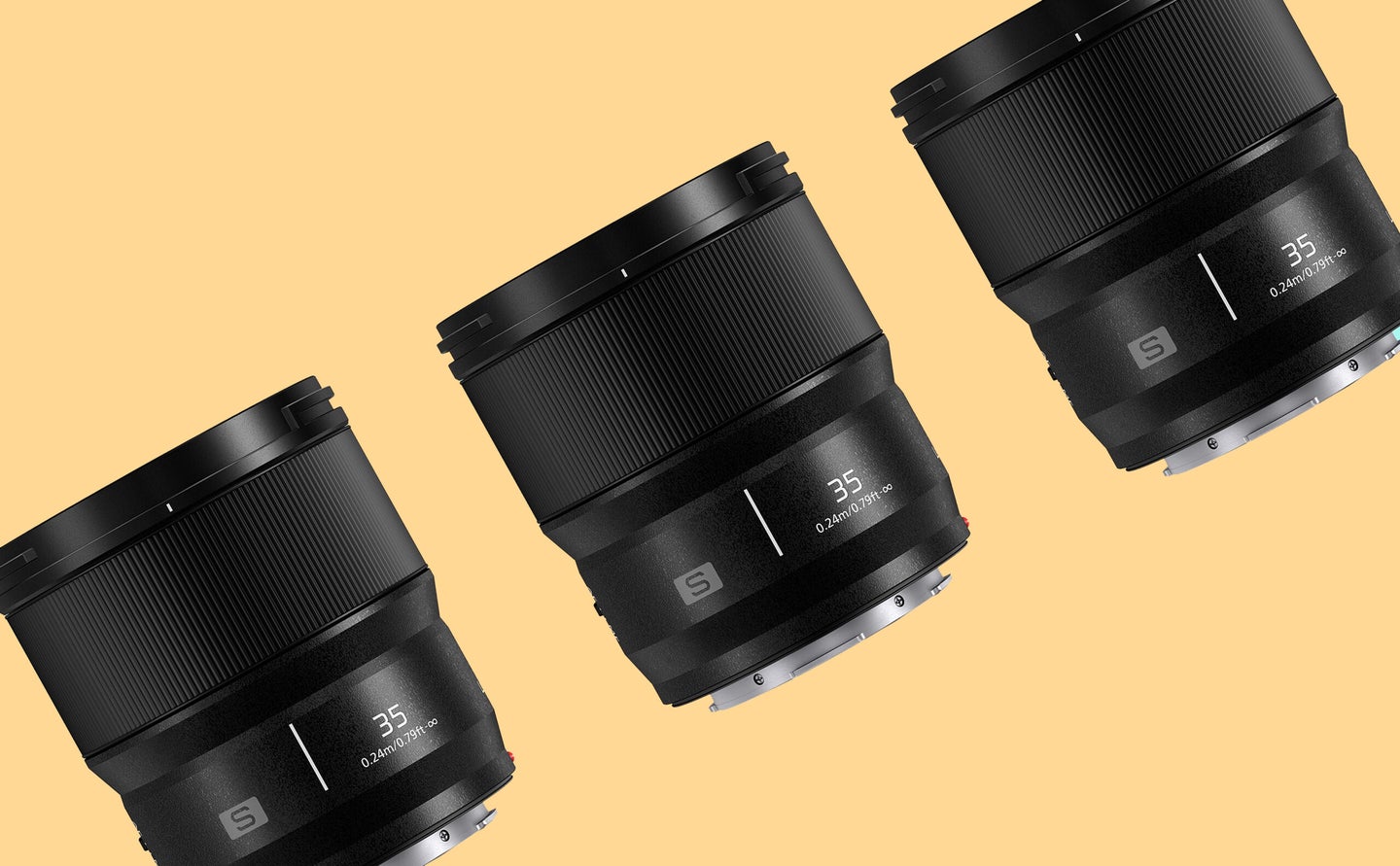 We may earn revenue from the products available on this page and participate in affiliate programs. Learn more ›
A year ago, Panasonic updated its L-mount lens roadmap to include a quartet of bright f/1.8 prime lenses, three of which—the 24mm, 50mm and 85mm—have since hit the market. Today it continues the rapid build-out of this lens lineup with the debut of the last of those previously-teased primes, the Panasonic Lumix S 35mm f/1.8. And for good measure, Panasonic also revealed that one more f/1.8 prime is on its way.
Who's it for
With the full-frame sensors typical of most L-mount bodies, the Panasonic S 35mm f/1.8 is a standard wide-angle lens that's best-suited to landscape, street photography, or even environmental portraiture. Pair it with an APS-C body or a full-frame body in "crop mode", though, and it's effectively a 50mm normal lens that's still conducive to street photography, but also to full-length or waist-up portraits. It should also provide decent close-up possibilities with good subject separation, so long as you don't mind being right on top of your subjects.
But while it should make for a capable stills lens, it's movies that are really the 35mm f/1.8's forte, just as with its other f/1.8 siblings. All four lenses in the quartet (and soon-to-be-quintet) are not only designed to be conducive to video capture, but also to shooting on a gimbal and pulling focus manually. Panasonic hasn't aimed to keep size to a minimum with these lenses, but rather to provide the exact same balance and shooting experience regardless of which focal length you're using.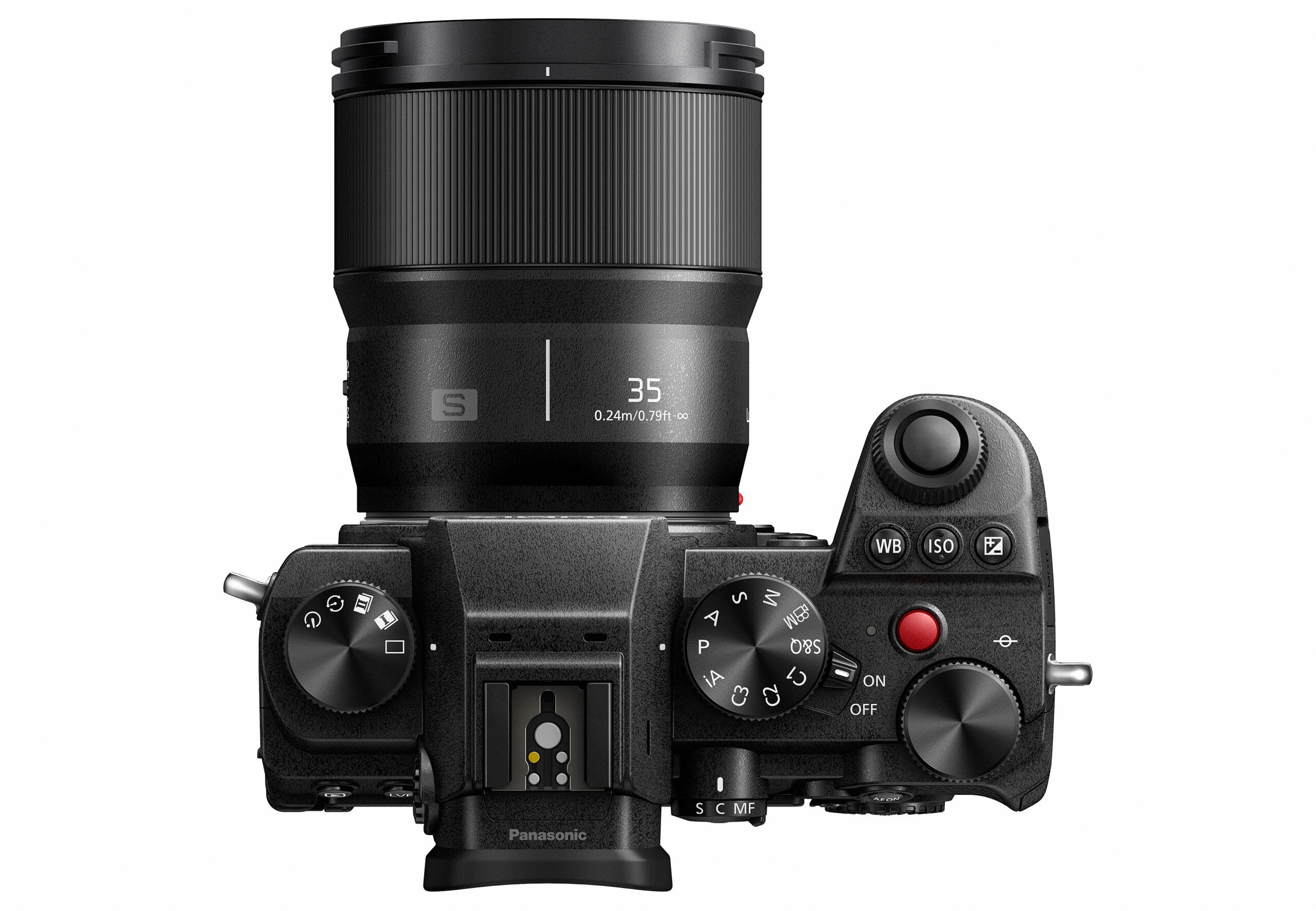 Optical design
The Panasonic S 35mm f/1.8 features 11 individual lens elements in nine groups and forgoes the alphabet salad of exotic glass types used by some lenses, taming optical defects like chromatic aberration with three aspheric elements and three extra-low dispersion (ED) elements.
It forgoes optical image stabilization, but being a wide-angle lens and a fairly bright one at that, it's not likely to be a big deal. (And with Leica SL-series or Panasonic DC-S-series bodies you can rely on the in-body stabilization instead, should you really need it.)
Aperture
Nine-bladed apertures are found in all of Panasonic's f/1.8 primes, and this one is no different. Though you'll likely get even rounder bokeh from the 11-bladed aperture of the slightly brighter and more expensive Sigma 35mm f/1.4 DG DN Art for L-mount and E-mount bodies, especially once stopped down a bit.
Sony likewise opted for 11 blades in its E-mount 35mm f/1.8, which is the closest mirrorless rival to this lens—albeit on a competing mount—leaving Panasonic behind a bit on paper. But nine blades should be sufficient to provide attractive bokeh regardless.
Again demonstrating Panasonic's emphasis on videography for its f/1.8 primes, the Panasonic S 35mm f/1.8 includes a micro-stepping aperture control that allows for aperture changes during video capture without sudden and distracting shifts in exposure.
As for the minimum aperture, you'll be able to stop down to f/22.
Autofocus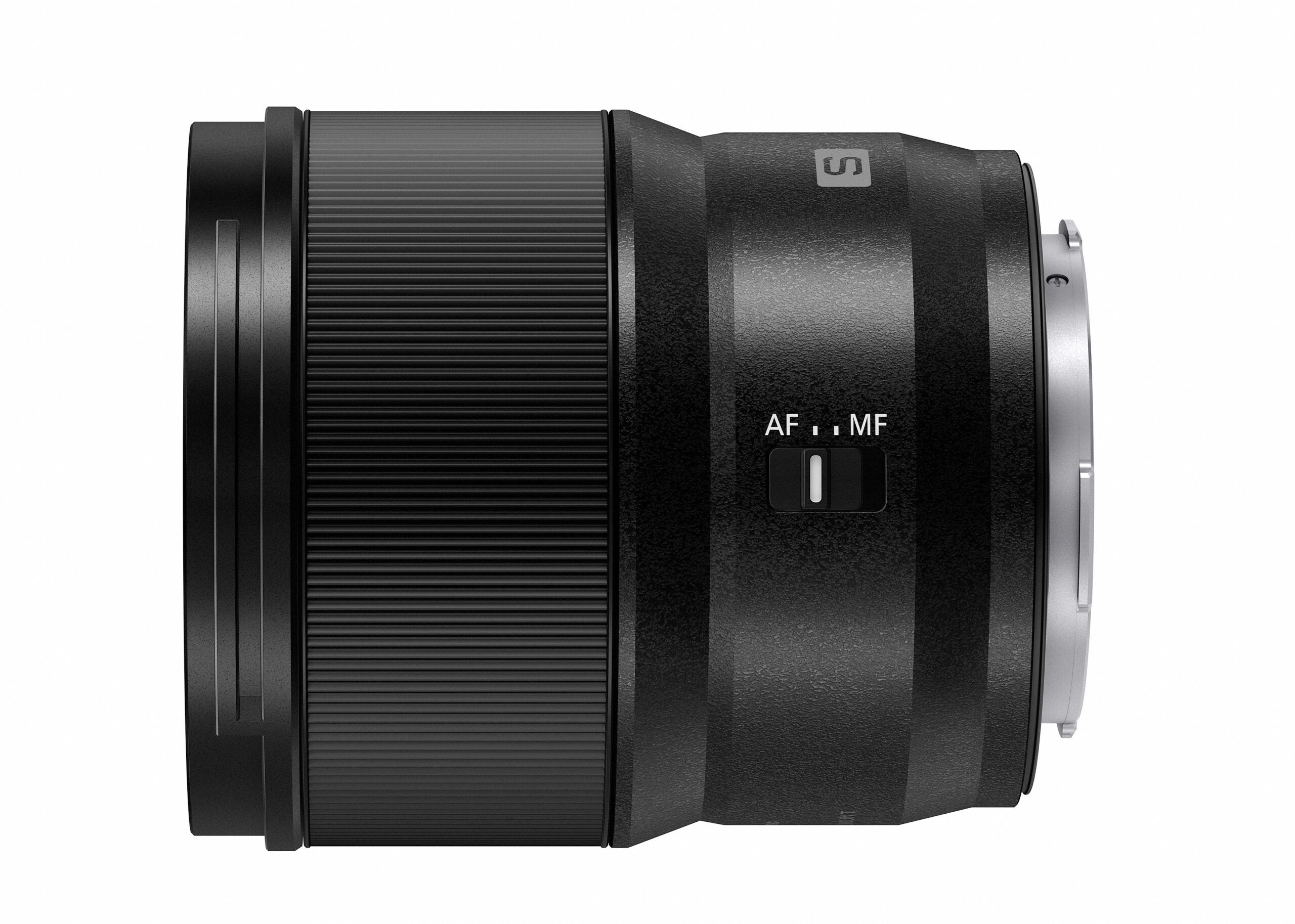 Panasonic has yet to identify what the autofocus drive mechanism for this lens is, but if it's like its siblings, we expect it to use a swift linear motor. The company promises smooth, silent operation and says that this new lens is compatible with its high-performance contrast-detection AF algorithms, which can function at up to a maximum of 240 frames per second.
In another tip of the hat to videography, the lens is capable of repeatable manual focus pulls. In fact, it offers both non-linear focus control as well as a configurable linear control mode. With non-linear control, the lens shifts focus further for a given amount of rotation if you turn the ring more quickly. With linear control, a certain amount of rotation will always result in a corresponding amount of change to the focus distance. (In this mode, you can choose the amount of rotation necessary for a full focus rack in 30-degree increments from 90 to 360 degrees.)
Focus breathing, where the focal length also changes somewhat during focus adjustments, is common in stills-oriented lenses, but a big no-no for videography. Not surprisingly, Panasonic has worked to suppress it in this lens.
And if you want to get really, really close to your subject, the Panasonic S 35mm f/1.8 has a maximum magnification of 0.22x (1:4.5) from a distance of 9.5 inches (24cm).
Build quality
Although Panasonic has yet to detail its construction, we'd expect the 35mm f/1.8 to boast decent build quality but probably with some use of polycarbonate plastic to keep the weight down (at least if its build is similar to other f/1.8 primes in the series). The good news, though, is that like its siblings it offers a dust, splash and freeze-resistant design that includes weather seals throughout and allows use in temperatures from 14 to 104°F (-10 to 40°C).
When compared to its nearest rival, the full-frame E-mount Sony 35mm f/1.8, the Panasonic lens shows itself to be a bit chunkier. That's because Panasonic's priority wasn't on minimizing the envelope, but on ensuring that all of its f/1.8 primes are the exact same size with an identical control layout and roughly the same center of gravity. This ensures both compatibility with follow focus systems for videographers who want to pull focus manually, as well as for gimbals that allow stable video with minimal adjustments when switching between lenses of differing focal lengths.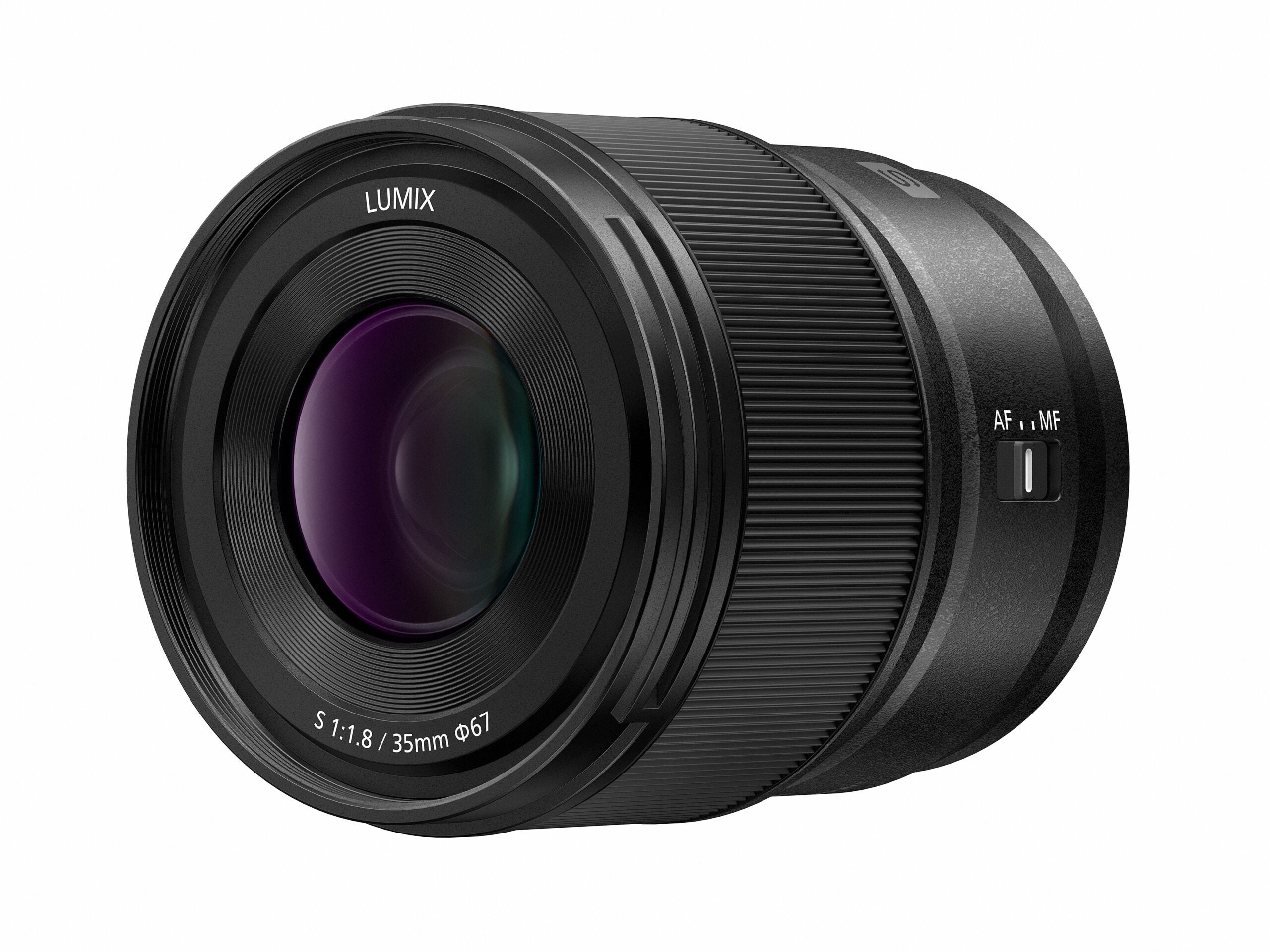 Still, with a diameter of 2.9 inches (7.4cm) and a length of 3.2 inches (8.2cm), it's only a third of an inch (8-9mm) girthier and longer than its Sony rival. And the weight is actually pretty similar, at around 10.4 ounces (295g) without the included caps and lens hood, just a half-ounce (15g) more than the Sony.
Up front, you'll find the exact same 67mm filter threads as Panasonic's other f/1.8 primes. This lets you share the same filters across all four (and soon, five) lenses.
But wait, there's more!
As we've hinted at a number of times in this article, although Panasonic is only officially introducing the 35mm S f/1.8 prime today, the brand has simultaneously taken the wraps off development of another optic. Previously shown on its November 2020 roadmap as a "large-aperture wide fixed focal length" lens, we now know that the next f/1.8 prime will be an 18mm ultra-wide angle. As for when to expect it, well… it took a year from the development announcement of the S 35mm f/1.8 to it being officially announced, so calibrate your excitement levels accordingly.
Panasonic has also announced new firmware for the Lumix S 24-105mm f/4, S Pro 70-200mm f/2.8, S Pro 70-200mm f/4 and S 70-300mm f/4.5-5.6 lenses that will improve image stabilization during video capture, and increase the effective stabilization strength for the 24-105mm f/4 from 6.5 to 7.5 stops when using Dual I.S. 2 on the Lumix S1H, S1R or S1 bodies.
Price and availability
Available from the end of November 2021, the Panasonic Lumix S 35mm f/1.8 (model number: S-S35) will be priced at $699.99. By way of comparison, that's about $50 less than the list price for Sony's competing lens, making the Panasonic a rather good deal on paper—especially given its strong focus on movie capture, a niche that tends to come hand-in-hand with higher pricing.