Ilford's new 'Pop-Up Darkroom' turns any space into a photo lab
Whether you're looking to make photographic prints in a small space, or want to take your print-making on the road, this new tent-style light-tight pop-up looks quite versatile.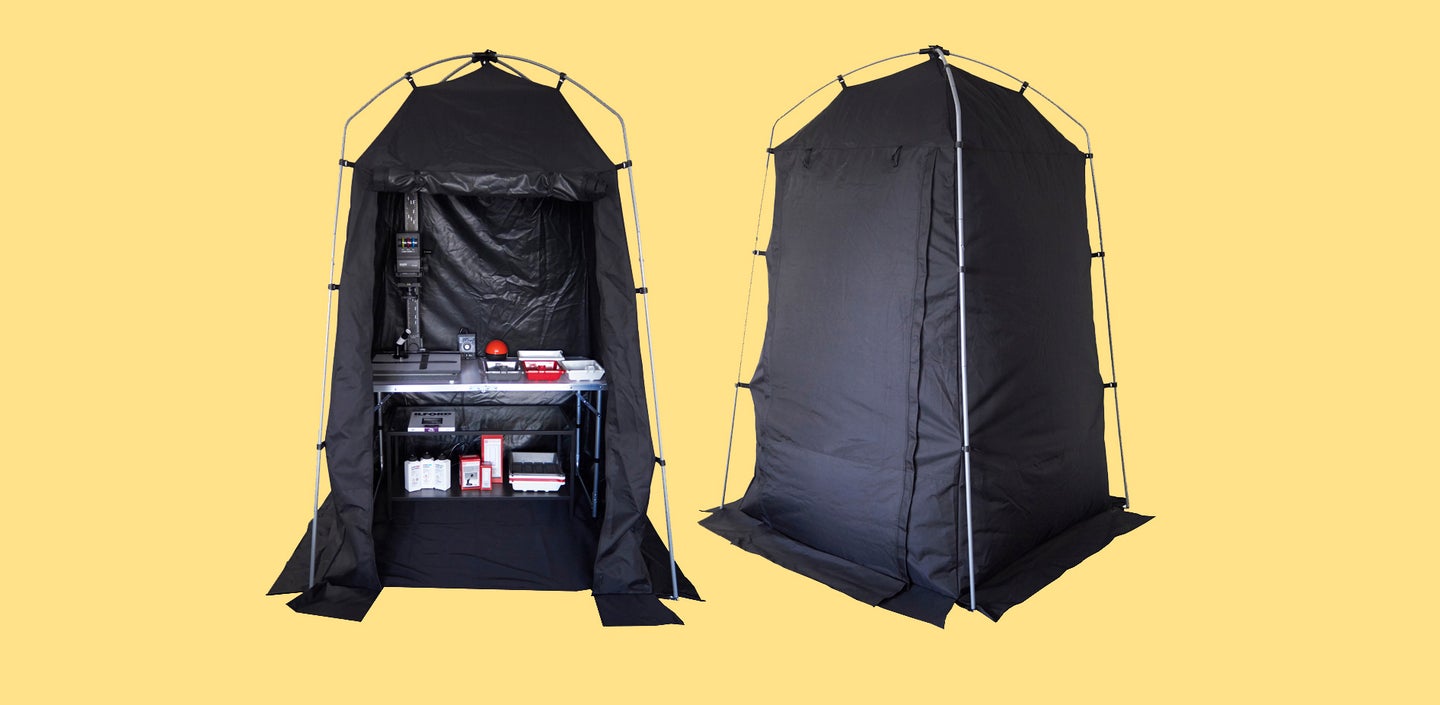 We may earn revenue from the products available on this page and participate in affiliate programs. Learn more ›
It's not often we hear about new innovations in the realm of darkroom printing, but Ilford Photo gave DIYers everywhere something to be excited about this week, with the announcement of the new 'Pop-Up Darkroom.'
The Pop-Up Darkroom is exactly what it sounds like: a tall, light-proof tent designed to make home film developing and printing more accessible to analog photographers. It will ship later this year for roughly $265.
Here's what you need to know. 
Who's the Pop-Up Darkroom for?
Developing film at home can be a challenge. The process of transferring frames from film spool to developing reel is especially difficult. If you don't have a dedicated darkroom (which, hello, most of us don't), this often takes place in a light-tight 'changing bag.'
To execute the film loading process blindly and with one's hands in a bag requires patience, practice, and skill (especially when working with medium format). Fortunately, once your frames are on the reel and in the light-tight developing tank, the rest of the process is daylight-friendly.
But this obviously isn't the case when making photographic prints from negatives—you'll need an entire light-tight space with room for both a film enlarger and trays of chemicals. Unfortunately, for most folks, permanently converting a space in their home into a darkroom is just not feasible.
If only there were some way to create a temporary light-tight space that could 'pop-up' on a whim…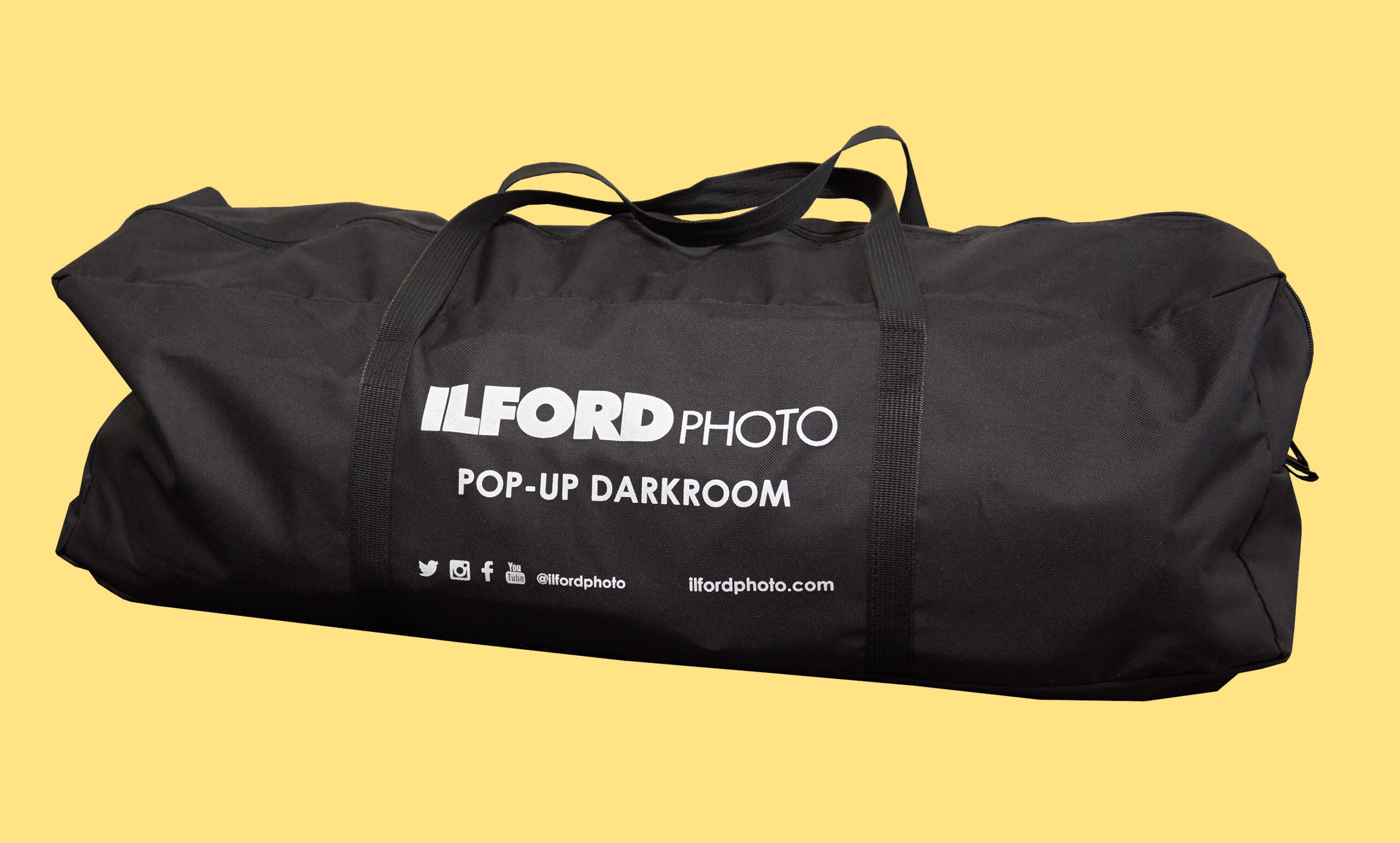 Pop-Up Darkroom specs and details
Ilford's new product allows you to set up a darkroom in virtually any room in your house, or even outside (just be sure to secure it from wind gusts). When assembled, the durable light-proof tent hangs on a 2.2m (~7.2ft) tall frame to give you a 1.3m x 1.3m (~4.25ft x ~4.25ft) working area you can use standing or sitting. It's designed to fit in most North American, European, and Asian homes, which all have an average ceiling height of between 8 and 9-feet.
A built-in air escape at the bottom allows you to use a fan for ventilation. There's also a smaller vent closer to the top that you can attach air extraction tubes to. Developing chemicals can be pretty potent (unless you're using beer), so it's probably a good idea to at least consider some sort of ventilation solution when hanging out in there.
Best of all, when you don't need it, the Pop-Up Darkroom stows into a 0.68m x 0.25m x 0.25m (~2.2ft x 0.82ft x 0.82ft) bag so you can stash it away in a cupboard—though be warned, it weighs a respectable 8kg (17.5lb). 
Why develop and/or print film at home?
Developing your own film, particularly in black-and-white, is quite easy (with the exception of loading the reels!). Plus, the process gives you more options and creative control than you might find at a lab. It can also help you save quite a bit of money in the long run. And printing B&W photos at home is a fun, hands-on process that results in a tangible, one-of-a-kind output.
When is the Pop-Up Darkroom available?
The Pop-Up Darkroom goes on sale in November. Digital Camera World reports that it will retail for around $265, although Ilford hasn't confirmed that price just yet. 
To coincide with the release, Ilford has also announced a Darkroom Starter Kit, made in collaboration with Paterson. It will include everything you need to start developing film in your Pop-Up Darkroom; it will retail for around $150.