Fujifilm Instax Mini Evo Hybrid is a digital instant camera with lots of creative features
The camera features 20 creative filters and lets users select and edit their shots, before making a print.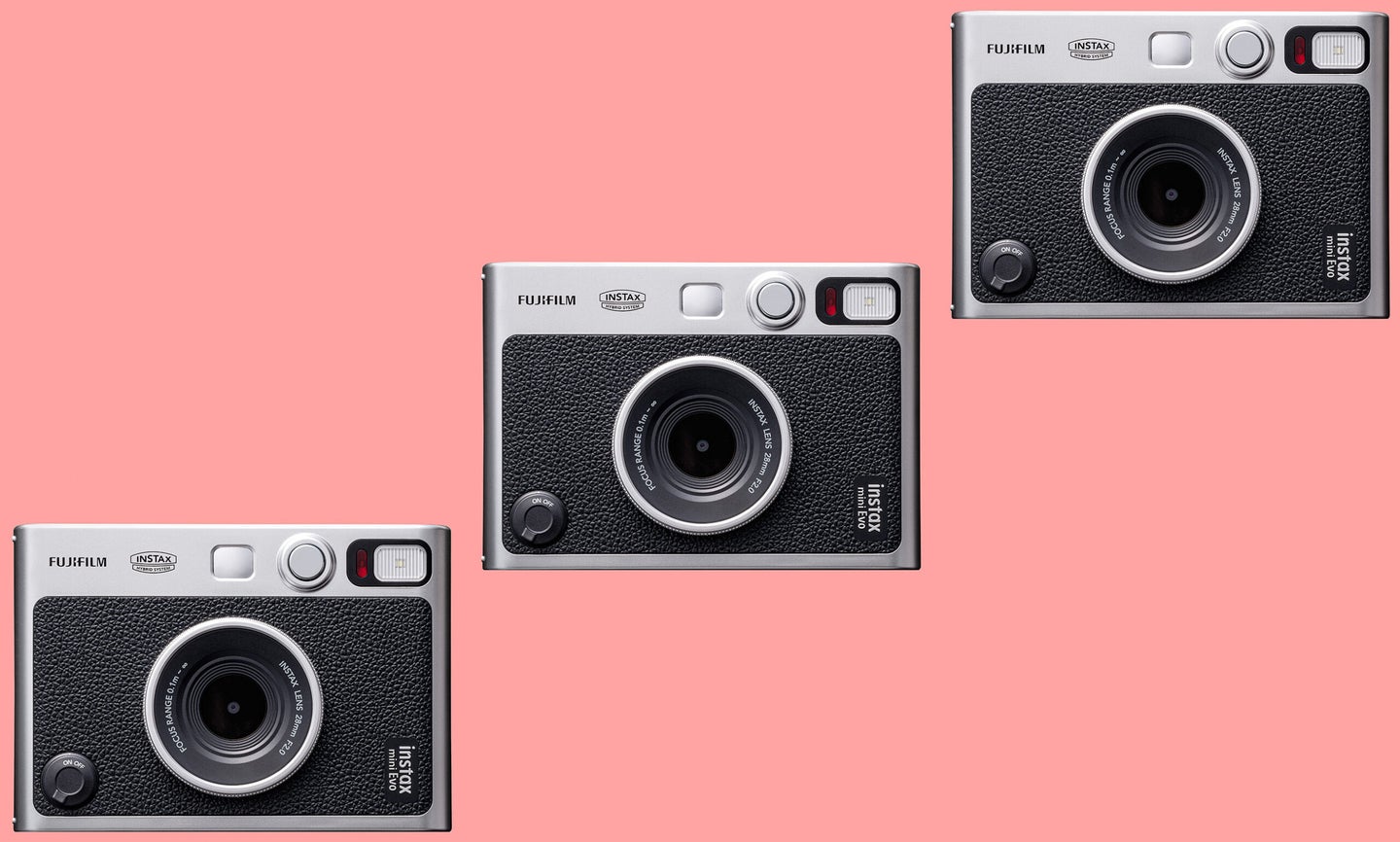 We may earn revenue from the products available on this page and participate in affiliate programs. Learn more ›
Fujifilm has unveiled its latest instant camera, the Instax Mini Evo Hybrid. Unlike most Fujfilm Instax models, this one combines a digital sensor with analog printing capabilities. The pairing allows users to store, edit, and select which shots they want to print. The camera uses the brand's Instax Mini format film, which costs around $0.75 a shot if you buy it in multipacks.
This isn't Instax's first foray into the realm of hybrid cameras. The Instax LiPlay also combines a digital sensor with analog printing capabilities. But the Mini Evo Hybrid has a lot more features to offer in terms of creative photography. Let's take a closer look at how it stacks up against our other favorite instant cameras.
Mini Evo Hybrid features
The Mini Evo Hybrid includes 10 integrated "lenses" and 10 "film effects", giving photographers a lot of creative options when they shoot. The available lens effects include "Normal," "Vignette," "Soft Focus," "Blur," "Fisheye," "Color Shift," "Light Leak," "Mirror," "Double Exposure," and "Half-Frame". In terms of film effects, shooters can choose from "Normal," "Vivid," "Pale," "Canvas," "Monochrome," "Sepia," "Yellow," "Red," "Blue," and "Retro".
Most of these effects are pretty self-explanatory. But if you want a closer look, the video above does a good job showing off examples of quite a few. The Double Exposure, Half-Frame, and Light Leak effects in particular look fun. It's also cool to see that you can combine film and lens effects, for added creative potential.
Storage and battery life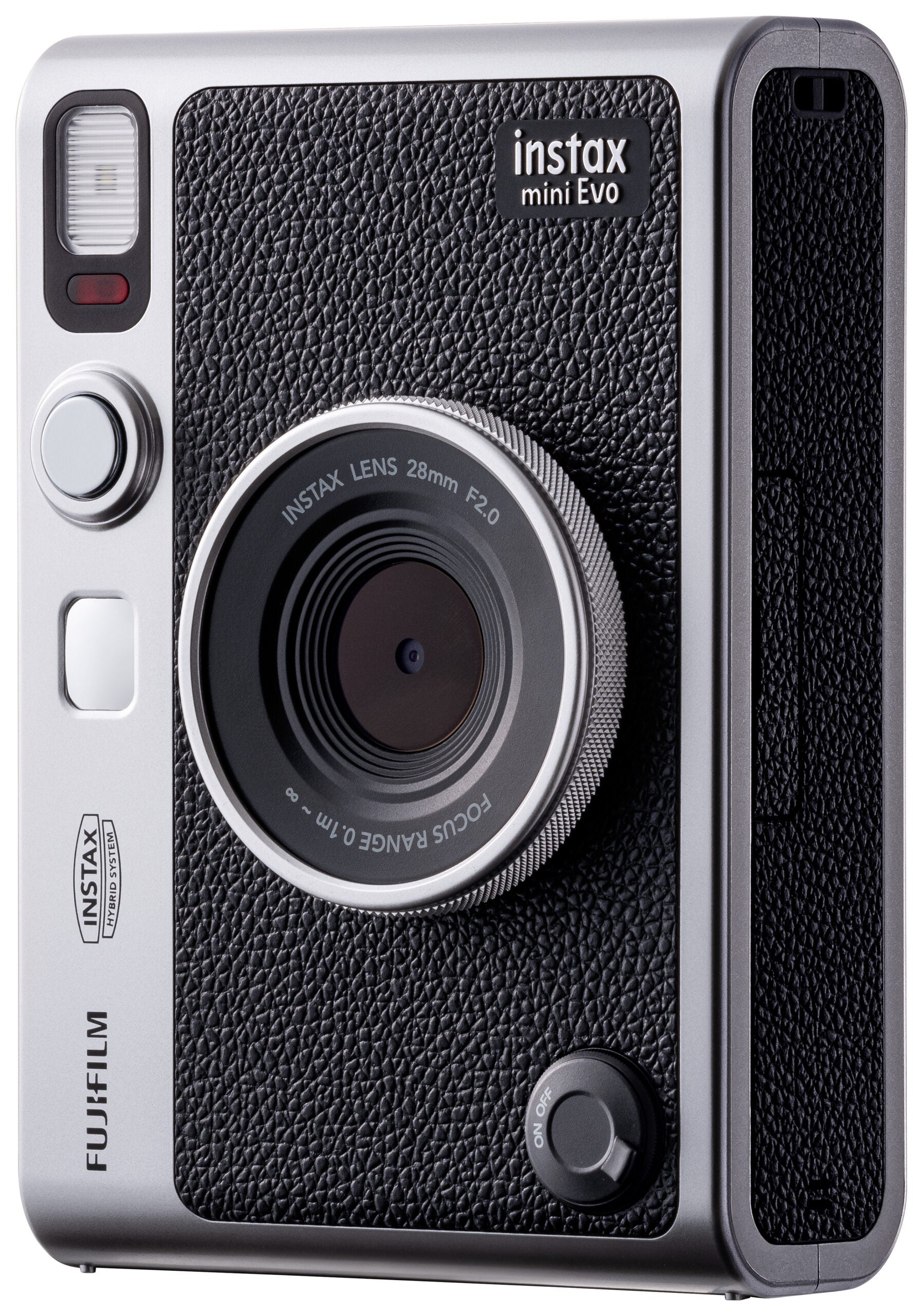 Internally, the Mini Evo Hybrid can store up to 45 shots. But users can expand storage via a microSD card slot. In addition to saving photos on the camera itself, you will also be able to send them directly to your smartphone or smart device via Bluetooth using the Mini Evo app. The app also offers remote shooting options.
In terms of power, a built-in Lithium-Ion battery should allow you to print about 100 images per charge, according to Fujifilm.
Camera design
The unit has a stylish vintage look with its black "leatherette" and silver accents. It even has an adorable "film advance" lever, used for making prints. The 3-inch LCD screen on the back of the camera lets photographers select shots, add creative frames and make small edits to their images before they print. There is one odd omission, though: The camera doesn't have Instax's classic selfie mirror on the front of the camera lens.
Price and availability
The Mini Evo Hybrid will launch alongside a new Instax film line called Instax Mini Stone Gray, which features a gray border instead of the traditional white one. The Instax Mini Evo Hybrid will be available in February 2022 for $199.95. The new film stock will also be available in February 2022 for $14.99 per pack. 
We loved working with Instax's last hybrid Instant camera and look forward to getting the Mini Evo Hybrid in our hands in the new year.