The Massive Shortcut-S Keyboard Tries to Speed Up Photoshop and Lightroom Workflow
Become the king of Photoshop and Lightroom shortcuts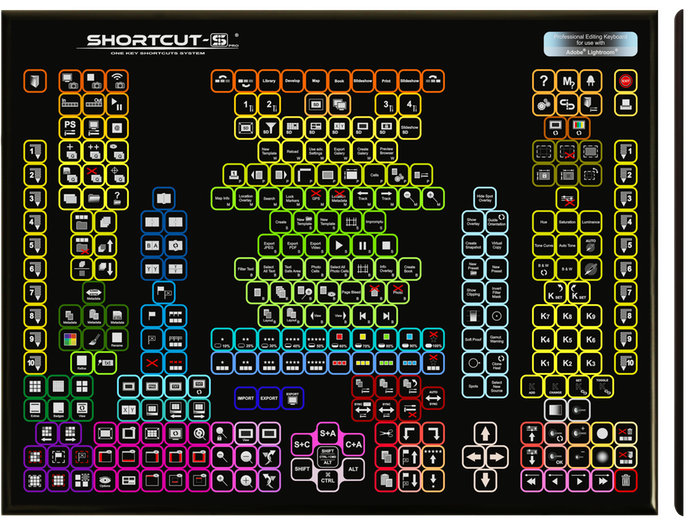 We may earn revenue from the products available on this page and participate in affiliate programs. Learn more ›
About a year ago, I wrote about a Kickstarter for and impressively massive keyboard called the Shortcut-S, which had a ton of keys that represent Photoshop shortcuts. Apparently there was quite a bit of interest in that kind of product, because now Shortcut-S is back on Kickstarter once again with 14 different keyboards to represent different types of software.
For photographers, they have added a Lightroom keyboard to the already-existing Photoshop model. They also support Premiere Pro, Final Cut, and After Effects for video editing, as well as Aperture, which seems a little odd since it's pretty much going away soon.
Beyond that, they now have boards to support Illustrator and InDesign, as well as Word, Excel, Outlook, and (believe it or not) Facebook.
This is the Photoshop version of the Shortcut-S
They keyboards themselves look a bit insane, but if you consider some of the finger Twister some shortcuts require, it starts to seem more reasonable. When I mash down the command, options, and shift keys to Save for Web the photo for this post, it would certainly be easier just to use one button. Of course, I'd have to find that button on the massive 325-key keyboard, but I'd get used to it.
The keys are all put in color-coded groups to make finding them among the army of buttons a little quicker. I already have a wedding to edit for this year, so I would actually be interested in trying something like this for Lightroom to see if it speeds up my process.
If you want a single Pro keyboard, you can get in on the Kickstarter for $129, but if you want more, they offer a ton of packages in case you want to dedicate yourself to having a big, crazy keyboard for every single program you use.
What do you think? Would you make room for something like this on your desk?