New Gear: Canon Announces 24-105 F/3.5-5.6 IS STM, 400mm F/4 DO IS II and 24mm F/2.8 STM Pancake Lenses
A trio of new lens options for Canon shooters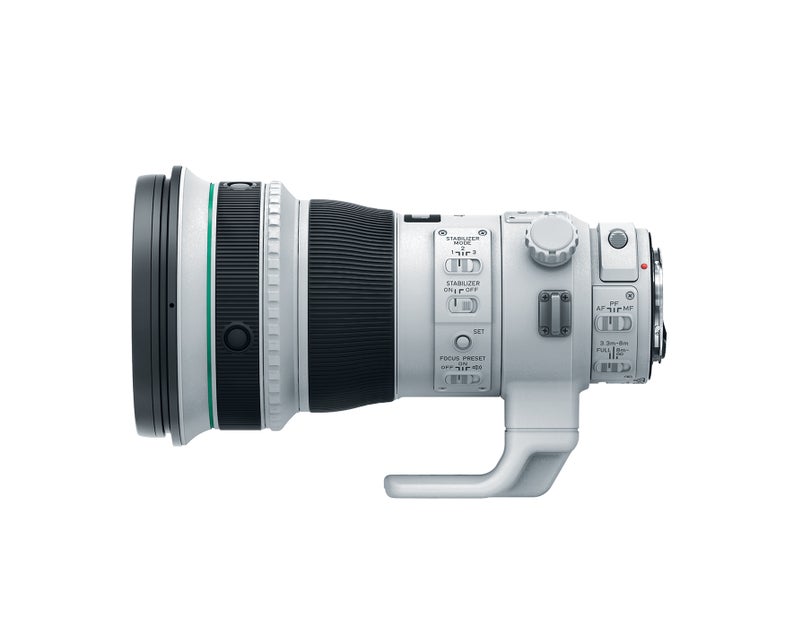 To go along with their new 7D Mark II DSLR today, Canon has announced a trio of new lenses including, 24-105 f/3.5-5.6 IS STM, 400mm f/4 DO IS II, and 24mm f/2.8 STM Pancake.
EF 400mm f/4 DO IS II USM

If you're a Canon shooter, you're probably used to seeing a red ring around the rim of a lens, but the green ring is a bit mysterious. That indicates that it's part of Canon's DO line, which stands for Diffractive Optics. Using a unique optical pattern, the 400mm f/4 DO IS II USM weighs in at 4.6-pounds, which is about half what the f/2.8 version weighs.
The older Canon DO lenses could have a bit of an issue with flare due to their construction, but they claim that rearranging the elements inside have eliminated those troubles.
The lens also has built-in IS and is resistant to water and dust, like you'd expect from an L-series lens. It will be available in November for $6,899.
EF 24-105mm f/3.5-5.6 IS STM

The 24-105mm focal range should be familiar to Canon shooters because of their popular 24-105mm f/4L IS. Now, they have changed up the aperture a bit and added STM to make it work better with their newer DSLRs.
It has optical image stabilization, which they promise gives you four stops of vibration reduction. It has a seven-blade circular aperture and improved AF performance thanks to the STM technology.
It will be available in December for $600, which makes it decidedly cheaper than the f/4L version.
EF-S 24mm f/2.8 STM

The last lens in the new batch is a 24mm pancake lens with built-in STM tech. It's built for APS-C cameras (hence the EF-S) and has a seven-blade aperture. We actually really, really liked the 40mm f/2.8 pancake lens, so we have high-hopes for this one as well, especially since it offers the full-frame equivalent field of view of a 35mm lens.
The 24mm will be available for $149 starting in November.
We'll be getting hands-on time with all these lenses over the course of the show, so stay tuned for more coverage.