Lens Test: Canon 24-105mm f/4L IS USM AF
Canon's multi-purpose lens.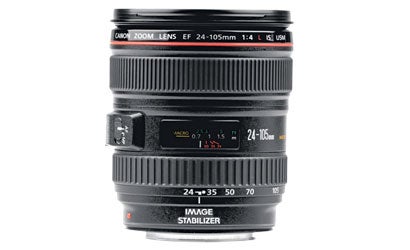 We may earn revenue from the products available on this page and participate in affiliate programs. Learn more ›
Pro shooters have been asking Canon for an image-stabilized, wide-angle, general-purpose zoom with a constant aperture, weather resistance, and full-frame coverage. (Amateurs have a comparable one in Canon's $420 28-135mm f/3.5-5.6 IS lens.)
This $1,250 (street) lens, a study in contrasts, is the response. Optically challenged but highly functional, heavy but not fast, a "macro" lens but with average magnifying power, and popular but expensive-it's like the bumble bee, which aeronautically shouldn't fly, yet does.
HANDS ON: It's as big as an f/2.8, well-constructed, and solid. The newly redesigned AF and IS switches are recessed and stiffer-impossible to mis-set. Its focus and zoom rings' fluid turning action is smooth, but the focusing scales (especially the feet) are small and hard to read.
IN THE LAB: SQF tests found Excellent sharpness for the tested focal lengths, an average performance. Its distortion numbers are much better than Canon's 28-135mm lens: In DxO Analyzer 2.0 tests, it shows Visible barreling at 24mm (0.76%), and Slight pincushion distortion at 70mm and 105mm (0.27% for both).
Light falloff was gone by f/13 at 24mm, and by f/5.6 at the longer focal lengths-not good. Minimum focusing distances ranged from 16.25 to 17.25 inches, with a top magnification ratio of an equally lackluster 1:4.6.
CONCLUSION: This would be great for travel photography and about 90% of a wedding photographer's work. But as an f/4, it can't help in low light or with defocusing many backgrounds, so most wedding shooters will still have to carry another higher-speed lens in its zoom range.
Also, on film and full-frame-sensor cameras, its vignetting and visible distortion preclude more clinical applications. But on the EOS 20D or 30D, the lens is equivalent to a 38-168mm, ideal for studio or location portraiture; and with their APS-sized sensors, the vignetting disappears.
This is Canon's widest IS zoom, so if wide angle and stabilization are priorities (and budget isn't), it may be for you. And if you can live with its imperfections, it may turn into your most-used L-series zoom.
Specifications: 24-105mm (24.60-106.10 tested), f/4 (f/4.12-4.27 tested), 18 elements in 13 groups. Focusing turns 130 degrees counterclockwise. Zoom ring turns 65 degrees clockwise. Focal lengths marked at 24-, 35-, 50-, 70-, and 105mm.
Diagonal view angle: 84-23 degrees.
Weight: 1.51 lb. n Filter size: 77mm.
Mount: Canon AF. n Included: Lenshood, softcase. n Street price: $1,250.