New Gear: Sony A5100 Camera With Hybrid AF
It doesn't have an electronic viewfinder, but Sony's new ILC offers high-performance for not a lot of money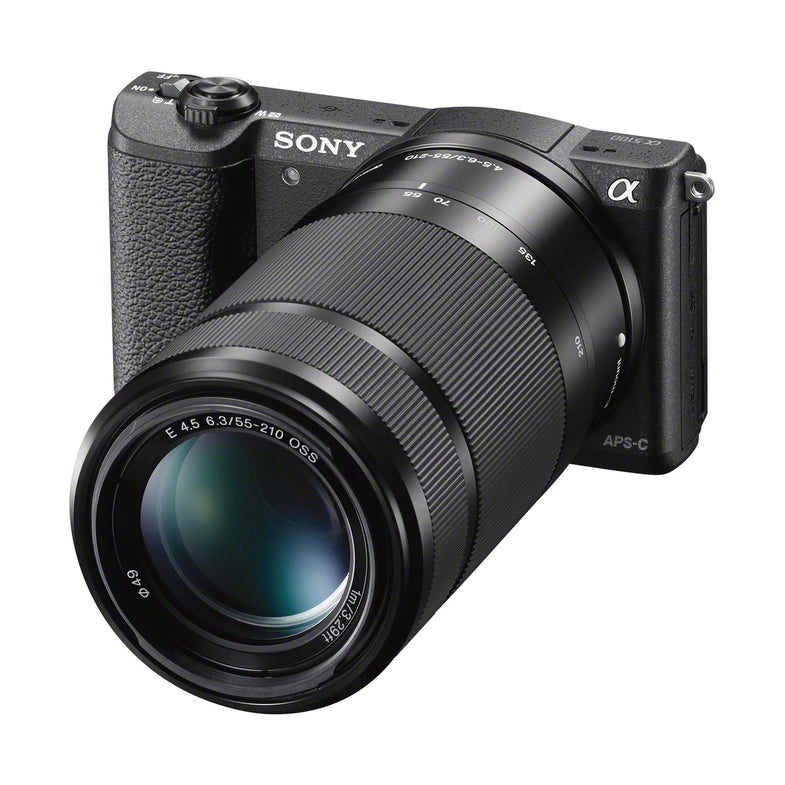 We may earn revenue from the products available on this page and participate in affiliate programs. Learn more ›
Hybrid autofocus is becoming the standard for interchangeable-lens compact cameras, and now Sony has brought it to what used to be the NEX-5 series with the A5100.
At the A5100's heart is a 24.3-megapixel APS-C sensor that has 179 phase detection AF pixels baked right into it. It's reminiscent of the A6000 in that regard, and Sony claims it can focus in as little as .07-seconds. The sensor is paired with their newest BIONZ X processor, so we wouldn't be surprised to see noise performance tick up from the old NEX-5 cameras, either.
The back of the camera is dominated by a 921,000 pixel WhiteMagic touchscreen you can use to select focus and navigate the menu system. The screen also flips 180-degrees upward to face completely forward, which is a function custom made for taking "selfless."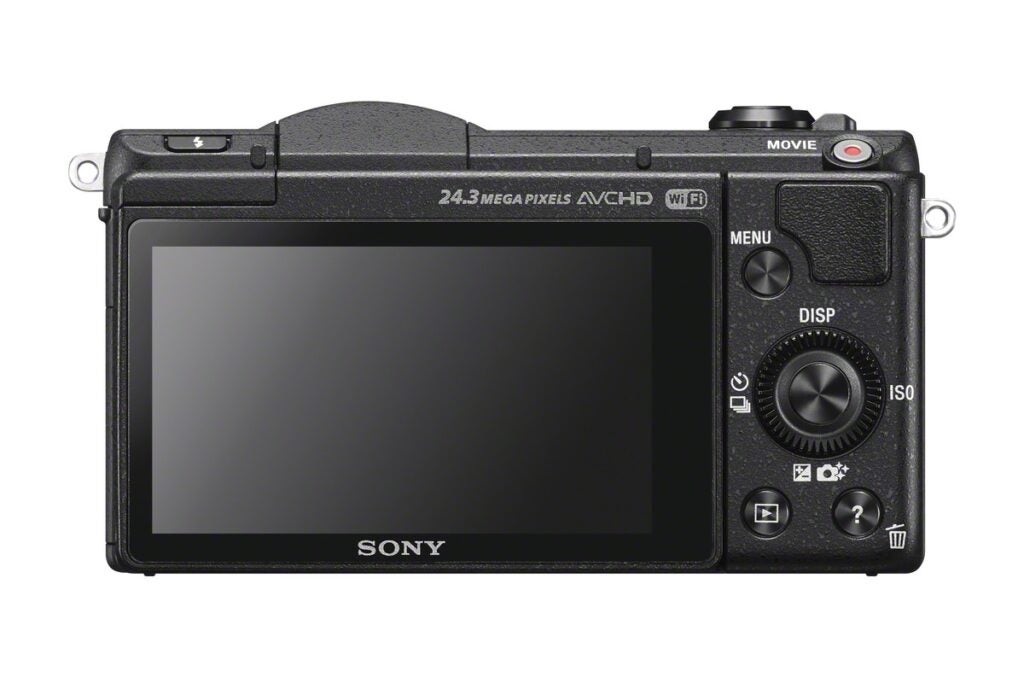 In addition to the new AF system, the A5100 has also gotten some upgrades in the realm of video capture. It can churn out footage with a data rate of over 50 Mbps while maintaining full AF performance. it can also record two separate video files–one high res and one lower res for sharing–at the same time to the same card.
As you'd expect with modern Sony cameras, it has WiFi and NFC built-in, so you can use their PlayMemories apps for things like sharing photos to your devices and even remotely controlling the camera from a smartphone or tablet.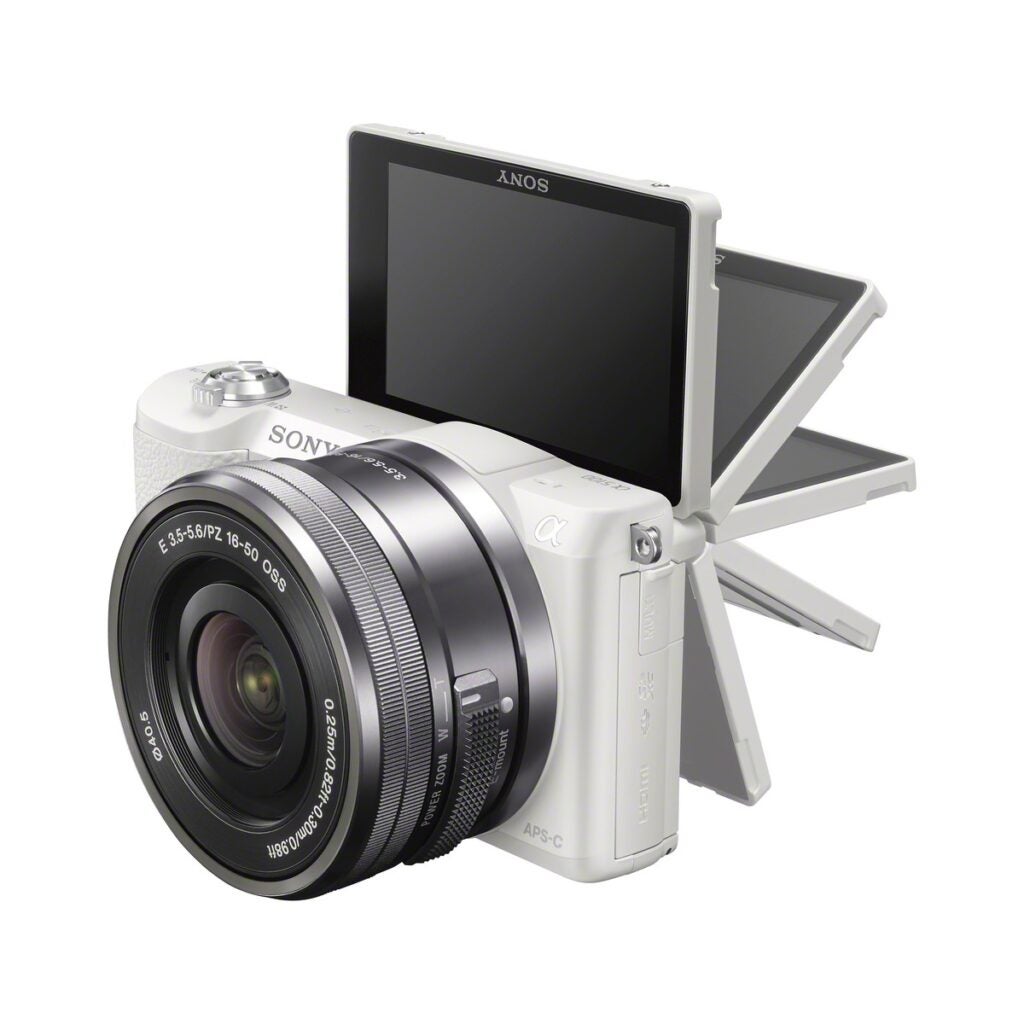 The camera will be launching in September with a price tag of $700 for the kit with the 16-50mm motorized zoom lens or $550 for the body alone. That means you can get the kit for $100 less than their true compact, the RX100 Mark III.
You don't get the viewfinder you would if you opted for the more-expensive A6000, but with lots of features and very aggressive price tag, we'll be very excited to see the test results when the A5100 hits our lab in the coming weeks.
Full Press Release Below
Sony Debuts Ultra-Compact α5100 Interchangeable Lens Camera with Impressive Autofocus
New Mirrorless Camera Features Remarkable AF speed and tracking, 24 MP APS-C Size Sensor, BIONZ X™ Processor and more
SAN DIEGO, Aug. 17, 2014 – Sony Electronics has today introduced the stylish new α5100 camera, a new model packing pro-quality AF performance and image quality into a portable, lightweight package.
_The speedy new camera (model ILCE-5100) features the same Fast Hybrid AF system as the acclaimed α6000 model, which allows it to acquire focus in as little as 0.07 seconds1. It also shares the α6000's image sensor – a 24.3 MP APS-C Exmor™ CMOS sensor – and powerful BIONZ X processor. This impressive combination of hardware ensures that the camera can capture still images and full HD videos in sharp focus with incredible detail. _
Unique to the new α5100 is its extremely compact design, placing it among the smallest and lightest interchangeable lens cameras in market today.
_ "Sony continues to innovate in the mirrorless camera space, offering products that are not only smaller and lighter than competitive DSLRs, but that consistently outperform them," said Neal Manowitz, director of the interchangeable lens camera business at Sony. "The new α5100 is a primary example, offering world-class AF speed and performance in a palm-sized body at a great price. It's powerful enough to satisfy the most experienced DSLR shooters, yet not too intimidating for the casual weekend photographer."_
Fast Hybrid AF system
Borrowing from the award-winning α6000, the compelling Fast Hybrid AF system on the new α5100 camera features focal plane phase-detection AF points with an extremely wide autofocus coverage area (179 focal points) that is teamed with high-precision contrast-detection AF. This potent combination allows the camera to accurately track and respond to a subject moving through nearly the entire frame, whether shooting still images or full HD videos.
_Additionally, the α5100 camera has an extremely responsive touch screen which works with the AF system to enable Touch Focus, allowing shooters to focus by simply touching the intended subject on any area of the LCD screen – even if it's at the far edges. _
The new α5100 model also comes equipped with Eye AF and Lock-on AF functions that debuted in the α7/ α7R, a Flexible Spot AF area function, and AF-A mode (automatic switching between AF-C and AF-S) that is also offered in the α6000.
HD Video Performance
_ The versatile α5100 supports full HD video shooting in AVCHD as well as the XAVC S2 codec, which records video at a high data rate of 50 Mbps with advanced compression for impressive video quality. XAVC S paired with the advanced focusing system of the α5100 makes for a compelling HD video shooting solution that only a select number of cameras in market today – mirrorless or DSLR – can offer._
_ Additionally, with the power of the BIONZ X processor, the camera is able to read, process and output data from all of the sensor's pixels during video recording, ensuring that it produces the highest quality video possible by eliminating aliasing, moiré and false color artifacts. _
_The new camera also features dual video recording, allowing it to simultaneously record two files – one in Full HD (AVCHD or XAVC S) and the other in lower resolution MP4 format – to a single installed SD card2. This gives videographers a high-quality file for viewing on large screens or working on in post-processing, as well as a smaller, lower data-rate version that is ideal for uploading and sharing. _
Design, Controls, Wi-Fi® and New Accessories
_The compact new mirrorless camera features a high resolution 921k dot WhiteMagic™ LCD screen that can tilt a full 180 degrees upright, ideal for self-portraits. On top of the camera body, there's a zoom lever for convenient one-handed camera operation and a handy pop-up flash for tough lighting conditions. _
_The α5100 camera has built-in Wi-Fi, giving consumers one-touch connection with Xperia® or NFC-compatible Android™ smartphones or tablets for instant image transfer and sharing. A single touch also activates Smart Remote Control, giving users a live image preview through their compatible smartphone or tablet, and allowing them to use the smart device to release the camera's shutter. _
For devices without NFC one-touch capabilities, users can wirelessly transfer images and videos and activate Smart Remote Control through Sony's free PlayMemories Mobile™ application, available for the iOS and Android platforms.
The camera is also compatible with downloadable Sony PlayMemories Camera Apps, adding a range of exciting and creative capabilities. Currently there are a total of 10 different applications available with several others to be released this spring. Learn more at www.sony.net/pmca .
New accessories that are compatible with the α5100 camera include the style-matching LCS-EBD body case – available in three color variations – as well as the compact, easy-to-carry RM-SPR1 remote.
Pricing and Availability
The Sony α5100 compact interchangeable lens camera will be available in September 2014 in black and white in a kit with a compact, versatile 16-50mm motorized zoom lens (model SELP1650) for about $700, or as body-only for about $550.
The new camera and all compatible lenses and accessories will be available at Sony retail stores (www.store.sony.com) and other authorized dealers nationwide.
Sony α Lenses Assortment
The α5100 camera is compatible with Sony's ever-growing assortment of E-mount interchangeable lenses, and uses the same Sony E-mount as the acclaimed α6000, α7, α7R and α7S models, as well as all the previous α 'NEX' cameras. All Sony 'FE' and 'E' lenses are compatible with all E-mount cameras.
Outlined below, the E-mount family now includes 20 different models with several premium models from ZEISS® and Sony's G Series Lenses:
· E 16mm F2.8
· E 20mm F2.8
· E 35mm F1.8 OSS
· E 50mm F1.8 OSS
· E 30mm F3.5 Macro
· E 24mm F1.8 ZEISS
· E 10-18mm F4 OSS
· E PZ 16-50mm F3.5 – F5.6 OSS
· E 18-55mm F3.5 – F5.6 OSS
· E 18-200mm F3.5 – F6.3 OSS
· E 18-200mm F3.5 – F6.3 OSS LE
· E PZ 18-200mm F3.5 – F5.6 OSS
· E 55-210mm F4.5 – F6.3 OSS
· E PZ 18-105mm F4 G OSS
· E 16-70mm F4 ZEISS OSS
· FE 28-70mm F3.5 – 5.6 OSS
· FE 35mm F2.8 ZEISS
· FE 55mm F1.8 ZEISS
· FE 24-70mm F4 ZEISS OSS
· FE 70-200mm F4 G OSS