New Gear: Sony $400 A3000, NEX-5T, and Two New Lenses
Sony gets aggressive at the entry-level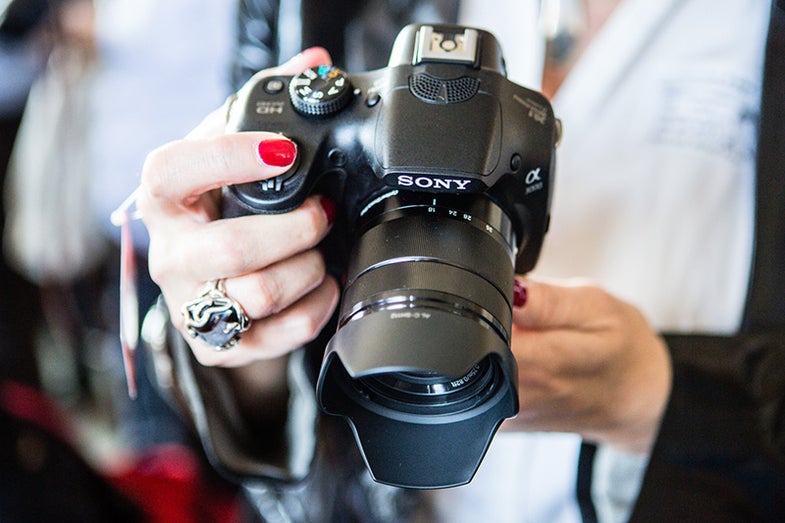 We may earn revenue from the products available on this page and participate in affiliate programs. Learn more ›
There has been a lot of talk lately about how compact camera are going away, suffering a fate sealed by the omnipresence of smartphone cameras. However, that leaves lots of opportunity at the low-end of the interchangeable-lens camera market and Sony looks to be taking full advantage. Their new A3000 is a full-featured, powerful camera that will sell for just $400 with a lens when it launches next month.
The A3000 isn't a true DSLR because it doesn't have a mirror. Like some of their NEX-series cameras, an image is fed directly from the sensor to an electronic viewfinder at eye-level. That means it's limited to contrast AF, but it also offers the benefits of an EVF like 100% coverage, and the ability to review images without taking the camera away from your eye.

Also like the NEX cameras, the A3000 actually uses E-mount lenses. You can only use A-series lenses with an adapter, which really does make this a hybrid camera in terms of Sony's terminology.
The really impressive part, though, is the price. At $399, it's one of the cheapest cameras of the type. It's even cheaper than Canon's popular-but-aging T3, which doesn't even have a video function. The A3000 on the other hand has a slew of video features, including a maximum recording resolution of 1920 x 1080 at 60i.
The sensor is a 20-megapixel APS-C chip, which coupled with Sony's BIONZ processor is capable of 3.5 fps in still mode and a top ISO of 16,000.

When it launches in September, it'll come bundled with the 18-55mm F/3.5-5.6 kit lens. We had a little hands-on time with a pre-production version and it really is looking good. It's not quite as small as the tiny Canon SL1, but it's very light, thanks in part to the lack of mirror box. And despite its small size, you can still fit all your fingers on the grip. Even my bear paw fit onto it, which is a concern with compact DSLRs.
We wouldn't be at all surprised to see this segment of the market get really competitive in the coming year. That sounds just fine to us.

The other new piece of kit from Sony is the NEX-5T, which is very similar to the NEX-5R that came before it. New additions include a flip-up touchscreen made for taking self-portraits (like the one found in the NEX-3N) and NFC to make for simpler pairing to a smartphone or tablet. It still has the accessory port on the top as well. It will be available in September for $699 as a kit, which now includes the 16-50mm electronic zoom lens instead of the old 18-55mm.
On the lens front, Sony will soon be unleashing two new options. The first is the Zeiss Vario-Tessar T* E 16-70mm F/4 OSS. With an equivalent focal range of 24-105mm, it's Sony's answer to an increasingly-popular focal length. With a price tag of $1,000, it's actually priced very competitively against those from others like Canon and Nikon.

The other lens is the E PZ 18-105mm F/4 G OSS, which is just $599. It maintains the Optical Steady Shot, but loses the Zeiss glass, which helps explain the cheaper price tag. That won't launch until the end of the year. But, I think both of these are fantastic additions to the E-mount line-up. Sony is clearly aiming their new gear at those looking to step up their photography, and the popularity of constant F/4 zooms plays right into that strategy.
We'll have full tests of everything when retail models become available.