New Gear: Canon T3 and T3i Entry-Level DSLRs
Canon offers beginners more options with updates to their entry-level DSLR-line.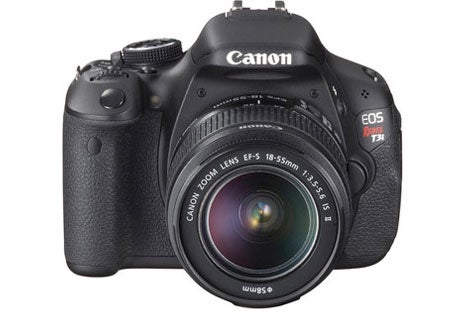 We may earn revenue from the products available on this page and participate in affiliate programs. Learn more ›
OK, so it's not the 5D Mark III announcement some of you have been hoping for, but Canon has two new entry-level models ready for market at the end of March. The T3i is, predictably, the update to the Rebel T2i, which uses the same 18-megapixel CMOS sensor and Digic 4 processor as its predecessor. In the upgrade department, it gets a swiveling, 1,040,000 dot LCD monitor as well as more Speedlite controls to go along with the new flashes (270EX II and the 320EX). Of course, it also maintains the full suite of video features that made the T2i so powerful in the first place. It will be available in March for $799.99 (body only), or $899.99 as part of a kit.
The T3 is Canon's new most basic model, opting for a 12.2-megapixel CMOS sensor and the Digic 4 processor. Its video capabilities max out at 1280 x 720 and it uses a 63-zone dual-layer metering system and a nine-point AF system. It will be available with the new EF-S 18-55mm f/3.5-5.6 II kit lens for $599.
In order to make their entry-level line even more appealing they have included several beginner-friendly options. The first is their EOS Feature Guide, which provides guided recommendations and explanations for camera settings and modes.
The Basic + Function allows allows shooters to make basic exposure adjustments when shooting in any of the creating shooting modes. This is augmented by their A+ Auto mode, which takes the place of their Scene Intelligent Auto technology, which chooses the right shooting mode by analyzing the scene in front of the lens.
They have also thrown in a couple new vide features for the T3i, including the ability to use digital zoom without sacrificiing quality. Plus, the Video Snapshot mode captures two-, four-, or eight second clips and links them together into a collage for users who don't want boring long-shots, but aren't up on their editing skills. It's a feature Canon has been using in their Vixia line of camcorders for a couple of years.