Lens Test: Sigma 50mm f/1.4 DG HSM Art Lens
The second full-frame prime in Sigma's Art series is here and it means business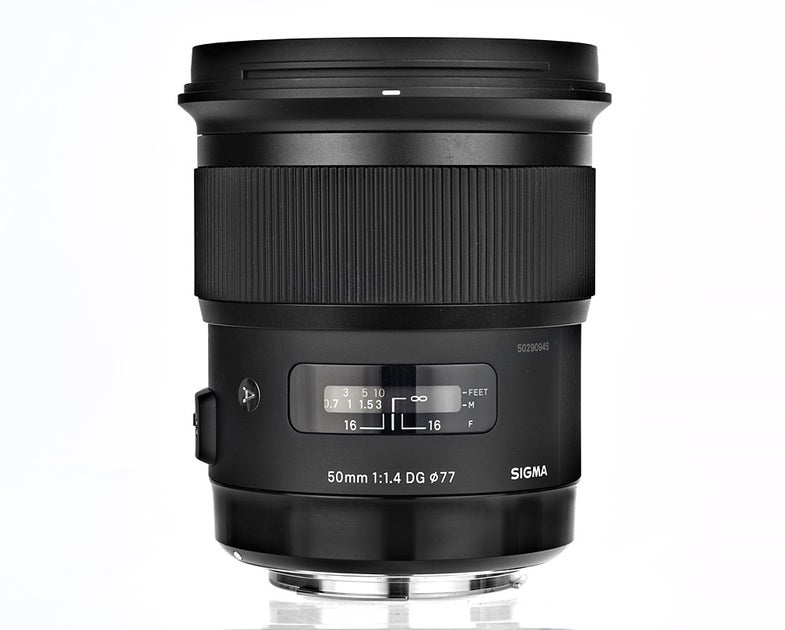 We may earn revenue from the products available on this page and participate in affiliate programs. Learn more ›
Back when we originally tested the Sigma 35mm f/1.4 DG AF lens, the first in Sigma's new high-end Art series to be released, we weren't just impressed, we were eager to see what would come next. Now a little more than a year later, Sigma is set to release the second full-frame prime into its Art series.
The Sigma 50mm f/1.4 DG HSM Art lens ($950 street; available late April, '14) offers the same black matte coating as other lenses in the line-up, and features 3 Super-Low Dispersion glass elements for combating chromatic aberration and one aspherical to help combat distortion. A floating focus system helps speed AF and a new algorithm aims at improving focus performance.
This lens does not replace Sigma's already highly-regarded 50mm f/1.4 EX lens ($500 street). Compared to 50mm f/1.4 offerings from Nikon, Canon, Sigma and Sony, this is a fairly large lens. It is made up of 13 elements, arranged into 8 groups; the EX version on the other hand offers 8 elements in 6 groups.
It is approximately 4.1 inches in length, which makes it 1.4-inches longer than the EX, but about 0.6 inches shorter than the massive Zeiss 55mm f/1.4 Otus lens ($4000 street). It weighs in at 1.8 pounds, nearly twice that of the EX. The Otus, by contrast weighs in at over 2.2 pounds. The Sigma 50mm Art lens accepts 77mm screw-in filters, the same as the EX and most 24-70mm and 70-200mm lenses.
In the field, the Sigma 50mm f/1.4 Art lens performed admirably. We found it to be incredibly sharp, even wide open and it produced consistently-contrasty images. Mounted on a Canon EOS 5D Mark III, we actually found the heft of the lens balanced out the weight of the camera nicely. The focusing ring is smooth and has nice damping to it, however, for high-end video there is no matching the smoothness and range of the Otus 55mm's focusing ring.
We found autofocus to be snappy when affixed to the Mark III and on-par with Canon's own 50mm f/1.4 ($400 street) and the Sigma 50mm f/1.4 EX lens.
In terms of our SQF test, the new Sigma beat out the 50mm f/1.4 offerings from Canon, Nikon, Sony and the Sony Zeiss. However the original Sigma 50mm f/1.4 EX lens and the monstrous Zeiss 55mm Otus lens did edge it out, ever so slightly. Oddly enough, the Sigma 50mm f/1.4 EX still holds the title of being our benchmark for 50mm f/1.4's in this test.
If video does not load, re-load page (Video by: Dan Bracaglia and Philip Ryan)
In terms of light falloff, there was none by f/2, on par with the Zeiss 55m Otus, which is quite impressive.
The Sigma 50mm f/1.4 Art lens beat out every other lens when it comes to our DxO distortion test , including the Zeiss Otus. It also beat out all the other lenses, with exception of the Sony Zeiss 50mm f/1.4, in the vignetting department and took home the top prize in close focusing distance and maximum magnification.
As it stands, this is one of the top autofocusing 50mm f/1.4's money can buy. Sharp, contrasty, and built like a tank, videographers and portrait photographers looking for a cheaper alternative to the Otus might be swayed by the fact that this lens is a quarter of the price (and features AF). But what's the appeal of this lens over it's EX counterpart, which is half the price (or any other proprietary 50mm f/1.4 lens for that matter)?
For starters, the 50mm f/1.4 Art lens offers better vignetting control, less distortion, closer focusing and better magnification. For videographers, the focus ring on the Art series alone absolutely makes it a better option than the EX, which frankly, is not great for rack focusing due to a somewhat stiff, scratchy focus ring with a limited turning radius.
The 50mm f/1.4 category has always been a crowded one, and this lens fits in as a higher-class alternative to the usual $400-range 50mm's. But how will it compare to the newest 58mm f/1.4 offering from Nikon? You'll have to look for the June 2014 issue of Popular Photography for that test. One thing is certain though, this exceptional piece of glass just made things a bit more complicated for anyone in the market for a normal lens.
Specifications:
50mm (49.45mm tested), f/1.4 (1.47 test), 13 elements in 8 groups. Focus ring turns 120 degrees
Diagonal View Angle: 46 degrees
Weight: 1.83 lbs
Filter Size: 77mm
Mounts: Canon AF, Nikon Af, Sigma AF
Included: lenshood
Street price: $950
Website: SigmaPhoto.com
Test Results:
Distortion: At 50mm, 0.02% (Imperceptible) pincushion.
Light Falloff: at 50mm, gone by f/2
Close-Focusing Distance: 15.12 inches
Max Magnification Ratio: at 50mm 1:5.04.
Sigma 50mm f/1.4 Art Lens #1
Other than a conversion from AdobeRGB to sRGB in Photomechanic, no processing has been done to the images that follow. All were shot with the lens affixed to a Canon EOS 5D Mark III. Tech Specs: ISO 400, 1/1600 sec, f/1.4. Exposure compensation of +1.0.
(CLICK FOR FULL-RES)
Sigma 50mm f/1.4 Art Lens #2
Tech Specs: ISO 1600, 1/125 sec, f/8. Exposure compensation of +0.3.
(CLICK FOR FULL-RES)
Sigma 50mm f/1.4 Art Lens #3
Tech Specs: ISO 100, 1/640 sec, f/1.4. Exposure compensation of +0.7.
(CLICK FOR FULL-RES)
Sigma 50mm f/1.4 Art Lens #4
Tech Specs: ISO 100, 1/8000 sec, f/1.4. Exposure compensation of -0.3.
(CLICK FOR FULL-RES)
Sigma 50mm f/1.4 Art Lens #5
Tech Specs: ISO 100, 1/500 sec, f/5.6. Exposure compensation of -0.3.
(CLICK FOR FULL-RES)
Sigma 50mm f/1.4 Art Lens #6
Tech Specs: ISO 100, 1/250 sec, f/8. Exposure compensation of -0.3.
(CLICK FOR FULL-RES)
Sigma 50mm f/1.4 Art Lens #7
Tech Specs: ISO 100, 1/125 sec, f/11. Exposure compensation of -0.3.
(CLICK FOR FULL-RES)
Sigma 50mm f/1.4 Art Lens #8
Tech Specs: ISO 1600, 1/8000 sec, f/1.4. Exposure compensation of +1.
(CLICK FOR FULL-RES)
Sigma 50mm f/1.4 Art Lens #9
Tech Specs: ISO 1600, 1/2000 sec, f/2.8. Exposure compensation of +1.
(CLICK FOR FULL-RES)
Sigma 50mm f/1.4 Art Lens #10
Tech Specs: ISO 1600, 1/500 sec, f/5.6. Exposure compensation of +1.
(CLICK FOR FULL-RES)
Sigma 50mm f/1.4 Art Lens #11
Tech Specs: ISO 1600, 1/250 sec, f/8. Exposure compensation of +1.
(CLICK FOR FULL-RES)
Sigma 50mm f/1.4 Art Lens #12
Tech Specs: ISO 1600, 1/125 sec, f/11. Exposure compensation of +1.
(CLICK FOR FULL-RES)
Sigma 50mm f/1.4 Art Lens #13
Tech Specs: ISO 1600, 1/60sec, f/16. Exposure compensation of +1.
(CLICK FOR FULL-RES)