Lens Test: Sigma 35mm f/1.4 DG HSM AF
The first of Sigma's new "Art" line is flag-ship quality glass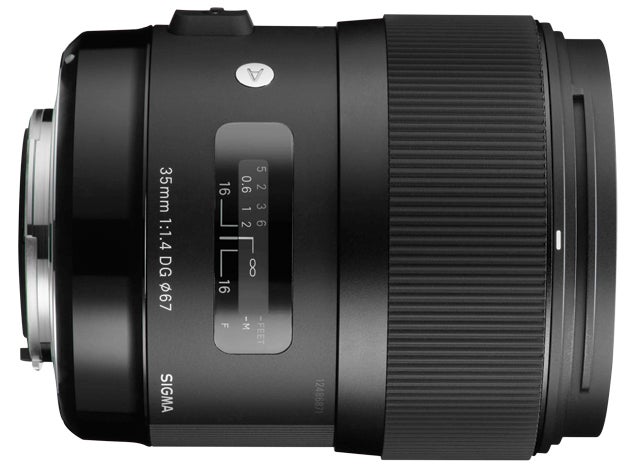 We may earn revenue from the products available on this page and participate in affiliate programs. Learn more ›
Sigma's determined climb from an independent supplier of low-cost lenses to an optics luxury brand enters a new phase with the company's "Global Vision" initiative. More than just a marketing campaign, the program introduces quality-control innovations such as confining all manufacturing to highly automated facilities located exclusively in Japan and the Modulation Transfer Function (MTF) testing of every lens produced.
Global Vision lenses will be divided into three lines: Art, Contemporary, and Sport. The latter will be mostly long, fast teles; the Contemporary line promises big performance in compact packages; and the Art lenses—like this new full-frame 35mm f/1.4 DG HSM AF ($900, street)—are designed to produce creative and/or dramatic effects.
This first member of the Art family also boasts one low- and four super-low-dispersion glass elements; Sigma's near-silent HSM focusing motor; and its exclusive Thermally Stable Composite (TSC) metal that limits the expansion and contraction of lens parts as ambient temperatures fluctuate. Theoretically, this yields a longer working life.
On first meeting, it's the cosmetic changes that jump out at you. Etched barrel markings on a largely polycarbonate housing are rare. Finely ribbed elements evoke the exclusivity of pricey Zeiss optics. A unique rubberized band on the lens shade creates a more uniform look overall. Sigma's new super-matte black surfacing contrasts with a chrome medallion inscribed with an A (for Art).
In the hands, the lens feels average for its class. The focusing ring has a nice, well-damped turning action, and the AF on our Canon EOS 5D Mark III was fast enough, sure, and nearly silent.
On our optical bench, sharpness and contrast of the Sigma slipped slightly below other recently tested, high-speed 35mm primes from Nikon, Rokinon, and Zeiss. In DxO Anaylzer 4.1 tests of distortion control, however, the Sigma proved clearly superior to those lenses.
Optically, this new Sigma lens is the equal or better of most of today's high-speed wide-angles. It delivers everything you would hope and expect. With its above-average distortion control, it's especially well suited to interior or exterior architectural work. If this is what we have to look forward to with Sigma's Global Vision program, we say "Bring 'em on!"
SPECIFICATIONS
35mm (33.97mm tested), f/1.4 (f/1.47 tested), 13 elements in 11 groups. Focus ring turns 100 degrees.
Diagonal View Angle: 63 degrees.
Weight: 1.54 lbs.
Filter Size: 67mm.
Mounts: Canon AF, Nikon AF, Pentax AF, Sigma AF, Sony AF.
Included: Lenshood, case.
Street Price: $900.
For Info: sigmaphoto.com
TEST RESULTS
Distortion: 0.12% (Slight) barrel.
Light Falloff: Gone by f/2.5.
Close-focusing Distance: 11.75 inches.
Max. Magnification Ratio: 1:4.56.