New Gear: Samsung NX Mini Camera Has a 1-Inch Sensor
Samsung points the shrink ray at their interchangeable-lens compact cameras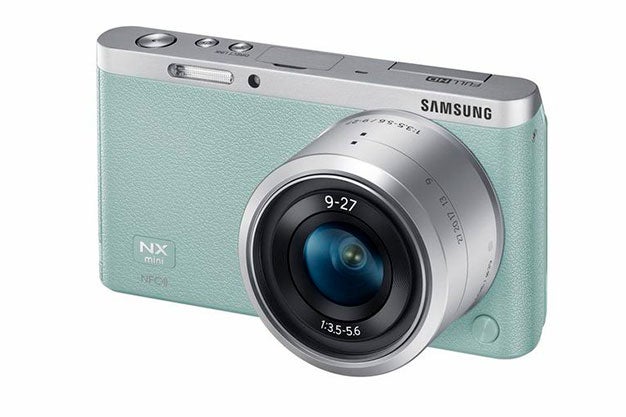 We may earn revenue from the products available on this page and participate in affiliate programs. Learn more ›
Interchangeable-lens compact cameras were supposed to be the smaller alternative to DSLRs, but lately we're getting the impression that some people don't think they're small enough. Panasonic recently introduced their Lumix DMC­-GM1, which is so small that they had to make a specially-designed shutter mechanism with a top shutter speed of 1/500 second. The little Lumix uses an electronic shutter system for any shutter speeds faster than that. Samsung has now followed suit with their new NX Mini camera body that is even slimmer front-to-back than that Lumix, but slightly taller and wider. The NX Mini has a fully-electronic shutter and uses a new lens mount designed for a 1 ­inch sensor format. Astute readers will recognize that sensor size as the same one found in Sony's RX100 and RX10 cameras, as well as the Nikon 1-series.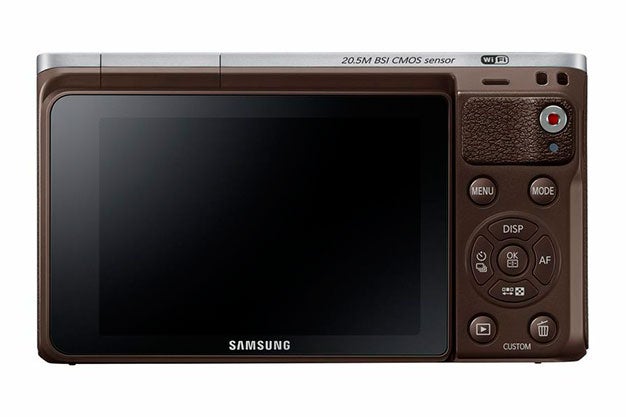 So far, Samsung has announced three lenses for the new system:­­ a 9mm f/3.5, a 9­-27mm f/3.5-5.6, and a 17mm f/1.8. With the format's 2.7X lens factor those are, respectively, 24.3mm, 24.3­-72.9mm, and 45.9mm. The first two will be available with the body in kits in April, while the last won't hit stores until July. Samsung will also offer an NX-­to-­NX Mini adapter ($150, estimated street) so that you can use any of the glass for its APS-­C-­format NX system with this new cameras.
The NX Mini uses a 20.5MP BSI CMOS sensor and has a top shutter speed of 1/16,000 sec. It has a burst rate of up to 6 fps, and can capture video at up to 1080p30 in the H.264 codec. It also has built­in Wi­Fi and NFC to connect the camera with your smartphone. Speaking of smartphones, the NX Mini uses the same battery as the one found in Samsung's Galaxy S4 Zoom smartphone. According to the company, the NX Mini will get about 650 shots per charge.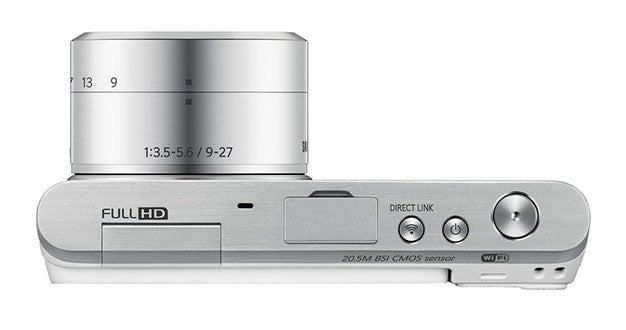 A non­standard accessory shoe sits atop the camera and so far will only accept the SEF­-7A flash unit, which boasts a guide number of 23 (feet), in case the NX Mini's built ­in GN 13 (feet) flash isn't powerful enough for your needs. The camera's 3 ­inch, 460,800­-dot touchscreen LCD is the only way to frame your shot. Samsung hasn't made an EVF for the NX Mini.
In classic consumer electronics fashion, Samsung said that they originally were planning to target women with the NX Mini, but further research showed that men are just as interested in a small, fashionable camera that's easier to carry around. The NX Mini will be offered in white, black, brown, mint green, and pink finishes. The body is made of magnesium alloy, while the top is covered with aluminum. The lenses also sport aluminum barrels, which should make the whole package relatively durable despite its small size.
Samsung will offer the NX Mini in two kits. The first bundles the body with the 9mm f/3.5 lens for $449. The second bundles the body, 9­-27mm f/3.5-5.6 lens, and the SEF­-7A flash together for $549. Pricing for the 17mm f/1.8 lens has yet to be announced.