New Gear: Nikon D5300 DSLR With WiFi, GPS
Nikon's mid-level DSLR line gets more processing power, increased connectivity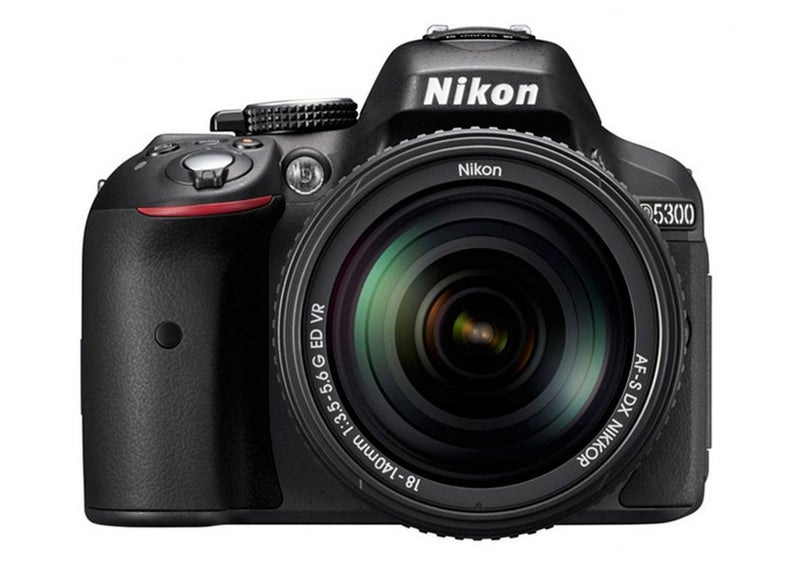 We may earn revenue from the products available on this page and participate in affiliate programs. Learn more ›
In addition to their new high-end lens, Nikon also has a new DSLR to unveil today in the form of the D5300. It's not a huge leap from the D5200 that came before it, but it does add a few enhancements to keep it competitive with other mid-level DSLRs like the new Ricoh Pentax K-3, and Canon's fancy-focusing 70D.
The D5300 has a 24.2-megapixel sensor, which works in concert with Nikon's latest Expeed 4 image processor. That gives it a maximum ISO of 25,600 and the ability to shoot 5 fps in both live view and with the optical finder. The AF system has 39 points and the D5300 also uses Nikon's Scene Recognition System for metering.
The D5300 has built-in Wifi, so it can beam images directly to a mobile device. it's also the first Nikon DSLR to have internal GPS for geotagging images in real time. The 3.2-inch screen articulates and has 1.037K dots. In this section, the press release goes out of its way to explicitly mention "selfless" so take that for what it's worth.
The D5300 will be available later this month as part of a kit with the 18-140mm F/3.5-5.6 ED VR lens for $1,399.
While it's not a huge jump from the already-solid D5200, these do seem like worthy upgrades to be made. With 24-megapixel images, it might be a bit taxing on the built-in Wifi, so if you're dreaming of transferring full-res JPEGs to your phone in real time, you might find it cumbersome after a short time.
This segment of the market and slightly above should stay pretty interesting for a while, though. These step-up DSLRs have a ton of potential, so we're excited to see where it goes from here.