Nokia Lumia 1020 Is a 41-Megapixel Smartphone Camera
Nokia swings for the fences in the fight for smartphone camera dominance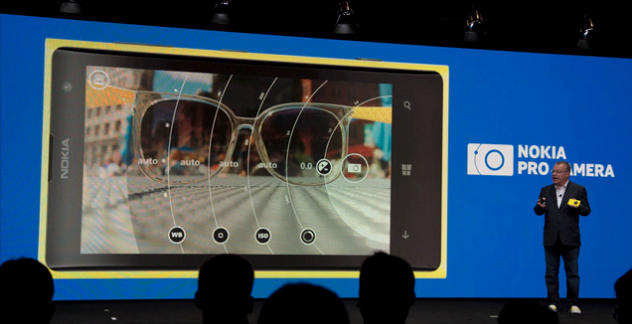 We may earn revenue from the products available on this page and participate in affiliate programs. Learn more ›
Smartphone camera tech is serious business for Nokia. They made that clear when they announced the PureView 808, which had an F/2.4 lens and a clever high-megapixel sensor that promised much better low-light performance. Unfortunately, it was thwarted by a dated operating system. Now, however, Nokia has crammed a 41-megapixel sensor and an F/2.2 lens into their new Windows Phone-powered Lumia 1020. It looks promising.
Before you go launching into the "41-megapixels is too many!" tirade you might have all set to go, consider that they're using it in an interesting way. It uses a lot of the same tech found in the PureView 808, so you can "zoom" by cropping down on the sensor. It's like digital zoom, only without the IQ ruining extrapolation.
It has optical image stabilization, which is nice, and a real Xenon flash that's much more usable than the LED flashlights found on many other smarthpones.
To go along with all that firepower, they've also added a new app, called Nokia Camera Pro. I'm generally not crazy about throwing the term "pro" around, but in this case I get it. The new app lets you take manual control over exposure and focus, plus lets you do long-exposures and even has modes for stuff like light painting. Don't get confused, this isn't a camera that "pros" are going to be reaching for, but it does add some functionality you'd expect to find in higher-end cameras. Or at least third-party photo apps.
The 1020 is coming on July 26th, but will be an AT&T exclusive device for a while. It'll be $300 with a two year contract, so it won't be cheap. But, it looks like we're going to be seeing a lot more of these smartphone with "real cameras" in the near future. Samsung is already on-board, and it wouldn't surprise me to see something from Sony in the future, though, I have no hard evidence to suggest they're even considering it.
Because it's a Windows Phone device, there will be no Instagram app, which sounds like a petty complaint, but the reality is that a huge portion of the smartphone camera using commnity is doing primarily that. Maybe Nokia is hoping the "better" camera will appeal to users who prefer higher-end photo sharing services like Flickr or 500 PX. There is a "backdoor" way to post images to the service, but that's not the kind of thing you like to hear before dropping a lot of money on a phone and signing up for a two-year contract.
What do you think? Would you buy a smartphone just because it has a killer camera?
Image from: Gizmodo