New Gear: Hasselblad Quietly Announces Hasselblad Stellar
The Sony RX100 gets the Hasselblad Lunar treatment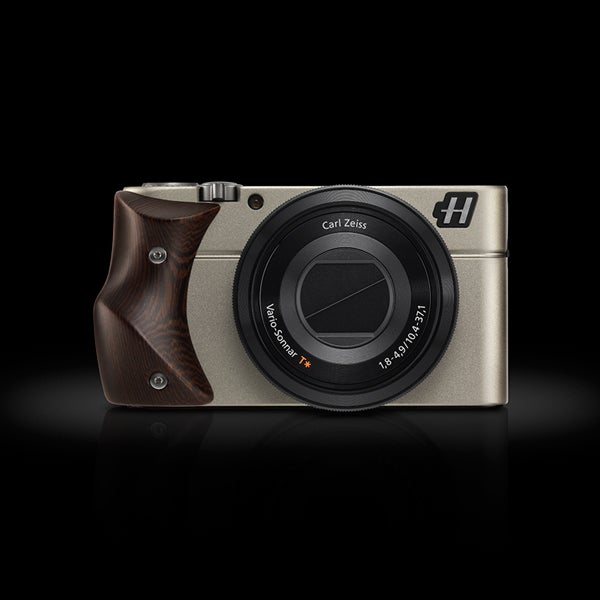 We may earn revenue from the products available on this page and participate in affiliate programs. Learn more ›
Last year, when Hasselblad announced the Hasselblad Lunar, the company was widely criticized for wrapping what was basically a Sony NEX-7 in a new shell, and charging a premium for it. Now Hasseblad is attempting something very similar with the Hasselblad Stellar, this time taking the more than year old Sony RX100, giving it a grip, and marketing it as something new.
The Hasselblad Stellar (warning, site not working for some) appears to be substantially unchanged from the Sony RX100, with just a slightly different body color, and the addition of a grip in wood or carbon fiber. Also, it appears to be an original Sony RX100, not the Sony RX100 mark II that was recently announced.
Hasselblad brought news of the Stellar live without providing any additional information, or a press release, so we haven't seen or heard anything about what it will cost. But for comparison's sake, the Hasselblad Lunar goes for $7,000, with a $1,200 NEX-7 as its underlying hardware. So you can expect a substantial markup on the $650 Sony RX100 that makes up the Stellar's internal organs.
When we talked to Hasselblad about the Lunar last year at Photokina, the company claimed they had substantially tweaked the internals of the camera to make it more "precise". While it's never been clear exactly what that entailed, hopefully it means that it's done something similar with the stellar, and there's more going on here than just a hunk of wood for a grip and a paint job.
But if you already have an RX100, and are pining for a better way to hold it, there are other ways of adding a grip that are pretty affordable.