Hands-On: Hasselblad Lunar Interchangeable-Lens Compact Is Like a Seriously Beefed-Up NEX-7
This is like an ILC on steroids -- and wearing a tuxedo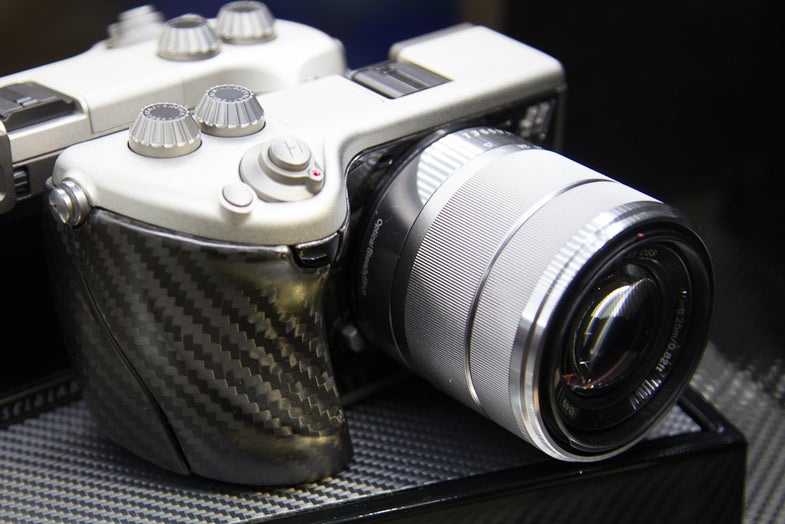 We may earn revenue from the products available on this page and participate in affiliate programs. Learn more ›
Just this morning here at Photokina 2012, Hasselblad announced a partnership with Sony, and the first product to come of it is the relatively insane Hasselblad Lunar Interchangeable-Lens Compact.
"At its heart," to quote a Hasselblad rep, "there is an NEX-7." It has the same 24.3-megapixel APS-C sensor, OLED electronic viewfinder, AF system and image processor. But, Hasselblad has done a fair bit of tinkering with the insides, which they claim make it more "precise" in its operation.
It shoots full HD video, as you'd expect, and has a shutter lag time of just .02 seconds. There's also a new interface for navigating the camera, but the arrangement of buttons is very similar to the NEX-7. It even has the two dials on the top of the camera.

When it starts shipping at the beginning of next year, the Lunar will come with a kit lens that looks very much like the 18-55mm Sony kit lens. According to the rep, though, it is Hasseblad glass, which is why it wears the Hasselblad badge. Two more lenses are apparently on the way, but it will even use E-mount lenses.
They will offer a whole pile of customizability options, mostly centering around the very attractive grip on the front of the camera. I particularly liked the wood-toned ones, but the carbon fiber one has an undeniable appeal as well. I have relatively huge hands and the big grip feels amazing to hold. Personally, I found it way more comfortable to hold, especially in leather.

But, now comes the truly wild part. When it ships in February, it'll bring a price of 5,000 Euro, which will be about $6,500 if you figure in the VAT. That is A LOT of money for a camera that shares the vast majority of its guts with the sub-$1,500 NEX-7. But, we'll definitely be interested to see how the Hasselblad improvements have affected performance. Until then, we'll just keep saving up for that new H5D.