Hands-On: Samsung Galaxy NX Interchangeable-Lens Camera With Android
Full Android OS and interchangeable-lenses. Yes.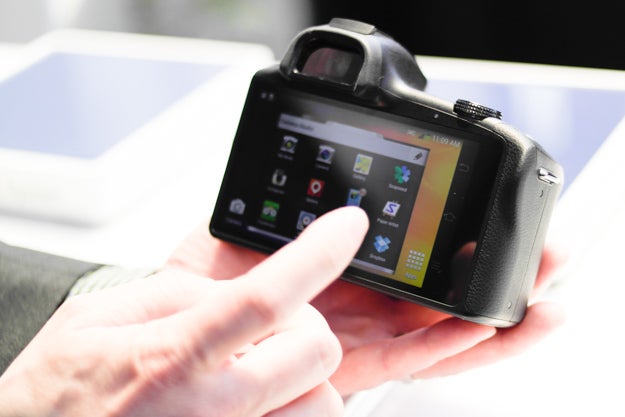 We may earn revenue from the products available on this page and participate in affiliate programs. Learn more ›
Since the introduction of the original Galaxy Camera, people have been wondering when Samsung would cram a full version of the Android OS into an interchangeable-lens came. Now, they've done it and it's called the Galaxy NX. We got some hands-on time with an engineering sample prior to launch and have to say that it's looking good so far.
The photographic guts should be pretty familiar if you've been keeping up on Samsung's NX camera line. It has a 20.3-megapixel APS-C sensor with a maximum shutter speed of 1/6,000 sec. and fps tops out at 8.6.
Like the original Galaxy Camera, the Galaxy NX comes with a full version of Android 4.2 Jelly Bean. The NX version, however, now has a built-in DRIMe IV Image Signal Processor. The original Galaxy Camera relied on its primary quad-core processor (something the NX also has) to do the processing, just like it would in a smartphone. Ultimately, image quality should be extremely similar to the NX20.
But the real draw here is the OS. Because it runs on full android, it can handle anything an Android smartphone can. That means you can add editing apps like Snapseed and sharing apps like Instagram. You can also use different camera interfaces while you're shooting.
The back of the camera has a 4.8-inch HD LCD screen with a 720p resolution. It really does feel a lot like a screen you'd expect to find on a smartphone. It's very beautiful and extremely snappy. If you don't want to compose with the screen, however, there is an eye-level EVF, which I think is great. Though, it does mean you'll get nose prints on the LCD screen.
Of course, it has built-in WiFi, but you can also use a mobile data plan and use it over 3G or 4G. It can beam images to your phone in the background, or you can actively upload your photos using the interface.
One of the interesting little features I personally liked was the ability to add a custom watermark to a copy of each image before it's uploaded. That would be extremely handy for a party or even a photo booth situation.
There's no pricing or availability information yet available for the Galaxy NX, but it's very safe to assume that it won't be cheap.
Our first impressions of it are pretty positive. Once you start poking around within the Android interface, you feel like there's a ton of potential. The screen is fantastic and is extremely responsive. However, that big screen has prevented them from adding many buttons, which might be a turn off to some. Still, some things like touch-to-focus seemed to be working great, even on pre-production models.
It has a few nice touches, too. For instance, it will ship with Lightroom as its image processing software. And it can use Samsung's i-Control system, which helps make up some for the lack of buttons. The 4,360 mAh battery is also relatively massive, which is good.
Once we know the price, it should be easier to gauge how enthusiastic people will really be about this, but for now, I have to give Samsung a lot of credit for doing something like this. It's a logical move for them, but it's a step away from proprietary apps, which are usually little more than added frustration.