New Gear: Samsung NX20, NX210 and NX1000 Interchangeable-Lens Compacts
Three new ILCs from Samsung bring more megapixels and web savviness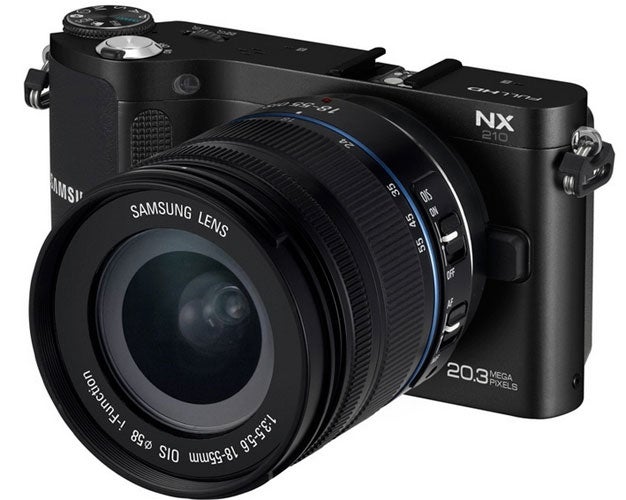 We may earn revenue from the products available on this page and participate in affiliate programs. Learn more ›
Nikon wasn't alone releasing new gear during the graveyard shift last night. Samsung has a trio of new interchangeable-lens compacts, each bringing with it a 20.3-megapixel, APS-C, CMOS sensor. They also now have WiFi, a feature that has worked well for Samsung at the traditional compact level. Here's a quick breakdown of each camera.
NX210 (pictured above)
The NX210 looks right at home in the NX line-up because not a whole lot has changed from the NX200. The big addition is that of WiFi, which we've seen before on compacts, but not at the ILC level. It lets the camera hook-up wirelessly with Samsung Mobile Leak-enabled devices like smartphones, tablets, and even web-capable TVs. It will also connect directly to various photo and video sharing services for direct upload to the web.
The back of the camera has a 3-inch AMOLED screen, so it offers a fairly solid viewing experience, even if you're not near something to which you can beam your pictures. It will hit stores in $900, which makes the WiFi upgrade and slight sensor tweak about a $100 upgrade. Probably well worth it if you have compatible devices.
NX20
Samsung's Flagship ILC has a more DSLR-like form factor, which makes room for an SVGA electronic viewfinder. The back still has a 614,000 dot, 3-inch AMOLED display that tilts and swivels in case you don't want to compose with your eye to the camera. It shares all the same wireless functionality and will cost a fairly substantial $1,100 with an 18-55mm kit lens starting in May.
NX1000
The most compact ILC in the pile of new cameras shares a pretty similar form factor to that of the Sony NEX-C3 or even Nikon's J1. It maintains the WiFi features as well as the AMOLED display, but it's smaller size suggests it's aimed more toward users making that first step out of the realm of compacts. It also comes in white, black, and pink, though no hard pricing information has been made available just yet. It seems a safe bet that it will likely be the cheapest one in the bunch, though.
As you'd expect, all the cameras will be compatible with Samsung's i-Function lens system and maintain a familiar set of shooting modes including 3D panorama and all of the smart filters.