Hands-On: Sony a58 Translucent Mirror Camera
We take Sony's new entry-level SLT to the Museum of Natural History in NYC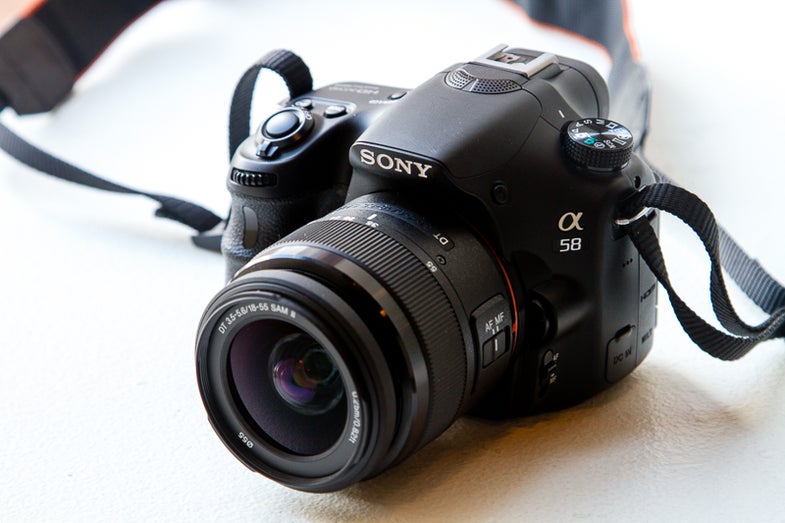 We may earn revenue from the products available on this page and participate in affiliate programs. Learn more ›
Sony's a5x camera line has been dutifully marching ahead since the a55 won our Camera of the Year award back in 2010. We took the new a58 equipped with the revamped version of their new 18-55mm F/3.5-5.6 SAM II kit zoom lens to the Natural History Museum in New York for some sample images. The lighting was a bit tricky at times, but for a $600 complete DSLR kit, it performed impressively.
On many levels, the a58 is a lot like the a57. Handling is very similar and composition and review are handled by the same team made up of an OLED eye-level finder and a rotating LCD screen. Not much change there.
Megapixel count has been bumped up over 20 from 16 in the previous model and ISO still tops out at 16000. While upping resolution can have a negative effect on noise performance, the extra resolution makes applying noise reduction a little less destructive. And despite the extra data moving through the pipes, it can still push 5 FPS in full resolution mode. There's also a 1.3x crop mode which lets you go to 8 fps and allows the AF system to have full coverage over the scene, which is a nice touch.
The button layout is easy to navigate, but not entirely without its quirks. Since there's no dedicated button for selecting an AF point, I had to assign the task to the programmable AE-L button and even then, the process meant navigating through two quick menu screens before you could actually move your AF point around. This may not ever even occur to many first-time DSLR owners, but if you're used to being able to select your AF point with ease, it may slow you down a little.
But, despite the selection process, the AF system itself seemed fairly fast in both still and video mode. That's not that surprising, though, considering the SLT's history. One thing I did notice about the revamped 18-55mm kit lens is that it flared pretty easily. Most of the time it wasn't enough to ruin an image and Sony informed us that these were pre-production units, so we'll have to get a feel for the performance during our full test, but it's something you'll almost certainly notice in the sample images.
The sample image gallery was all shot in Fine Large JPEGs exported through Lightroom 4.3. No adjustments were added unless noted in the caption. All were shot on the new 18-55mm F/3.5-5.6 SAM II lens.
Check out the sample images for more insight into the a58 and look for our full lab test in the coming months. But, barring any unexpected drops in image quality on our lab tests, the a58 sure seems like a serious contender at the entry-level price point. Lots of resolution, fast operation, 60i video at 1080p and an OLED viewfinder for $600 with a lens? That's pretty tough to beat. At least on paper.