New Gear: Sony a57 Translucent Mirror Camera
The a55's successor is still all about speed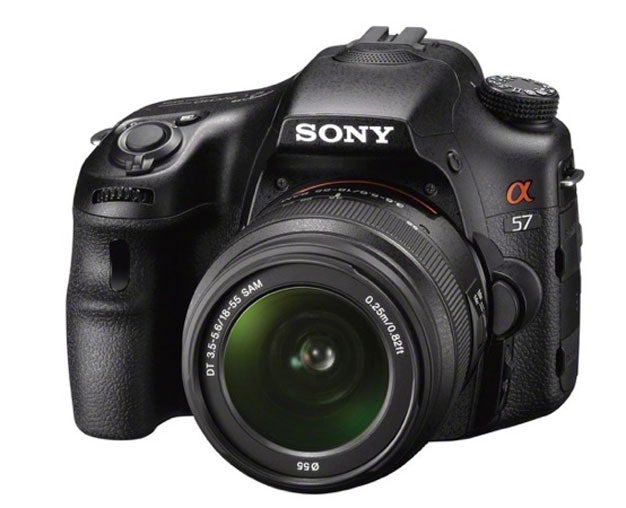 We may earn revenue from the products available on this page and participate in affiliate programs. Learn more ›
The battle for the most frames-per-second is one of the most hotly contended categories in cameras right now and Sony's new A57 translucent mirror camera looks to be a serious contender, even with its mid-level pricing.
Like the a55 before it, the a57 has a 16.1-mepgapixel Exmor APS HD CMOS sensor coupled with the latest iteration of their BIONZ processor. AF is handled by the same 15-point (three cross-type) TTL phase detection system found in the a65. If you're willing to drop the resolution down to about 8.4-megapixels and lock in your widest aperture, that setup is capable of pulling down 12 fps while maintaining AF and auto-exposure performance.
Things are equally as speedy in the video arena. Sony has tapped AVCHD Ver 2.0 as its preferred codec. That helps give the a57 the ability to grab 1080p video at frame rates as high as 60p. Of course, it can still pull common framerates like 60i, 30p and 24p, but that full 60 fps number is likely very appealing to those shooting a lot of fast action. It's also something even the higher-end HDSLRs from most other manufacturers can't (or at least don't) deliver. On top of all that, the translucent mirror allows for full-time phase detection AF during video capture, which is a boon for those who haven't mastered manual focusing.
Like the a77, the a57 uses the Tru-Finder electronic viewfinder, which has a 1440k dot resolution and offers a 100% field of view. You can use it to compose and review images, while zooming in on individual areas to check focus. The EVF is complemented by a 3-inch LCD display that rotates for composing shots at awkward angles.

In addition to the hardware updates, Sony has also put together a few interesting features to help differentiate the a57 from its competition. The new Auto Portrait Framing mode actually analyzes your pictures of people and crops them according to traditional rules of composition. It's not something we'd likely use very much, but it could be an interesting learning tool, especially since the original image is also preserved. With that comes the usual suite of in-camera shooting and processing modes like HDR and miniature mode (which emulates a tilt-shift lens).
On top of that, the maximum ISO has been cranked up to a maximum setting of 16,000, making this a fairly robust update all around. The camera will start hitting shelves in April for $700 on its own or for $800 when combined with the 18-55mm kit zoom lens. We've had some hands-on time with an early pre-production model, but we're eager to get a retail unit in our lab, especially after the A77 managed to thoroughly impress us.