Hands-On: Canon EOS Rebel SL1 Is The World's Smallest and Lightest DSLR
Also announced are the Rebel T5i and a new 18-55mm kit lens with the STM stepping motor technology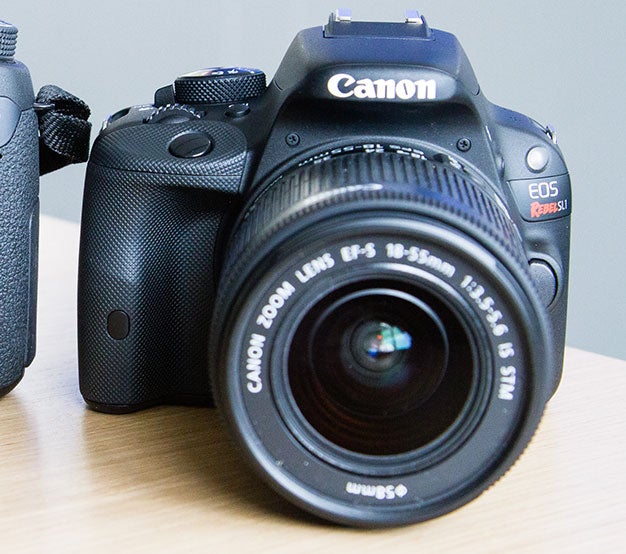 We may earn revenue from the products available on this page and participate in affiliate programs. Learn more ›
Whenever a new interchangeable-lens compact camera (or "mirrorless" camera, if you prefer) is announced, the press material invariably touts how small the camera is. Tonight, Canon's new SL1, however, attempts to cut the fat without ditching the mirror.
In essence, the SL1 shares almost all of its guts with the Rebel T4i (and the T5i, which is also being announced tonight, but changes very little from its predecessor). However, they managed to make it 25% smaller and 28% lighter than the T4i. That means it weighs less than a pound, checking in at 14.36-ounces with battery.
In order to achieve that smaller body, they rearranged things a little. The 3-inch display still uses multi-touch, but doesn't rotate like it does on the T4i.

The sensor keeps the same 18-megapixel resolution, only it's now the new Hybrid CMOS AF II sensor, which spreads the integrated phase-detection focus points out around the sensor. That works in conjunction with a 9-point AF system, the middle point being cross-type.
Like the T4i before it, the SL1 uses the Digic 5 image processor, not the Digic 6 chip found in the new Powershot SX280 HS compact camera. It has a max ISO of 12,800 (HI) and a top burst rate of 4 FPS.
We got a bit of hands-on time with the Rebel SL1 before the launch and we have to admit that it is pretty small. It actually feels pretty similar to Panasonic's Micro Four-Thirds powered GH3. The angle on the grip will likely take a little getting used to for some who are used to a full-sized DSLR, but it's not uncomfortable hold.

We're not expecting any huge surprises in image quality, but we'll still be getting one in to test as soon as possible.
Also announced tonight is the Canon EOS Rebel T5i. This is an even more minor upgrade, consisting of little more than a new coating on the outside of the camera body itself. It will flat out replace the T4i, though, so it won't be confusing where it stands in the line. The Rebel T3i and T3 will live on. The SL1 will be $649 for the body alone or $799 when bundled with the new 18-55mm kit lens (more on that below).
Finally, there will be a new version of the standard 18-55mm F/3,5-5.6 IS lens, giving it the new STM designation, meaning that it uses Canon's Stepping Motor technology for smooth, quiet focus.
It may not be the answer to Nikon's new D7100 some were hoping for, but it's always nice to have superlatives to throw around like "smallest" and "lightest." Look for full reviews in the future.
FULL PRESS RELEASE BELOW:
MELVILLE, N.Y., March 21, 2013 – Continuing the quest to deliver superb product innovations, Canon U.S.A., Inc., a leader in digital imaging solutions, today announced the world's smallest and lightest DSLR* camera: the EOS Rebel SL1 Digital SLR Camera. It features a newly developed 18.0-megapixel CMOS (APS-C) sensor and high-performance DIGIC 5 Image Processor for exceptional image quality and speed. With its combination of lightweight size, ease of use and outstanding image quality, the EOS Rebel SL1 is perfect for users looking for the ideal camera to bring sightseeing on vacation or to capture the everyday.
"The EOS Rebel SL1 Digital SLR Camera represents a new era in DSLR versatility: ultra-portable, full-featured DSLR cameras," said Yuichi Ishizuka, executive vice president and general manager, Imaging Technologies & Communications Group, Canon U.S.A. "The EOS Rebel SL1 combines the high speed, high image quality and expanded shooting range of a DSLR camera, with the easy and fun usability of a point-and-shoot camera."
_Advanced Image Quality in a Compact Body _
As the world's smallest and lightest DSLR, the new camera body is 4.6" (w) x 3.57" (h) x 2.74" (d), and weighs only 14.36 oz.** In comparison, the EOS Rebel SL1 is approximately 25 percent smaller and 28 percent lighter than the EOS Rebel T4i digital camera.
The EOS Rebel SL1 features an 18 megapixel CMOS (APS-C) sensor that performs exceptionally well in both bright and dimly lit shooting environments with an ISO range of 100-12800 (expandable to H: 25600) for photos and ISO-6400 (expandable to H: 12800) for video. Canon's DIGIC 5 Image Processor technology allows for exceptional image quality and shooting speed up to four frames per second (fps).
The camera includes a new nine-point center cross-type autofocus (AF) system to help achieve fast, sharp focus. The new AF system also includes a new Hybrid CMOS AF II sensor, which provides a wider focus area when shooting photos or video in Live View mode, and a continuous AF speed that's increased from previous EOS models.
To help capture video with ease, the EOS Rebel SL1 features Canon's Movie Servo AF, which provides continuous AF tracking of moving subjects. When shooting video with one of Canon's new STM lenses, such as the EF-S 18-55mm f/3.5-5.6 IS STM (available in the standard lens kit), Movie Servo AF takes advantage of the lens' stepping motor for smooth and quiet continuous AF. The camera is capable of Full HD shooting in a number of recording sizes and frame rates, and enables easy manual control of exposure, focus and Live View features. The combination of Canon's new Hybrid CMOS AF system II and EF-S 18-55mm f/3.5-5.6 IS STM lens is ideal for shooting video helping to ensure only the sounds of the scene are recorded.
Allowing for clear and easy viewing even in bright environments, the Touch Screen three inch Clear View LCD monitor II provides a rich and expansive display as well as providing intuitive touch panel operation. Two finger touch gestures (multi-touch) can be easily used for zooming or changing images, accessing menu and quick control settings, and activating focus point and shutter release while shooting.
**Creativity at your Fingertips **
The EOS Rebel SL1 encourages users to explore their creative side with a wide array of features for convenience and simple shooting. The EOS Rebel SL1 is equipped with Scene Intelligent Auto Mode, an advanced function that detects faces, colors, brightness, movement, contrast, distance and other factors and automatically adjusts and selects the exposure method needed. The results are photos with a wide dynamic range, ideal for users without advanced photography knowledge or experience.
Users can also access advanced imaging features like the new Effect Shot mode, which automatically creates two different shots, one with a selected creative filter and one without. In addition, Creative Filters and Background Blur Simulation can now be displayed in real time during Live View shooting. Editing photos is also a snap with the Rebel SL1's in-camera editing and cropping functionality. This feature allows users to view and crop the image using the camera's LCD touch screen and save the edited version as a separate file.
For those who would like to take beautiful photos with ease, the EOS Rebel SL1 offers a variety of scene modes to explore. New special scene modes include Kids, Food and Candlelight, giving users advanced presets to help ensure the best possible photos even under difficult shooting conditions.
**Pricing and Availability **
The new EOS Rebel SL1 Digital SLR Camera is scheduled to be available in April for an estimated retail price of $649.99 for the body alone or $799.99 bundled with the new EF-S 18-55mm f/3.5-5.6 IS STM kit lens.
For more information about the EOS Rebel SL1 Digital SLR Camera, and a full list of product specifications, visit www.usa.canon.com/eos.
**About Canon U.S.A., Inc. **
Canon U.S.A., Inc., is a leading provider of consumer, business-to-business, and industrial digital imaging solutions. With approximately $40 billion in global revenue, its parent company, Canon Inc. (NYSE:CAJ), ranks third overall in U.S. patents registered in 2012† and is one of Fortune Magazine's World's Most Admired Companies in 2013. In 2012, Canon U.S.A. has received the PCMag.com Readers' Choice Award for Service and Reliability in the digital camera and printer categories for the ninth consecutive year, and for camcorders for the past two years. Canon U.S.A. is committed to the highest level of customer satisfaction and loyalty, providing 100 percent U.S.-based consumer service and support for all of the products it distributes. Canon U.S.A. is dedicated to its Kyosei philosophy of social and environmental responsibility. To keep apprised of the latest news from Canon U.S.A., sign up for the Company's RSS news feed by visiting www.usa.canon.com/rss.