New Gear: Pentax K-5 Mark II and K-5 Mark IIs DSLRs
Do you want your new flagship Pentax DSLR with an AA filter or without?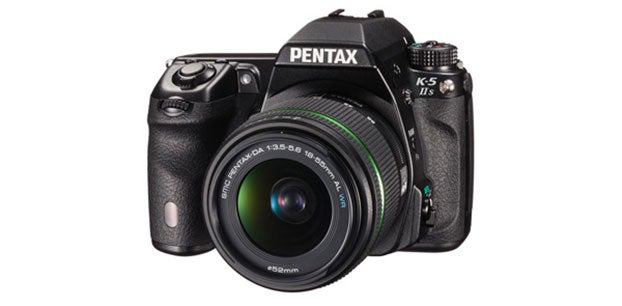 We may earn revenue from the products available on this page and participate in affiliate programs. Learn more ›
We liked the first version of Pentax's mid-level K-5 DSLR, so we're going into the new K-5 Mark II and Mark IIs with high hopes.
Taking a page the Nikon D800 book, Pentax has split up the camera model into two versions. The K-5 Mark IIs lacks an anti-aliasing filter, making it more prone to things like moire, but also putting less objects between the light and the sensor. In theory, that means it'll capture more fine details under controlled settings. Though, at 16.28-megapixels, it likely won't have quite the same appeal as the 36.3-megapixel D800e for high-end studio shooters.
Both versions of the K-5 Mark II are built around a new high-sensitivity CMOS sensor, paired with their latest PRIME II imaging processor. That gives it a native ISO range from 100-12800, but it can be expanded down to 80 and up to 51,200. The AF sensor has also been upgraded, promising an operating range from -3 EV up to 18 EV. We'll have a better idea of how it performs once it hits our lab.
Like the previous K-5 and the more recent K-30, the Mark II is built extremely tough, utilizing 77 seals in the body to make it dustproof, weather-, and cold-resistant. Though, the shutter is only rated up to 100,000 actuations, which isn't overly tough at this price point.
Also like the K-30, the K-5 Mark II has built-in shake reduction, which promises three stops of correction. It's often not quite as effective as putting the stabilization in the lens, but it works with any glass you put on there, and the Pentax K-mount has plenty of it out there.
The LCD display is a 3-inch LCD with 921,000 dogs of resolution. It's coated with an anti-glare film and is covered with tempered glass to make it tougher. The optical viewfinder has a 100% field of view and .92-times magnification, which is very solid in a mid-level DSLR. You can even change the focusing screen if you want.
There's also a pile of custom image modes and digital filters you can apply to images before they're uploaded, but they likely won't get much use from advanced users, especially since there's no Wifi in the camera and edits are probably easier done once on a computer.
The K-5 Mark II will be available in October for $1,199 body only, $1,349 with the 18-55mm WR zoom lens, or $1,549 with the 18-135mm kit lens. Like with the Nikon D800e, the lack of anti-aliasing filter actually makes the K-5 Mark IIs a little more expensive than its counterpart, checking in at $1,299 for the body only.
We're looking forward to getting our hands on both versions at this year's Photokina expo, and bringing both into our lab as soon as retail units are available.