New Gear: Nikon Coolpix P7700 Advanced Compact
More megapixels and no more optical viewfinder for Nikon's top-of-the-line compact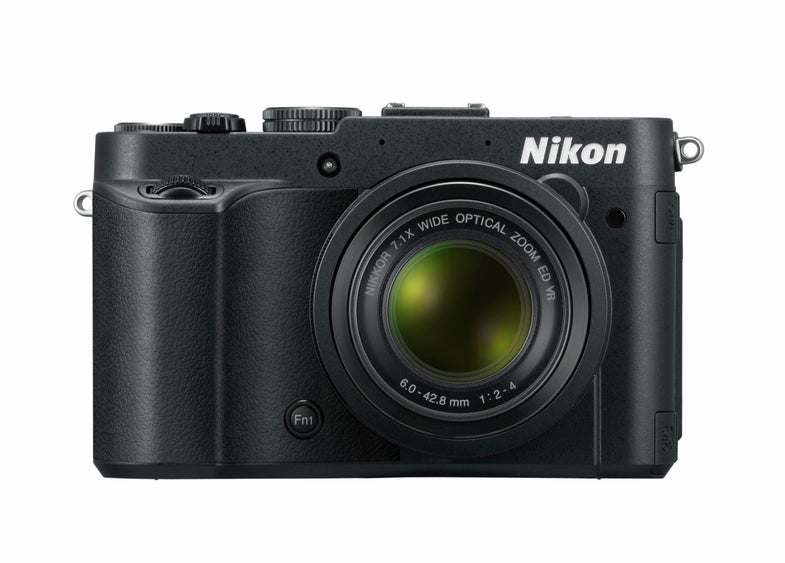 There's a new captain on the good ship Nikon Coolpix tonight in the form of the P7700. The update to the P7100 shares quite a bit with its predecessor, but has also gotten some notable upgrades.
At its core is a 1/1.7-inch 12.2 megapixel backside illumination CMOS sensor, giving it about a 2-megapixel advantage over the P7100. The maximum frame-rate has been bumped up to 8 FPS thanks to a faster image processor, but it can only manage six shots at that speed before the buffer caps out.
The lens is a 7.1x Nikkor affair that opens to F/2 at its widest focal length. That gives it an full-frame equivalent focal range of 28-200, which I personally find pretty ideal for a camera like this. As with all Nikon cameras, the VR is handled in the lens.
It is still a compact, so it has 19 different shooting modes, but it also offers full manual controls and familiar PSAM settings if you want to be in control (which you really should).

HD gets the now-standard 1080p at 30 fps treatment, but the P7700 can use intelligent AF and utilize its optical zoom while recording video in Auto mode, which is welcome. It has a built-in stereo microphone, but there's also an external mic input if you want to get a little more serious.
The back of the camera is plastered with a 3-inch vari-angle monitor with 921,000 dots of resolution. It swivels in a variety of directions and can even be flipped closed, which is nice if you're going to be traveling with it and don't want your travel nail clippers making a wreck of the screen in transit.
On top with the dials is a full-on hot shoe that makes it compatible with Nikon speedlights, as well as their GP-1 GPS unit and the ME-1 microphone.

One big difference between the P7700 and the P7100 however, is the total lack of an eye-level finder. It may be a big deal for some, but it makes sense since the new camera is smaller.
It will be available starting in September, which means we'll likely get to play with it at Photokina 2012. It'll bring a $500 price tag, which is still $150 cheaper than the admittedly sexier Sony RX100. We'll be interested to see how they stack up from an imaging perspective. Look for a full test as soon as we can get a retail unit.