New Gear: Nikon Coolpix P7100 Advanced Compact
Nikon mainly addressed functionality and usability in this version of its flagship compact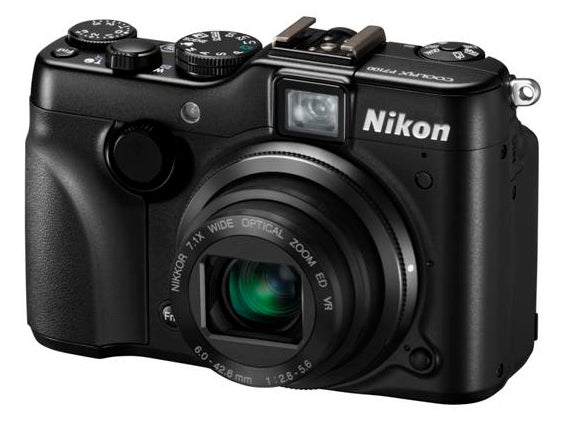 About this time last year, Nikon jumped into the advanced compact market, with the launch of the 10.1MP P7000. While impressive in terms of specs, we found Canon's G12 to be — predictably — more refined. With today's launch, Nikon has tried to address many of the issues we had and assert themselves as force in this growing segment.
What's New:
Updates come primarily in the form of usability and functionality tweaks on the outside of the camera. For starters, Nikon added a second click-wheel to the front of the camera body for faster futzing with settings—something we couldn't be happier to see. It's a refreshing change from the button-mashing process we found ourselves entrenched in when changing settings on the P7000. The wheel's function changes dynamically depending on what mode your select. For example, in manual mode, the secondary wheel controls the aperture, while the primary wheel controls the shutter speed.
Also, thanks to the addition of the second wheel, the folks at Nikon where able to convert what was previously an AV/TV button into a secondary function button, giving users the ability for even more control customization.
Nikon stuck with the same 3-inch 921,000-dot LCD, adding the ability for it to tilt up and down for otherwise awkward compositions. Other changes to the outside of the camera include a slightly redesigned rubber grip, that from the brief time we spent with the camera, appears to be much more comfortable in hand.
Not a lot has changed on the inside of the camera, but Nikon has included some new filters and effects. It's arguable whether or not modes like this are absolutely necessary in a camera aimed at advanced users, but Nikon keeps putting them in so people must actually be using them. The new modes includinclude Cross Processing, Paint Mode, Multiple Exposure Mode, a new Monochrome mode that offers a solarized look and a Soft Focus filter.
Other refinements include an overall increase in speed at start-up and function toggling. On the video front, you can now zoom during filming and control the levels of a mic on the hot shoe right through the camera, but the resolution is still capped at 720p.
What's the Same:
At the very heart of the camera, the P7100 is essentially the same as the P7000. It features the same 10.1MP 1/1.7-inch CCD sensor, f/2.8 28-200mm lens (which beats out the zoom range of the G12 by 60mm), RAW capture and Expeed C2 processor. We liked all of that in the original and we're glad to see that it has stuck around.
While we would have liked to see a bump up in HD video capture, Nikon left plenty of room for future improvements on the next go-around of their flagship Coolpix.
Available mid-September, the P7100 will cost a familiar $499.