New Gear: Leica X2 Compact Camera With an APS-C Sensor
Leica gets back to the idea of little camera, big sensor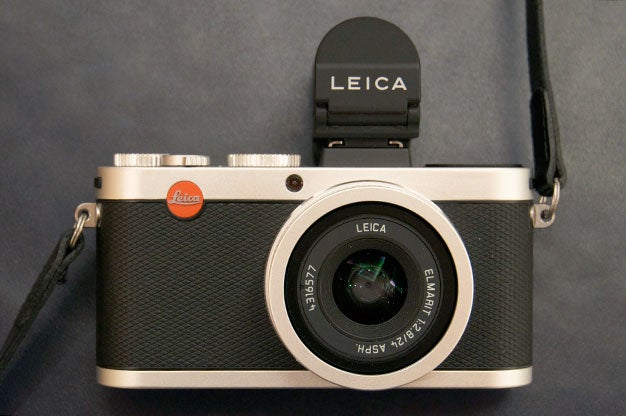 We may earn revenue from the products available on this page and participate in affiliate programs. Learn more ›
The black-and-white-only M-Monochrome may have dominated the new cycle yesterday, but it's actually not the only camera Leica announced. The follow-up to the X1 stil very similar to its predecessor in form, but it has gotten some substantial performance upgrades.
The heart of the improvements is the sensor. It's an APS-C chip with a 16-megapixel resolution, but it has been redesigned to be much faster and to crank the maximum ISO up to 12,500. Predictably, the images shot at that high of an ISO look pretty gnarly from a noise perspective, but it's good to have it there if it's needed in a pinch. The image processor has been upgraded as well. As a result of the faster guts, the X2's AF system is about three-times faster than the X1 according to the Leica rep I talked to this morning.
The lens is still exactly the same. It's a 24mm F/2.8, making it roughly 36mm full-frame equivalent. I personally love that focal length and according to Leica, so did the people who bought the X1. From my initial impressions, it seems just as fast and bright as you'd expect.
The body itself has only changed very slightly. It's a tiny bit heavier and also a bit bigger on the top to accomodate a port for the new EVF adapter that slides into the hot shoe. I also got some time to play with the new EVF and it's nice. It's not quite as swanky or realistic as Sony's ultra-high-res OLED models, but it's snappy and accurate, and most importantly, it lets you hold the camera like, well, a camera rather than like a compact.
While we'll have to wait for the M-Monochrom to hit in the summer, the X2 is available right now. The price is still rather hefty, checking in at $1,999. That's actually a little bit more expensive than the X1 that came before it, but you do get noticeably better performance, so if you're looking at models in this segment, that shouldn't be too off-putting.
When the X1 launched, though, it was really one of the only cameras using this set-up. Now, however, rangefinder-like compacts have become extremely hip, so we'll be interested to see if the X2 sells better or worse with more competition. It also comes in two models, black-and-gray or black-on-black, which I prefer. We'll be interested to put it through the lab when we get a retail unit to see just how much better it is than its predecessor.