New Gear: Canon EOS-1D C DSLR With 4K Video Capture
Canon's new $15,000 cinema-specific DSLR moves mountains of image data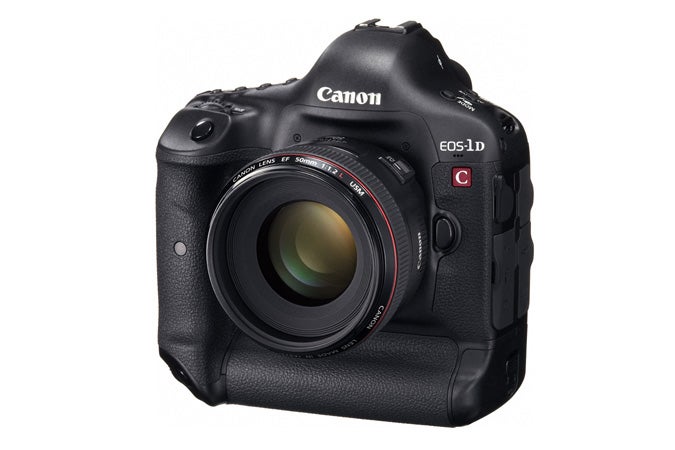 We may earn revenue from the products available on this page and participate in affiliate programs. Learn more ›
Back when Canon announced their monstrous C300 cinema camera, they also made it known that they were working on another motion machine with a more traditional DSLR form factor. Now, they've gotten real about it, announcing the EOS-1D C.
The 1D C has a lot in common with the 1D X, even beyond their almost identical bodies. The 1D C has an 18-megapixel sensor and can still achieve the 12 FPS RAW capture in still photography mode. But the real differences pop up when it comes to video.
The premiere addition in the motion department is that of 4K resolution capture in 8-bit 4:2:2 Motion JPEG. That might not mean a lot to you if you're not up on your cinema speak, but I can assure you that it's a lot of image data. At 4K, it'll capture 24 fps, and stepping down to 1080p will bump the maximum framerate up to a nice, smooth 60 FPS. They have also added a headphone jack.
When the 1D C launches later this year, it will bring with it a price tag somewhere in the neighborhood of $15,000, which is more than double that of the 1D X. Canon has reportedly had to do some serious magic in order to make a camera that can handle that much data flow and the heat generated thereby.
While this isn't somehing we'd ever likely buy as photographers, it is a step in an interesting direction for imaging as a whole. 4K video capture has enough resolution that a still can be pulled and used as a full-page magazine image. In fact, Esquire shot a cover photo of Megan Fox with a 4K video camera, which hints at interesting things to come.
If you want to seriously nerd out on the details, you can check out the full press release over on the Canon site.