Fujifilm Photo Receiver Lets Your Camera Talk To Your Smartphone
Fujifilm has created a new app for both Android and iOS that lets send photos directly to your smartphone. The catch? It only works with one camera right now.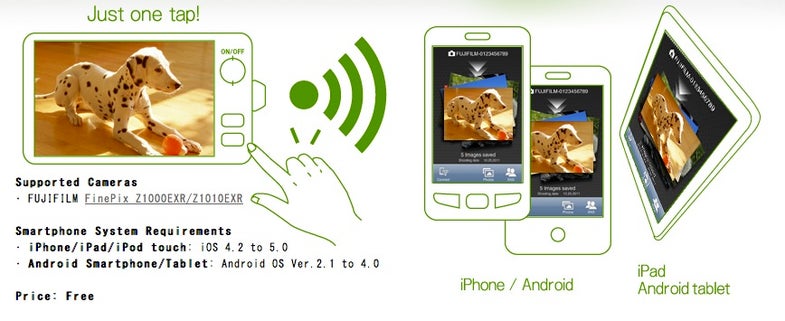 With smartphones taking over so much of the market from compact cameras, a number of manufacturers are trying to tap into both markets by marrying the two. Samsung's SH100 can be controlled from a Galaxy Android smartphone, and Polaroid has created an Android powered camera/smartphone, and now a new app from Fujilm lets you send your photos directly to your smartphone or tablet. Fujifilm Photo Receiver is a free app for both Android and iOS, and with a simple tap of a button, your photos are wirelessly beamed from your camera to your phone.
To use the app, you simply press a sync button on both devices simultaneously (assuming they're on the same WiFi network), and then up to 30 images are transferred — and scaled down to three-megapixels for ease of movement.
Unfortunately, the system is incredibly limited right now, and only works with the FinePix Z1000EXR. Alternatively, you could always pick up an Eye-Fi X2 card, and use the official Eye-Fi app with just about any camera on the planet.