CES 2011: Forget Wires, Samsung's SH100 is Wi-Fi Enabled
Samsung's newest compact makes sharing photos and videos a snap.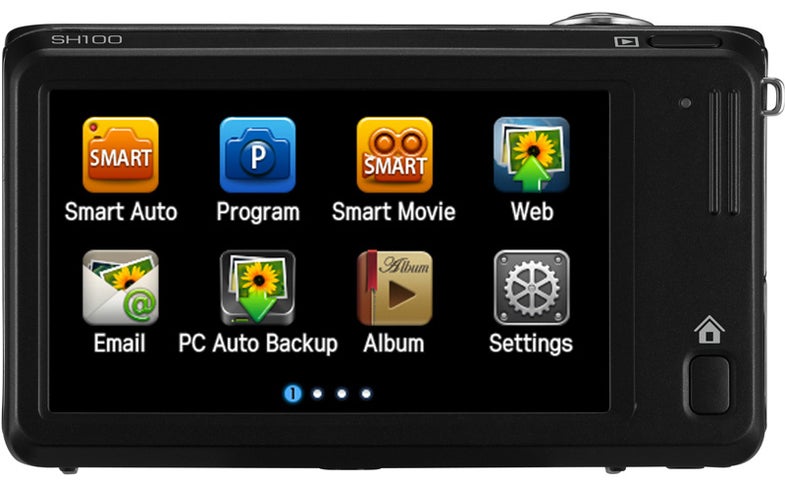 We may earn revenue from the products available on this page and participate in affiliate programs. Learn more ›
Las Vegas- Samsung's newest compact, the 14.2MP SH100, is essentially the brainchild of a company that has combined years of knowledge in the cellphone market, with its experience as a digital camera company. The result? A (nearly) fully social media-integrated "smart-camera."
Bringing whole new meaning to the idea of instantaneous photo and video-sharing, the SH100 offers seamless Wi-Fi integration for PC users—thanks to built-in 802.11n wireless—as well smartphone integration for certain Android phone-users.
Do you have a Samsung Galaxy-S smartphone? If so, you will be happy to know that you can use your device as a remote to view what the SH100 sees, in real time. This means the ability to frame, shoot and GPS-tag an image. Unfortunately this nifty feature works only for the Galaxy-S. Sorry iPhone/Blackberry/other Android phone-users!
While the SH100's smartphone compatibility is limited, its ability to sync with any PC is not. Utilizing either an available wireless Internet connections or a Boingo Wi-Fi hotspot (the SH100 comes with a Boingo subscription), users can back-up their images or videos, post them to social networking sites or email them to an individual address, all with the push of a few buttons.
A fan of Facebook? How about Picasa, Photo Bucket or Youtube? The SH100 makes directly transmitting photos and videos to these sites for sharing a breeze. Unfortunately, it does not appear that the SH100 is fully compatible with Flickr or Twitter. However the SH100 does allow users to send HD videos directly to their home DLNA-equipped HDTV, wirelessly, for real-time viewing.
Outside of the SH100's love for sharing, it is essentially your average compact camera. It features a 14.2MP CCD sensor, 5x zoom (26-130mm 35mm equivalent), a 3" touchscreen, various automatic settings, HD video recording capabilities (specs not specified) and digital-only image stabilization.
Ultimately, despite its obvious compatibility drawbacks, the SH100 definitely represents a step forward in the compact camera field. With Wi-Fi available in many public locations, the demand for cameras that can painlessly share photos and videos for viewing by friends and family on social networking sites is growing. Unfortunately, until the further integration with other smartphones and devices occurs, it seems the SH100's target audience will be somewhat limited.
The SH100 will be available in March for $199.99. You can get more information about it at Samsung.com