Sony Goes High Speed With SD, Other Companies May Hold Back On New Formats
WIth Sony embracing new memory card formats and products, SanDisk and Lexar are taking a wait and see approach.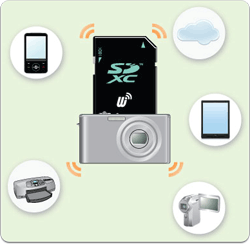 We may earn revenue from the products available on this page and participate in affiliate programs. Learn more ›
Earlier this month, Sony released the first XQD format memory card, but the company isn't stopping there with pushing into new storage options. Sony has now announced that they're creating a new line of high-speed SD cards. The flagship UHS-I series will be available in 8GB, 16GB, and 32GB versions, and promises 94MB/s read and 45MB/s write speeds. Starting at $44.99 a pop, Sony has also treated them to be water resistant, and will have them on shelves in March.
Also at CES, the SD Association announced a new standard for WiFi communications across all the SD cards. With the huge popularity of EyeFi cards, this should make wireless communication directly from an SD card even easier. The new format will differentiate between cards that use a home network interface, and those that work through a web interface using a "D" and "W" symbol respectively.
While these developments are going on, some card manufacturers have been less than enthusiastic to embrace the change. According to PhotographyBlog, SanDisk and Lexar have no immediate plans to produce XQD or WiFi SD cards. Speaking at CES, both companies have no plans to jump to the new formats in the near future, and Lexar pointed out that its new 1000x card is faster than Sony's XQD.