Camera Test: Nikon J1 ILC
Nikon bets smaller is better in ILC sensors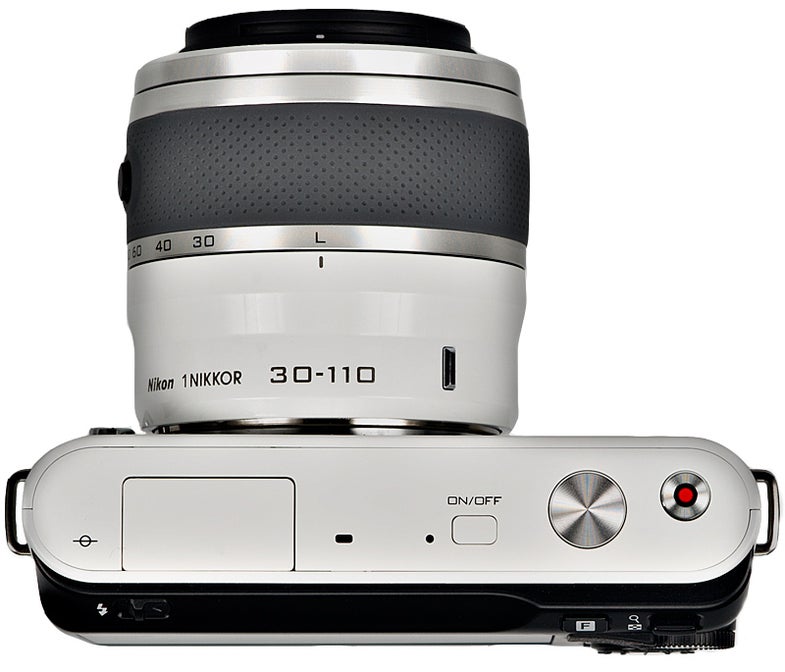 We may earn revenue from the products available on this page and participate in affiliate programs. Learn more ›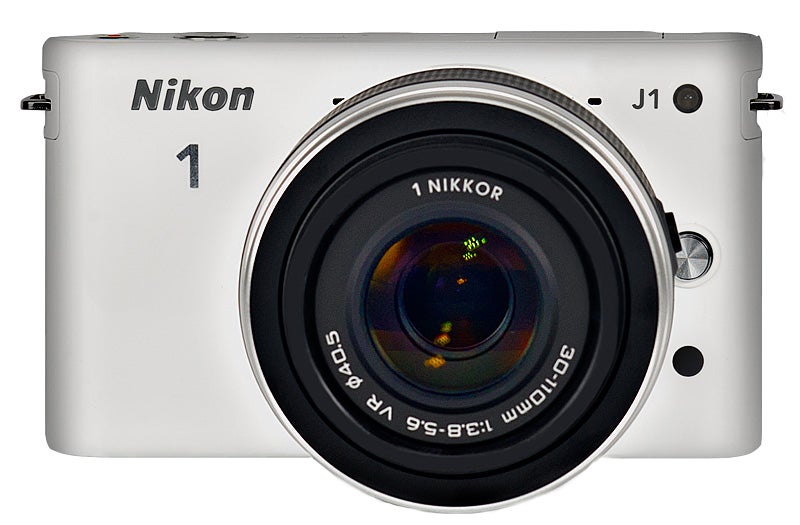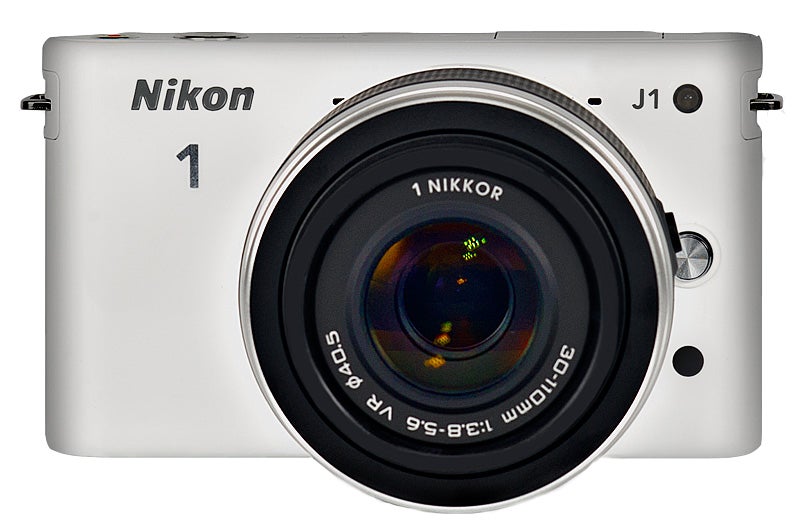 nikonj1main
While Nikon's higher-end V1 has a mechanical shutter, the J1 electronically samples its sensor like a compact.
Also See: Camera Test Nikon V1 ILC
With ILCs from Panasonic, Olympus, Samsung, and Sony getting lots of attention, it was only a matter of time before one of the Big Two, Canon and Nikon, got in the interchangeable-lens compact game. Nikon has jumped in first with its Nikon 1 system.
So far comprised of two bodies and four lenses, the system uses sensors that are smaller in size than those found in Micro Four Thirds cameras. Nikon has dubbed this new sensor size the CX format, and the Nikon J1 ($650, street, with 10–30mm f/3.5–5.6 VR lens) is the first of this format to be tested in the Popular Photography Test Lab. What we found came as a bit of a surprise.
In the Test Lab
At 13.2×8.8mm, CX format sensors have a 2.7X lens factor (making that kit lens a 27–81mm full-frame equivalent). CX sensors have a little more than half the surface area of Four Thirds sensors, about a third that of APS-C sized sensors, and less than one-seventh that of a full-frame sensor. That leaves significantly less room for pixels in the J1 compared with the Sony NEX-7.
Nikon opted to keep the pixel count low—10.1MP—a strategy that led to pretty good performance in our noise tests; noise remained at a Low or better rating from ISO 100 to ISO 800.
The J1 scored an overall image quality rating of Very High in our tests at ISO 100 and ISO 200. The camera's resolution proved to be the limiting factor keeping it from a higher rating. At its bottom two sensitivity settings, the J1 turned in 2025 lines per picture height in RAW images converted to 16-bit TIFFs. At both ISO 400 and 800, a drop in resolution below 2000 lines knocked the J1's image quality down to a High rating. At higher ISOs, noise brought the overall image quality rating down further.
In our color accuracy test, the J1 achieved an Excellent rating with an average Delta E of 7.0.
The small CX sensor clearly limits image quality—if the pixel count were higher, it would likely have adverse affects on the noise.
In the Field
Possibly the biggest thing that the J1 has going for it is good looks. The white sample we got for testing is gorgeous, with a smooth finish that has a luxurious texture, and at the same time feels relatively secure in the hand. There's no real grip to speak of, but given that it's intended for people stepping up from compacts, they might not miss it.
Like Olympus's Pen kit lenses, the 10–30mm kit lens for the J1 (and its sibling, the V1) can be retracted into the short lens barrel when not in use. Out of the box, the act of opening the lens will turn the camera on.
There aren't all that many buttons on the J1, though the function button can be programmed to control a handful of different settings. The lever next to the function button is used to change the majority of settings, such as aperture or shutter speed in priority shooting modes. It felt mushy, and wasn't always reliable—occasionally, when we were trying to change aperture, it took two or three presses to make it happen.
Overall, the J1 has an amateurish feel to it, with program, manual, and aperture- and shutter-priority buried in menus rather than getting their own spots on the mode dial. Instead, you'll find gimmicky things such as Nikon's Smart Photo Selector and Motion Snapshot. The former captures up to 20 images in a burst and selects five of the best to keep based on sharpness, composition, and whether your subjects are smiling or blinking. Motion Snapshot captures a 2-second slow-motion video clip with a still image at the end. Cute, but not all that useful.
One of the more innovative things Nikon did with the J1 and V1 is to embed phase-detection AF points in the CMOS imaging sensor. Based on lighting conditions, the camera chooses whether to use phase- or contrast-detection AF. In bright light, the J1 focuses as fast as we've seen any ILC lock onto a subject—although not significantly faster. In low light, it proved a bit faster than most other ILCs we have used. The only ILCs that beat it are Sony's NEX cameras, but only if they're using the cumbersome A-mount adapter that adds phase-detection AF.
Bottom Line
We haven't yet warmed up to Nikon's System 1. We think the target audience will more likely want robust image-sharing options than a collection of lenses. Will these buyers spring for a 10–100mm (27–270mm equivalent) f/4.5–5.6 that costs $750, street? We doubt they will.
Even more perplexing, its smaller sensor has yet to give System 1 any size advantage over other ILCs. If you're a casual shooter who doesn't print large and you like the J1's style, you might be happy with it. But if you're looking for an ILC that's more powerful than a compact, and you like seamless control over aperture and shutter speed, then this probably isn't the camera for you.
Specifications:
IMAGING: 10.1MP effective CX format CMOS sensor captures images at 3872×2592 pixels each, with 12 bits/color in RAW capture.
STORAGE: SD, SDHC, or SDXC stores JPEG, NEF RAW, RAW + JPEG, or MOV files.
VIDEO: Up to 1920x1080i60 or 1280x720p60 H.264/MPEG-4; built-in stereo mic; contrast/phase AF with continuous AF in video mode.
BURST RATE: Full-sized JPEGs up to 28 frame at 5 fps; RAW up to 19 frames at 5 fps.
AF SYSTEM: TTL hybrid contrast/phase detection with 41-area Auto-area-AF, or single-point selectable AF from 135 areas.
SHUTTER SPEEDS: 1/16,000 to 30 sec, plus B (1/3-EV increments).
METERING: TTL metering with unspecified-area Matrix, centerweighted, and spot (2mm circle centered on focus area).
ISO RANGE: ISO 100–3200, expandable to ISO 6400 (in 1-EV increments).
FLASH: Built-in pop-up with TTL autoflash; GN 16 (feet, ISO 100), covers 27mm angle of view. Flash sync to 1/60 sec.
MONITOR: 3-inch TFT LCD with 460,000-dot resolution.
OUTPUT: Hi-Speed USB 2.0; mini-HDMI video.
BATTERY: Rechargeable EN-EL20 Li-ion, CIPA rating 230 shots.
SIZE/WEIGHT: 4.2×2.4×1.2 in., 0.7 lb with an SD card and battery.
STREET PRICE: $650 with 10–30mm f/3.5–5.6 lens or $900 with 10–30mm and 30–110mm f/3.8-5.6 lens.
INFO: www.nikonusa.com