Four New Nikon Coolpix Compacts Include a Camera That Doubles as a Projector For Your Tablet
Some familiar Coolpix names get some upgrades including a new camera with a built-in projector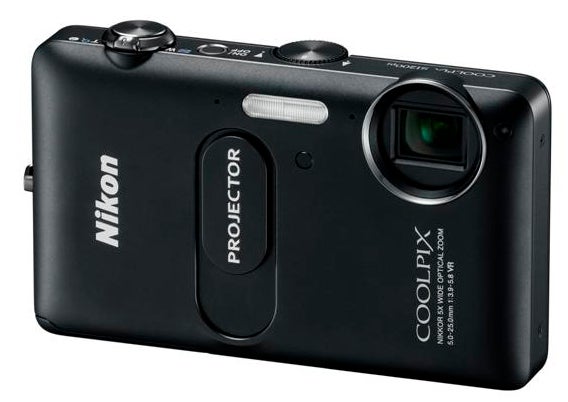 We may earn revenue from the products available on this page and participate in affiliate programs. Learn more ›
If the Coolpix line-up is looking particularly fresh this evening, it's because there are new cameras to be had all around (including the new flagship P7100 and the un-killable AW100). Even their projector-toting camera has gotten a bit of a facelift. Here's the rundown.
S1200pj
Nikon pleasantly surprised everyone when it first introduced the S1100pj, a quirky little compact that could throw images as well as capture them. While virtually nothing has changed on the photography side, the projector has gotten an overhaul.
The biggest selling point is it's ability to connect to one's iPad, iPhone or iPod, via a supplied cord. It will project saved content such as movies, TV shows and images, up to 60-inches wide.
However, what good would this ability be without an increase in projector power? While the S1100pj offered a 14-lumen lamp, the S1200pj offers a 20-lumen lamp. It's not enough for a midday movie screening in the park, but it's more than enough for showing off photos and videos to family, or better yet, clients.
As before, you get 720p HD video capture, a 14MP CCD sensor and 5x optical zoom range. It will be available in September for $429.95 in either black or pink.
S8200
Nikon essentially took its mid-level S8100 superzoom and boosted all of its core specs to create the S8200. It's sensor jumped from 12.1 to 16-megapixels. The zoom also went from 10x to 14x, giving the S8200 an equivalent field of view of 25-350mm.
Other tweaks include the ability to zoom during video capture, which, by the way, is still an impressive 1080p. Nikon also increased its high-speed burst from 5 fps to 6fps.
Available in September, the S8200 will retail for $329.95 and comes in black, silver and red.
S6200
One step down on the superzoom spectrum is the new Nikon S6200, which also received some added reach. the S6100 offered a 7x, 28-196mm range, but the S6200 steps it up to a 10x, 25-250mm range.
And while its video capture capabilities (720p), and 16MP CCD sensor stayed the same, the S6200 did receive a downgrade in LCD size, from 3-inch to 2.7-inch, mainly due to an overall body-size and weight reduction.
Also available in September, the S6200 will run you $229.95 and comes in your choice of silver, blue, pink, red and black.
S100
While the updated S100 keeps the same 3.5-inch touch OLED touch screen, Nikon did tweak out the core components of this compact in similar fashion to the S8200.
The biggest tweak comes in the form of a much more capable 16 MP CMOS sensor. The S100 also sees a major jump in video recording capabilities, up from 720p in the S80 to a full 1080p in the S100.
Like the S80, the S100 offers a 5x zoom range, however it has been tweaked to start at a wider focal length of 28-140mm instead of 35-175mm.
Other new features include a 2D to 3D still conversion function, that essentially works by taking a second shot and mashing it with one's original image for a stereo effect.
Available in September, you can pick up an S100 compact for $299.95 in your choice of red, black purple and gold.