New Gear: Sony A35 Entry-Level DSLR
Sony is sticking with their translucent mirror tech for their latest DSLR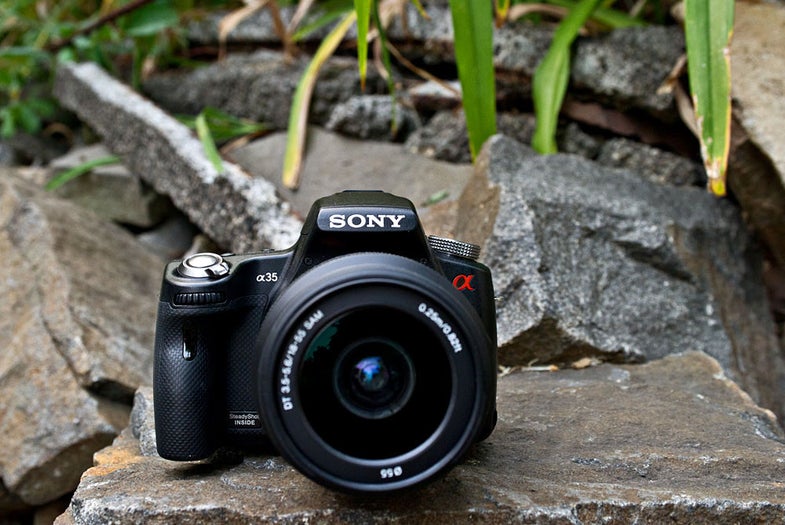 We may earn revenue from the products available on this page and participate in affiliate programs. Learn more ›
There's a new member of the translucent mirror camera family at Sony in the form of the A35. It's a middle child of sorts, building off of the A33 and A55 that preceded it.
Inside, it brings a newly developed APS HD CMOS sensor and the Sony BIONZ processor, which make it capable of hitting ISO 25600. Of course, it also utilizes just about everything that earned the A55 our 2010 Camera of the Year honors, including the ultra-fast AF performance that stems from the pellicle mirror. It can do 5.5 fps with continuous tracking AF at full resolution, but Sony has also added a new Tele-zoom High Speed Shooting mode, which crops the image by a factor of 1.4x, but bumps the maximum burst rate to a very solid 7 FPS.
The Tru-Finder display is still in effect, providing a 100% live view image when looking through the electronic viewfinder or while viewing on the 3-inch Xtra Fine LCD.
Other new additions include a grip of Picture Effect filters like "Retro" and "Toy Camera," which should sound familiar to Sony users, as well as a 30% increase in battery life over the A33. That pushes the total to 440 stills.
The A35 will start hitting shelves in August for $600 (body only) or $700 (with an 18-55mm kit zoom lens). Plus, as an added bonus for A33 and A55 owners, a firmware upgrade is coming on June 20th that will give both cameras revised menus, Picture Effects and improved Digital Level Guage performance. The A55 will also get High-Speed Flash Sync, which is actually a pretty nice addition.
Check out our sample image gallery and look for a full lab test in the coming weeks.

Sony A35 Sample 1
Tech specs: Lens: Sony 50mm F/1.4 ISO: 200 Aperture: F/7.1 Shutter Speed: 1/100 sec DOWNLOAD THE FULL-RES IMAGE

Sony A35 Sample 2
Tech specs: Lens: 16-35mm F/2.8 ISO: 200 Aperture: F/8 Shutter Speed: 1/320 sec DOWNLOAD FULL-RES IMAGE

Sony A35 Sample 3
Tech specs: Lens: Minolta 100-300mm F/4.5-5.6 (shot at 300mm) ISO: 200 Aperture: F/8 Shutter Speed: 1/1250 sec DOWNLOAD FULL-RES IMAGE
Sony A35 Sample 4
Tech specs: Lens: Minolta 100-300mm F/4.5-5.6 (shot at 300mm) ISO: 200 Aperture: F/8 Shutter Speed: 1/1250 sec DOWNLOAD FULL-RES IMAGE

Sony A35 Sample 5
Tech specs: Lens: Minolta 100-300mm F/4.5-5.6 (shot at 210mm) ISO: 200 Aperture: F/8 Shutter Speed: 1/800 DOWNLOAD FULL-RES IMAGE

Sony A35 Sample 6
Tech specs: Lens: Minolta 100-300 F/4.5-5.6 (shot at 300mm) ISO: 200 Aperture: F/8 Shutter Speed: 1/500 DOWNLOAD FULL-RES IMAGE

Sony A35 Sample 7
Tech specs: Lens: Minolta 100-300mm F/4.5-5.6 (shot at 200mm) ISO: 200 Aperture: F/8 Shutter Speed: 1/1250 sec DOWNLOAD FULL-RES IMAGE

Sony A35 Sample 8
Tech specs: Lens: Minolta 100-300mm F/4.5-5.6 (shot at 300mm) ISO: 200 Aperture: F/16 Shutter Speed: 1/320 DOWNLOAD FULL-RES IMAGE

Sony A35 Sample 9
Tech specs: Lens: Sony 50mm F/1.4 ISO: 1600 Aperture: F/5.6 Shutter Speed: 1/50 sec Exposure compensation: -.7 EV DOWNLOAD FULL-RES IMAGE

Sony A35 Sample 10
Tech specs: Lens: 16-35mm F/2.8 ISO: 800 Aperture: F/11 Shutter Speed: 1/1250 Exposure compensation: -.7 EV DOWNLOAD FULL-RES IMAGE

Sony A35 Sample 11
Tech specs: Lens: Minolta 100-300mm F/4.5-5.6 (shot at 300mm) ISO: 400 Aperture: F/11 Shutter Speed: 1/640 sec Exposure compensaiton: -.7 EV DOWNLOAD FULL-RES IMAGE

Sony A35 Sample 12
Tech specs: Lens: 16-35mm F/2.8 ISO: 3200 Aperture: F/7.1 Shutter Speed: 1/20 DOWNLOAD FULL-RES IMAGE