Lab Test: Sony Alpha 33 and 55
Sony's two newest DSLRs share nearly identical bodies, but have a few differences inside.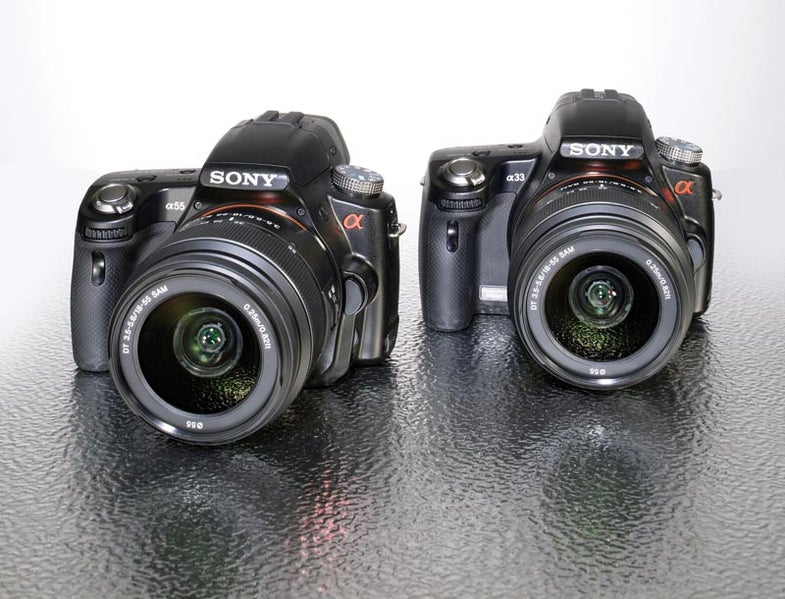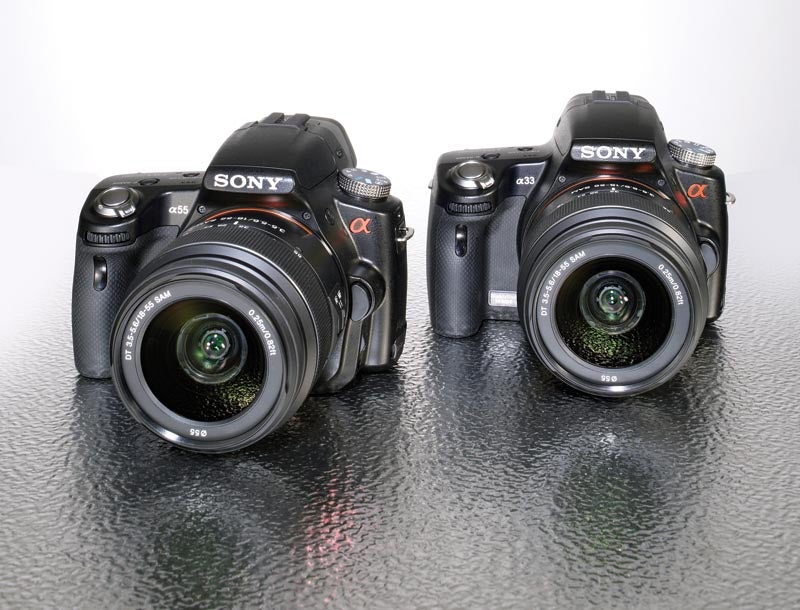 We may earn revenue from the products available on this page and participate in affiliate programs. Learn more ›
At a time when many new interchangeable-lens cameras have been forgoing reflex mirrors altogether, Sony's new Alpha 55 (and Alpha 33) take a radically different approach. Instead of ditching the mirror—and with it, speedy, reliable autofocus—Sony gave these two DSLRs a semi-transparent mirror that doesn't flip up and down. The result: Cameras that can autofocus continuously while recording high-definition video, and fire off stills at high burst rates—and that keep the existing Alpha lensmount for compatibility with the entire Sony lens catalog. They're also smaller and lighter than Sony DSLRs in the same class.
Dubbed Translucent Mirror Technology by Sony, this sort of device is hardly new—in fact, it dates back nearly half a century. But the A55 and A33 are the first digital cameras to employ mirrors that let most of the light pass through to the imaging sensor and simultaneously reflect a small portion of it upward to the AF module. The cameras also differ from fixed- mirror designs of the past in that they have an electronic viewfinder (EVF) instead of an optical prism finder.
Other than different sensors and different Speed-Priority burst capacities, the A55 ($750, street, body only; $850 with 18–55mm f/3.5–5.6 Sony DT SAM lens) and A33 ($650, street, body only; $750 with the same lens) are identical. We've therefore covered the two models in this single test report. Note: Our A55 test model was actually the A55V, which has built-in GPS; the non-GPS A55 is not marketed in the U.S.
In the Test Lab
An obvious question was how the fixed mirror affects image quality and performance. In the Popular Photography Test Lab, the A55 and A33 delivered images in line with what we've come to expect from mid-range Sony DSLRs. Both cameras scored Extremely High in color accuracy, just below the threshold for an Excellent rating—a respectable result, but below the performance of the vast majority of today's DSLRs.
Resolution was the same story, with both cameras turning in good numbers that weren't quite what we'd expect for cameras with their pixel counts. The 14.2MP A33 served up 2125 lines per picture height for a Very High rating, putting it behind Sony's own 14.2MP A550 DSLR (2285 lines) and Panasonic's 12.3MP Lumix DMC-G2 inter changeable-lens compact (2230 lines). The 16.2MP A55 yielded 2290 lines in our test for an Extremely High rating, although not very far ahead of the A550 and G2.
Imaging through a fixed mirror probably doesn't help in this department. Still, the images we shot with both preproduction and final production units were pleasingly sharp, even if they don't maximize the potential of their respective pixel counts.
As usual, Sony keeps noise down even as the sensitivity rises. The A33 showed its lowest noise levels at ISO 200 and ISO 400, with scores of 1.9 for Low ratings. Still, we often see scores closer to 1.1, our cutoff for an Extremely Low rating, with a recent example being Canon's Rebel T2i. Stepping up to the A55, you'll get those lower noise levels, matching the Rebel T2i's Very Low scores at ISO 100 and 200. The A55 remained very competitive with the T2i throughout their shared sensitivity range of ISO 100–12,800, though both cameras reached Unacceptable levels at their highest ISOs. But then again, the 18MP Canon also delivered 2555 lines of resolution and Excellent color accuracy. So, while both cameras give up resolution as ISOs increase, the Canon has more to spare.
One area where the Rebel T2i can't match either the A55 or the A33, though, is AF speed—and that's exactly the point of the new mirror system. Both Sonys were able to focus extremely fast, with some of the best AF test results we've seen this year—truly rare performances for midrange cameras. At the brightest three levels of our test (EV 12, 10, and 8) they locked focus and captured an image in 0.30 seconds or faster. Even at the near-moonlight darkness of EV –1, the two models focused in under a second (0.82 for the A55 and 0.84 for the A33). Both slowed to just slightly more than a second at EV –2, but Sony rates them to focus down only to EV –1, so we were surprised that they focused at all in that darkness.
Furthermore, both cameras did an excellent job of tracking subjects as they moved toward or away from the camera. Sony says that these models can track a subject moving toward the camera at high rates of speed. After shooting a variety of moving subjects, including cars in Manhattan and trains speeding through stations, we believe Sony's claim.
In the Field
Thanks to the lack of an optical finder, these models aren't quite as tall as a normal DSLR, though the housing of the EVF and AF module provides a very DSLR-like look. And, since there is a mirror, these cameras are deeper than the mirrorless ILC cameras that have been hitting the market lately. They're quite light, just over a pound each, including battery and a memory card. That also means that with a heavy lens, you'll end up with a noticeably front-heavy rig. With the kit lens, though, they are well-balanced and comfortable to hold.
The bodies have only one command wheel—a shame for manual shooters, because changing the aperture is a clumsy affair of a simultaneous press of the exposure-comp button while turning the command wheel. And since that button is mounted on a downward angle, it makes this operation difficult to do single-handed.
The camera's grip itself is well contoured, with a nicely defined spot for your middle finger and an unusually deep divot on back for your thumb. The entire grip area is covered in textured rubber. We would gladly have given up some of that rubber to have a dedicated SD card slot instead of the bottom-loading slot in the battery compartment.
Most of the camera back is dominated by a 3-inch, 921,600-dot LCD screen that flips downward and rotates up to 270 degrees. It doesn't leave much room for dedicated control buttons, but you can access display mode, white balance, drive mode, and ISO using the round control pad.
The Function button above that pad brings up a menu of all of the most commonly changed settings. It's a decent system, and thanks to the EVF, you don't have to take your eye away from the finder to change any of the settings, even those that can be adjusted only through the main menu. Strangely, the cameras' sensor-shift image stabilization is in the main menu, while face detection is in the Function menu.
Though we'll still take an optical finder over an EVF any day, the higher-resolution versions we've seen lately, such as the 1.44-million-dot EVFs in the A55 and A33, aren't at all bad to work with. These are sharp enough for manual focusing, especially if you take advantage of the focus magnifier that zooms in on whatever portion of the frame you choose.
As usual with EVFs, though, the view blanks out between burst shots, making it more difficult to pan along with a subject than with an optical finder. The blank-out time on these EVFs isn't as bad as we've seen in some, but it's still jarring.
These two cameras have very fast burst rates given their prices: 6 frames per second for up to 28 Fine-quality, full-size JPEGs with the A55, and up to 14 with the A33.
Other Features
As it has in their compacts and ILCs, Sony included Sweep Panorama and 3D Sweep Panorama in the A55 and A33. These let you frame your shot, hold down the shutter button, and pan the camera to capture a rapid succession of images that get stitched together in just a few seconds—one of the simplest ways we've encountered to create a panorama. It does limit your resolution in the vertical dimension, so it makes sense to shoot with the camera held vertically to maximize your pixel count.
The 3D version splits image pairs in the panoramic burst to create separate left- and right-eye images, then merges them for a 3D image viewable on 3D televisions that accept the CIPA standard MPO files. So far, we know that both Sony and Panasonic's 3D TVs accept this standard, though as it's part of the 3D TV spec, all should be able to handle them.
These cameras also merge images to great effect in their Auto HDR and Handheld Twilight shooting modes. Handheld Twilight takes advantage of the fact that high-ISO-related noise appears randomly. So by combining multiple shots of the same scene, it can merge together only those areas that have the least amount of noise. It's even smart enough to realize when there's movement in the scene, and to compensate so you don't end up with three versions of the same jogger in your picture.
Auto HDR lets you select from 1, 2, or 3 stops' worth of difference between three captured images to preserve more image detail in bright and/or dark areas of the scene that would otherwise be lost in a single exposure. It proved quite effective, although, like any HDR capture, it's susceptible to ghosting when your subject (or the camera) moves between exposures, so you should probably use a tripod for Auto HDR shooting. Do it well, though, and you can end up with a great shot.
Video capture with the A55 and A33 is pretty much what most people have been waiting for from a DSLR—except that most standard Alpha lenses will likely add AF motor noise to the audio if you use the built-in mics. The continuous AF keeps up very nicely as you pan through a scene, and the quality of the footage captured is on a par with most consumer-grade HD camcorders. It'll be interesting to see if Sony (or any other manufacturer) comes out with specialized video lenses with sound-damped AF motors for these cameras.
Bottom Line
Sony has done a remarkable job of resurrecting semi-transparent mirror technology to create a new kind of DSLR, solving one of the toughest problems so far in video capture with a camera designed primarily for still imaging. It's possible that contrast-AF technology might some day catch up with the continuous AF speed made possible by these cameras, but in the meantime, these two Sonys offer a wonderful still/video experience without sacrificing the level of still capture we've come to expect from DSLRs.
Sony A33 Specifications:
IMAGING: 14.2MP effective, APS-C-sized CMOS sensor captures images at 4592x 3056 pixels with 12 bits/color in RAW mode.
STORAGE: Memory Stick PRO Duo, SD, SDHC, SDXC. Stores JPEG, ARW RAW, and RAW + JPEG files.
VIDEO: Up to 1920×1080, 30-fps, AVCHD or up to 1440×1080, 30-fps MP4; built-in stereo mic with optional stereo mic input; continuous phase-detection AF.
BURST RATE: Full-sized JPEGs (Fine mode): Up to 14 images at 6 fps. RAW (12-bit): Up to 7 shots at 6 fps.
AF SYSTEM: TTL phase detection with 15 illuminated focus points (3 crosstype). Single-shot and continuous with tracking. Tested sensitivity down to –2 EV (manufacturer rated to –1 EV) at ISO 100, f/1.4.
SHUTTER SPEEDS: 1/4000 to 30 sec plus B (1/3-EV increments).
METERING: TTL metering using 1200-zone evaluative, centerweighted, and spotmetering. Range –2 to 17 EV (at ISO 100).
ISO RANGE: ISO 100–12,800 (in 1-EV increments).
FLASH: Built-in pop-up with TTL autoflash with +/-2-EV exposure compensation (1/3-EV increments), GN 33 (ISO 100, feet), covers 18mm lens field of view. Flash sync to 1/160 sec. Dedicated Sony/Minolta hot-shoe and wireless control of optional flash.
EVF: Fixed eye-level LCD with 1.44 million-dot resolution; 100% accuracy; 1.1X magnification.
LCD: Tilting, swiveling 3-in. TFT with 921,600-dot resolution.
OUTPUT: Hi-Speed USB 2.0, mini HDMI video.
BATTERY: Rechargeable NP-FW50 Li-ion, CIPA rating, 270 shots with EVF, 340 shots with LCD screen.
SIZE/WEIGHT: 4.9×3.6×3.3 in., 1.1 lb with card and battery.
STREET PRICE: $650, body only; $750 with 18–55mm f/3.5–5.6 Sony DT SAM lens.
FOR INFO: www.sonystyle.com
Sony A55 Specifications:
IMAGING: 16.2MP effective, APS-C-sized CMOS sensor captures images at 4912×3264 pixels with 12 bits/color in RAW mode.
STORAGE: Memory Stick PRO Duo, SD, SDHC, SDXC. Stores JPEG, ARW RAW, and RAW + JPEG files.
VIDEO: Up to 1920×1080, 30-fps, AVCHD or up to 1440×1080, 30-fps MP4; built-in stereo mic with optional stereo mic input; continuous phase-detection AF.
BURST RATE: Full-sized JPEGs (Fine mode): Up to 28 images at 6 fps. RAW (12-bit): Up to 19 shots at 6 fps.
AF SYSTEM: TTL phase detection with 15 illuminated focus points (3 crosstype). Single-shot and continuous with tracking. Tested sensitivity down to –2 EV (manufacturer rated to –1 EV) at ISO 100, f/1.4.
SHUTTER SPEEDS: 1/4000 to 30 sec plus B (1/3-EV increments).
METERING: TTL metering using 1200-zone evaluative, centerweighted, and spotmetering. Range –2 to 17 EV (at ISO 100).
ISO RANGE: ISO 100–12,800 (in 1-EV increments).
FLASH: Built-in pop-up with TTL autoflash with +/-2-EV exposure compensation (1/3-EV increments), GN 33 (ISO 100, feet), covers 18mm lens field of view. Flash sync to 1/160 sec. Dedicated Sony/Minolta hot-shoe and wireless control of optional flash.
EVF: Fixed eye-level LCD with 1.44 million-dot resolution; 100% accuracy; 1.1X magnification.
LCD: Tilting, swiveling 3-in. TFT with 921,600-dot resolution.
OUTPUT: Hi-Speed USB 2.0, mini HDMI video.
BATTERY: Rechargeable NP-FW50 Li-ion, CIPA rating, 330 shots with EVF, 380 shots with LCD screen.
SIZE/WEIGHT: 4.9×3.6×3.3 in., 1.2 lb with card and battery.
STREET PRICE: $750, body only; $850 with 18–55mm f/3.5–5.6 Sony DT SAM lens.
FOR INFO: www.sonystyle.com