Manfrotto PRO Light Flexloader camera backpack review: Protective, bulky
The camera bag offers plenty of cushion and comfort, but at a cost.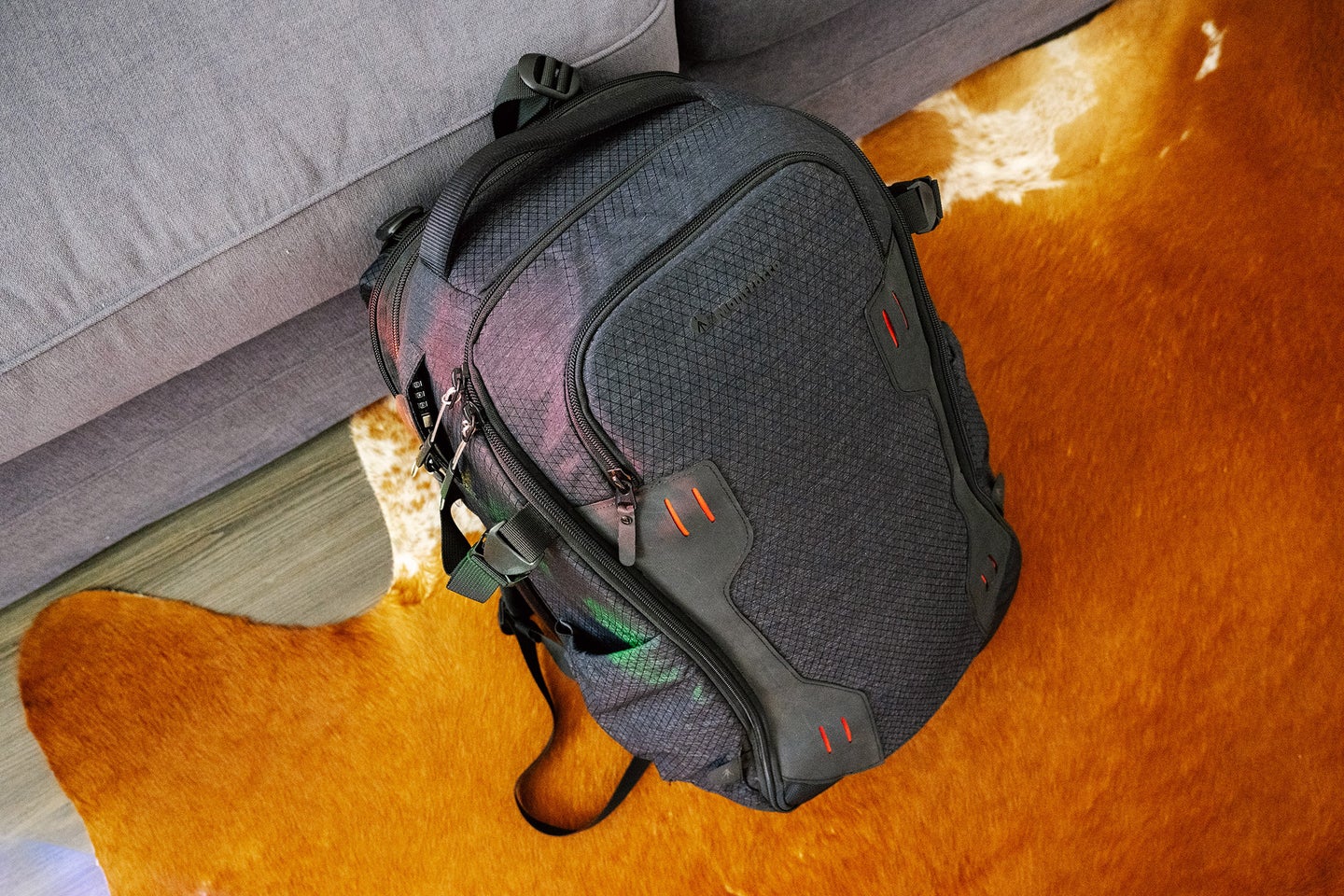 We may earn revenue from the products available on this page and participate in affiliate programs. Learn more ›
Over the years, I have, for good or bad, become a bit of a camera bag snob. I am picky about my camera bags and am on a seemingly never-ending quest to find the perfect one, if such a bag even exists. And so, when Manfrotto asked me to try something from its PRO Light line, I gladly jumped on board. 
The PRO Light series is designed for traveling shooters, and there is a long list of storage options in the line, from backpacks and slings to hard cases and roller bags. I had the opportunity to test the PRO Light Flexloader Backpack L (26.5L) and have been using the bag for several months. 
Size
Despite the name, I would not exactly describe the Flexloader Backpack 26.5L as light. When empty, the pack weighs 6.6 pounds, which is only around half a pound less than my massive and rugged first edition Lowepro Whistler BP 450 AW. And it has exterior dimensions of 22 x 14.2 x 13.8 inches. It's quite bulky; there's no getting around it (sometimes literally). 
I am a relatively small human (5'6″ and 130 pounds), and this camera backpack sticks out a lot. I can't tell you how many people I accidentally clipped with the pack or the number of tight spaces that proved tricky with the bag on my back (e.g., packed elevators). It fits in the overhead compartment of airplanes just fine but definitely doesn't fit under the seat. I had to attempt to jam it there on one full flight with no overhead compartment capacity, and needless to say, it ate up literally all of my legroom. 

Capacity of the PRO Light Flexloader Backpack L
The trade-off for the bulk is that it holds a ton of gear. Manfrotto specifies that there is room for a full-frame mirrorless or DSLR with an attached 70-200mm f/2.8 lens, a second camera with a kit lens, two to four more lenses, a drone, batteries, and additional accessories. I don't typically travel with quite that much gear, but I was able to bring my Sony a7 III, 24-70mm lens, 14-24mm lens, Instax Mini 11, and a small microphone, and still have some room to spare.

Additionally, there is a dedicated laptop pocket for 15-inch laptops. And it features an expandable back pocket that is intended to hold a 3-axis gimbal stabilizer (though it is awfully tight for that use). By now, it should be clear that this backpack is for someone who likes to have a lot of gear on them. However, in terms of non-photography gear storage, there isn't much. There are two pockets on the side to accommodate a water bottle and tripod and a small pocket on the front for smaller items like keys or a small notebook. And there are stowed-away straps so you can attach things to the outside of the pack. But that's it. 
You could shove a jacket in the camera compartment if it's small enough, and you don't need to fill that area with gear, but there isn't empty space like a lot of camera bags to stash non-photography-related stuff. Also, the expandable pocket intended for a gimbal is still essentially flat storage and doesn't expand all that much. I traveled with a book in that pocket, and it was a tight squeeze. I even got a rug burn on the back of my hand from reaching in to take the book out a few times. 
Materials & durability
The exterior of the PRO Light Flexloader Backpack is made of water-repellant RipStop nylon and polyester fabric. I never got caught in the rain with the bag, but I had it lying in some snow and had no issues with moisture. 
Should the need arise, it comes with a stowed-away DuoFace sun and rain cover for extra protection. Manfrotto says the cover even reflects sunlight to keep gear cool, which may be handy on hot, sunny days, given the black design of the backpack.

The zipper pulls on the Flexloader are all quite long and made of steel wire. They feel really solid and are easy to pull. And there is even a little pocket near the top with an included and tethered TSA lock, so you can lock up all those steel wire zipper pulls and don't have to worry about someone cutting through them to steal your expensive gear. 
After using the Pro Light backpack for five months, during which time I took three separate cross-country flights plus one long road trip, I can attest to its durability. It shows very minimal signs of wear. When I was pulling it out from being jammed under the airplane seat, I heard a rip somewhere (it was really stuck in there), but I couldn't see any issues and haven't had any problems with the bag since then. 

PRO Light Flexloader Backpack L interior features
One of the things I love about the bag is how easy access to the camera compartment is. The zipper to that main pocket goes nearly all the way around the pack, so you can flip the entire flap open and have unfettered access. Too many bags seem to require you to wiggle and maneuver the camera just right to get it out, and that is definitely not the case here. 

Inside the back, the Pro Light backpacks utilize Manfrotto's new M-Guard Protection System, which it says is "specifically designed and laboratory tested to guarantee the highest level of protection and shock resistance." And like most camera bags, those M-Guard dividers are movable to customize your gear storage. For even more protection against drops, Manfrotto included SAS-TEC, a viscoelastic memory foam, in the backpack's base.
Luckily, I didn't have any drops with the bag, so I didn't have to test how shock resistant it really is. But, I found that the velcro on the dividers is a weak point. Even with fairly light items and no jarring of the bag, I had them give out, leaving all my gear mixed up and towards the bottom. Luckily I didn't have anything too precious packed inside, so nothing was damaged, but it was frustrating to open things up and see my stuff all jumbled. 
Also inside the bag are three mesh pockets, one with a zipper and two with an elastic top. These don't expand much but are nice for small items like extra memory cards, batteries, and some microfiber cloths.

Another nice touch is the extra pouch that comes with the bag. It consists of two zippered pockets with different types of pockets and elastic organizers in each. I kept my mouse, portable SSD, charging cords, USB hub, and other such work necessities in the pouch while traveling, and it kept me much more organized. Plus, there were times I could just bring that out as opposed to my entire backpack, which was much more convenient.

Fit & comfort of the PRO Light Flexloader Backpack L
The main reason I wanted to try the PRO Light Flexloader Backpack L was because of the adjustable torso feature. I have a long torso for a female, but I've still had too many bags that are simply way too long for me. Unfortunately, that extra length means that the hip belt doesn't sit where it should, so I can't take any weight off the shoulders and onto my hips. 
At the top of the pack, where the shoulder straps meet the body, are three loops for torso length. I tried all three and stuck with the middle option that the bag came set as, which I did not anticipate. Changing the positioning of those clasps made a surprisingly big difference in how the bag fit. That feature would be a huge plus for someone with an extra short or long torso.

Though I didn't go on any hikes or anything of the sort with this bag (it's not exactly meant for that, after all), as mentioned, I did have some long days in the airport with it. Besides the bulkiness, I found the bag to be perfectly comfortable. I had the waist belt synched all the way down, but luckily it was just tight enough to help take some of the weight off my shoulders, making it more comfortable to keep on my back. The straps–shoulder and waist–and the back of the bag are plump with padding as well (they are over an inch thick), so there was no cutting in anywhere, even when I had it packed pretty full.
Final thoughts on the PRO Light Flexloader Backpack L
Pros
Holds a lot of camera equipment
Well-padded and comfortable to wear
Torso length is adjustable
Durable build
Airport friendly
Easy access to the camera compartment
Cons
Extremely bulky
Not very light, even when empty
Not much room for non-photography-related gear
Velcro on dividers can move out of place during transit
Expandable pocket isn't very expandable
Material in the expandable pocket is really rough
The PRO Light Flexloader Backpack L is a bit of a love-hate situation for me. I love how much camera gear it can hold, but I do not like how there isn't room for much else. And yes, a bag needs to be somewhat bulky to carry a lot of gear, but this seems excessive. The bag is meant to be a carry-on, not checked baggage, so some of the shock absorbency seems like overkill. 
I also love the adjustable torso length, even if I didn't need it in this case. It's nice to see companies finally considering that as they design new bags since it can make such a massive difference in comfort. And as much thought that Manfrotto put into some of the bag materials, such as the exterior, others, it seems, were more of an afterthought. The rough material of the expandable pocket and the less-than-strong velcro on the dividers especially.
At the end of the day, this bag makes sense for a very specific group of people: Professional photographers or videographers who need to bring a lot of equipment on their travels and who don't need anything beyond that on their shoots. Luckily all the padding makes it comfortable since it isn't a very lightweight backpack to carry around.