Best camera backpack for lugging around your photography equipment
Secure your gear and save your shoulders with the best camera backpack.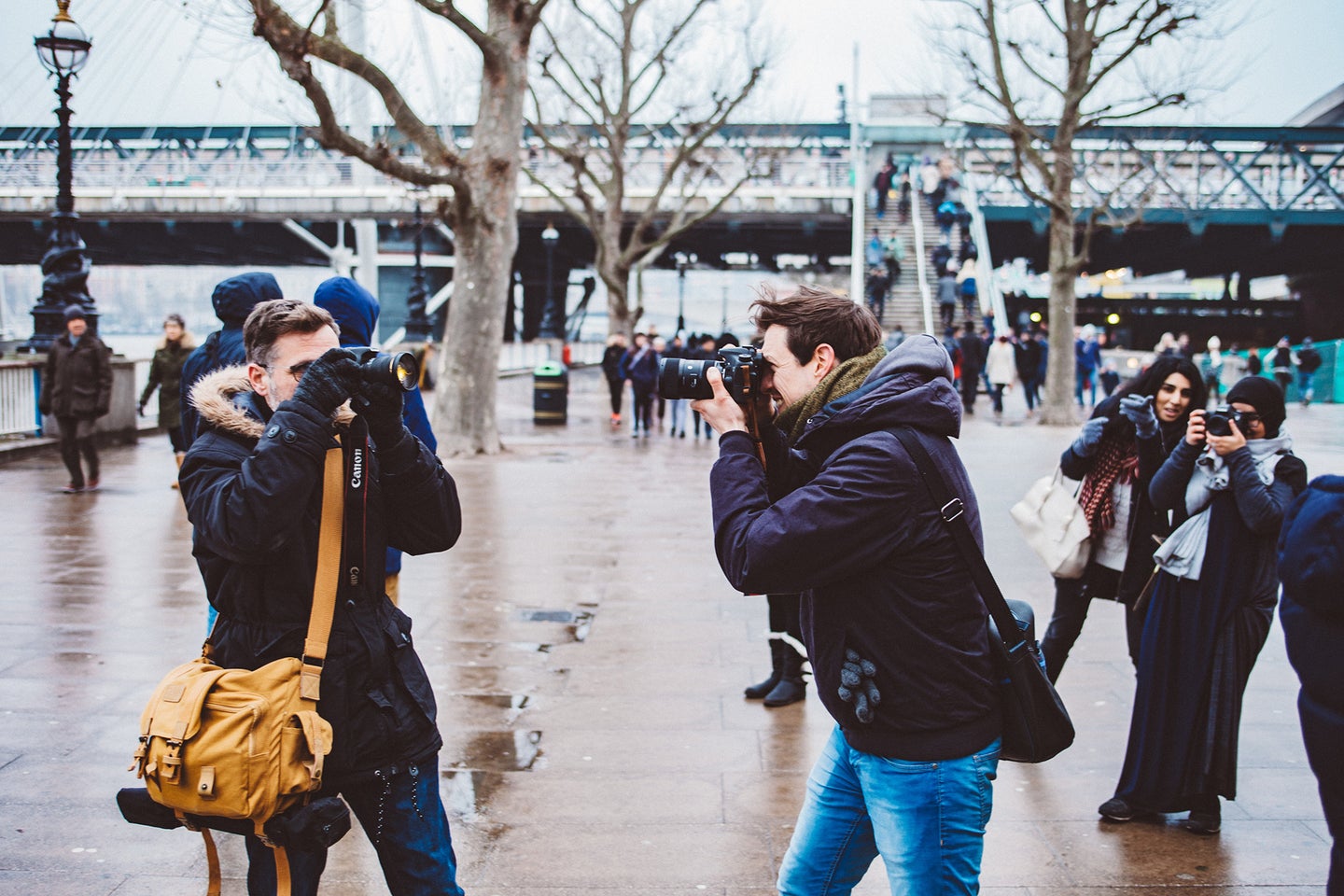 A camera backpack is one of the most useful photography accessories a photographer can have and these days, there are more options than ever before. When shopping for a camera bag it's important to consider the amount and type of gear that you will be storing, where you will be taking your camera equipment, and that the bag is the right size for your body. Not all backpacks are created equal. A good backpack will evenly distribute the weight of your gear across both of your shoulders, meaning you can carry your gear for longer without experiencing pain. There are specialty camera bags for the outdoors, backpacks designed for mirrorless cameras, backpacks for airline travel, and anti-theft backpacks. Camera backpack design has come a long way in the last few years, but the number of options on the market doesn't have to be overwhelming. Here's how to choose the best camera backpack to keep your gear safe and organized and your shoulders and back comfortable.
Features to consider when shopping for the best camera backpack
The best camera backpack is one that fits all of your gear and evenly distributes the weight of that camera gear across your shoulders. A camera backpack that includes a laptop sleeve, a camera cube, a water-resistant material, and additional pockets for personal items is a great place to start. The dedicated padding in the camera cube and the laptop sleeve will keep your equipment safe and organized while you travel. It's also very helpful to have dedicated pockets for personal items like your wallet and keys. Regardless of where you are planning to take your camera gear, having these specific features is an excellent place to start when you are shopping around for a new camera backpack.
Consider how much camera equipment you will be carrying in your camera backpack
Most camera bags will have a dedicated laptop sleeve and a section for storing camera bodies, lenses, and other camera equipment. When shopping for a new camera backpack, it is important to consider the size of your gear, how much gear you will be traveling with, and any camera accessories you might be bringing along. If you are shooting with a mirrorless camera you will need less space in the camera section than if you are shooting with a DSLR camera. Before you buy a camera backpack, consider what you will be carrying and how much space inside you will actually need.
Camera backpacks typically come with either a clamshell design or a roll top design. A roll top design is usually better at holding more stuff, while a clamshell backpack has a more understated, stylish design. A lay flat configuration of the backpack can be extremely helpful when flying because it makes it much easier to get through security, but can also be useful in the studio. If you are looking for a backpack where you can access your gear while the camera backpack remains on your body, look for something with side access pockets instead.
The weatherproofing of a camera backpack is another important aspect to consider before you buy. If you are primarily using the camera backpack for commuting with your gear you probably won't need a fully waterproof camera backpack—something that is water-resistant will likely be plenty of protection. If you are planning to take your camera gear on long hikes in the elements, a fully weatherproof camera backpack with a dedicated rainfly will be a better option for you. Think about how you will be using the bag to help determine which camera backpack is best.
The Wandrd PRVKE bag is the best travel camera backpack for everyday commuting, but specifically helpful for airline travel. It comes in two sizes: 21L and 31L, making it a great option for mirrorless photographers or DSLR photographers. It has a dedicated camera cube, a laptop sleeve that can hold up to a 15-inch Macbook Pro, tons of dedicated pockets for personal items, and the roll-top creates an extra five liters of space and gives you easy access on the go. The camera backpack has three points of access: a side pocket for quick camera access, a lay-flat clamshell opening, and the previously mentioned roll top. The lay flat design was created with airport security in mind—it's checkpoint friendly—meaning that in some airports you will be able to breeze through security without removing all of your electronics. It also has a hidden passport pocket on the part of the backpack that rests against your back to protect your valuables in busy areas. The PRVKE bag is made of durable water-resistant tarpaulin and nylon, so you don't have to worry about your bag of camera gear getting ruined if you get caught in some bad weather before or after your travels.
Consider your environment when selecting a camera backpack
Traveling by air or commuting to work is a very different environment than taking your camera equipment into the outdoors. If you are an avid outdoor photographer who plans to take your gear on lots of outdoor adventures in rugged terrain, you will likely want to look for a camera backpack that can handle the unpredictable elements of the outdoors.
If you are planning to do a lot of hiking with your camera equipment, look for backpacks with a larger capacity and that have enhanced weatherproofing to keep the contents of your camera backpack safe.
Lowepro's Photo Sport 200 can fit mirrorless or DSLR cameras with a lens attached and has room for extra lenses and accessories. This is the best camera backpack for hiking and outdoor adventures because it also includes space for a two-liter hydration reservoir, plus room for hiking accessories like snacks, extra layers, or even a bike helmet. It has an ActivZone harness that can be secured around your waist for extra support when hiking or biking trails or snowboarding down them. A design feature called UltraCinch makes it easy to pull a single tab to tighten the photo gear compartment to prevent unnecessary gear bouncing. The Photo Sport has an all-weather cover that will keep camera gear safe from rain, snow, dust, and sand. Most importantly, this camera backpack is compact and lightweight, so it won't slow you down in the outdoors.
Consider the size of your camera equipment and accessories when selecting a camera bag
If you are shooting with a DSLR camera consider that the body, the lenses, and all of the accessories will be larger and heavier than if you are a mirrorless photographer. A camera backpack specifically designed for larger DSLR cameras is a great way to make sure that weight is evenly distributed in your backpack, while still keeping all of your gear safe and sound.
If you are traveling with two bodies and a variety of lens options selecting a camera backpack that loads from the back is a great choice. With these designs, the entire back panel of the bag is where you will store your gear. Accessing the gear typically means removing the pack from your back, but this design style of camera backpack means you can carry a whole lot more lenses and accessories while you are traveling with your camera gear.
This backloading DSLR bag's camera storage section takes up the entire back of the bag, meaning there is lots of room for multiple camera lenses and accessories. The back compartment is lined with customizable EVA foam inserts and velcro to configure your bag in whatever way makes the most sense. A quick-access pocket at the top of the bag makes it so you can access the camera body without having to unzip the rest of the bag. This compartment has three large interior pockets for holding extra batteries, cables, memory cards, and other accessories. The front of the bag features a large pocket for storing keys, phone, or other personal items. It has a fleece-lined 15-inch laptop sleeve, a water bottle pocket, plus a place to attach a tripod. If you need to carry a lot of DSLR equipment, this HEX bag is one of the best camera backpacks.
What is the best camera backpack for commuting with a camera and laptop?
If you are a photographer who is always on the go, a camera backpack with a low profile but plenty of room to hold the necessities is a good choice. Sometimes all you need is one camera body, a lens, and your laptop.
Look for something that has a dedicated laptop sleeve and modular dividers for organizing your camera gear. If you are commuting around an urban area with your equipment, the best camera backpack is a subtle-looking one—something that doesn't make it immediately obvious that your bag is filled with expensive equipment.
Chrome's Niko F-Stop Pack has an understated design that is great for urban commuting. The Niko bag features back panel full-zip access and fully customizable modular dividers—making it a great option for mirrorless, DSLRs, video equipment, or even drones. Its padded laptop sleeve can hold up to a 13-inch Macbook, it has tons of smaller organization pockets on the inside, and is made of 1050-denier ballistic nylon and a durable tarp interior. Chrome has a long history of making bags for New York City bike messengers and their products are built to last. Our favorite part of this camera backpack? It's designed so that it doesn't look like you're hauling around a big bag of camera equipment.
Far from home? Anti-theft camera backpacks can keep gear safe in unfamiliar spaces.
If you are taking your camera equipment to an unfamiliar, crowded place, having a backpack with anti-theft features can help give you peace of mind—especially if you are planning to hit a lot of tourist attractions where theft is a common occurrence.
Being aware of your surroundings and conscious of your belongings is the best first step, but having a gear backpack with a low-profile look is also important. A backpack that features lockable zippers will go the extra mile in keeping your gear safe and sound.
This anti-theft camera backpack takes the cake for looking unassuming, but it also features lockable zippers for increased safety when traveling with your gear through crowded tourist destinations. The lower zone of the bag is for camera equipment, in the top section you can store clothes and personal items and there is a separate padded sleeve for laptops up to 15 inches. The camera section is large enough to hold a DSLR with attached 70 to 200mm lens or 3 to 4 standard lenses. There are large side pockets on both sides for a water bottle and/or a tripod. The bag allows you to hook all of the zippers together and secure them together to make it difficult for pick-pockets to access your bag. It's made of water-resistant canvas and has a dedicated rain cover too.
Best affordable camera backpack: What you can get for under $40
A quality camera backpack doesn't have to break the bank. Keep in mind that a more affordable camera backpack will likely lack advanced organizational features, design elements, dedicated laptop pockets, and extensive weather-proofing. The most basic of bags probably won't hold up as long either. If you are looking for the most basic of camera backpacks, make sure to select a bag with a padded, customizable organization system. This is what is going to keep your camera body and your camera lenses safe while you are traveling with your camera gear.
If you are looking for a no-frills, low-cost camera backpack, the Amazon Basics Backpack is a great place to start. This backpack lacks an 11-inch laptop sleeve, isn't doing much in the style department, features minimal pockets, and doesn't have any weatherproofing. But it still has plenty of padding to keep your camera gear organized. This one can hold an ample amount of gear, but it's nearly as durable as some of the other products in this list. If you are traveling with your camera equipment often, expect to have to replace this after a few years because of wear and tear to the camera backpack.
FAQs
Q: Why do you need a camera bag?
Having a camera bag is the easiest way to keep your gear safe while you are traveling with it. Lenses and camera bodies are expensive and having a dedicated bag to store your gear in when you aren't shooting with it helps ensure that your gear stays in good condition. A camera bag keeps your gear safe from bad weather and would-be thieves.
Q: What makes a good camera backpack?
The best camera backpacks will evenly distribute the weight of your gear across your body, have a dedicated padded compartment for holding your gear, some amount of weather-proofing, and a dedicated laptop sleeve. Look for one with extra pockets for holding personal items and multiple points of entry to make it easy to access your camera gear without having to remove the camera backpack.
Q: What is the best waterproof camera backpack?
Most camera backpacks feature some amount of weather-proofing, but if you are looking for a fully waterproof bag, your best bet is to go with something meant for outdoor photographers. Camera bags that are designed to be taken on hikes will feature the best waterproofing and often come with a dedicated rain fly that you can cover the bag in case of a storm.
A final word on shopping for the best camera backpack
Finding the best camera backpack for you depends a lot on how much gear you will be carrying with you, the size of your camera equipment, and where you are planning to travel with your gear. The majority of camera backpacks feature a dedicated laptop sleeve and enough space for a mirrorless camera setup or a DSLR setup. A design with a dedicated layout laptop sleeve will make it easier to get through airport security, while a camera backpack with a backloading design will allow you to carry more gear. A camera backpack designed for exploring the outdoors will feature more impressive waterproofing than a backpack made for urban commuting or day-to-day use. A camera backpack with more advanced features will likely be more expensive than a basic camera backpack, but will also stand up to more wear and tear. Regardless of the bag you choose, having a dedicated camera backpack is a great way to keep your favorite camera equipment safe and secure.