| | | | | | |
| --- | --- | --- | --- | --- | --- |
| Best overall | | F2C 5-in-1 Pro Heat Press Machine | | SEE IT | Five-in-one functionality lets you print on more than just t-shirts. |
| Best sublimation printer | | Sawgrass UHD Virtuoso SG500 Sublimation Printer | | SEE IT | This Sawgrass sublimation printer is easy to use and offers consistent quality. |
| Best for screen printing | | VEVOR screen printing machine | | SEE IT | This screen printing setup supports four-color designs on one stand. |
We may earn revenue from the products available on this page and participate in affiliate programs. Learn more ›
Updated Feb 28, 2023 11:49 AM
Finding the best t-shirt printer can be hard, given the different printing techniques in the market. From large machines for commercial-scale printing to modified inkjet printers for home use, there's no shortage of options. But if you know what to look for, you'll be able to choose a printing machine made specifically for your application. Whether you want to print one of your photos on a shirt or customize t-shirts for companies and sports teams, the best t-shirt printers will help bring your vision to life.
How we picked the best t-shirt printers
In this product roundup, we compared t-shirt printers by different manufacturers based on features such as build quality, functionality, portability, printing area, and ease of use. We reviewed the printers based on their printing technology and pitted them against their peers to reach a fair verdict. We also analyzed buyers' reviews on major e-commerce sites like Amazon and eBay.
The best t-shirt printers: Reviews & recommendations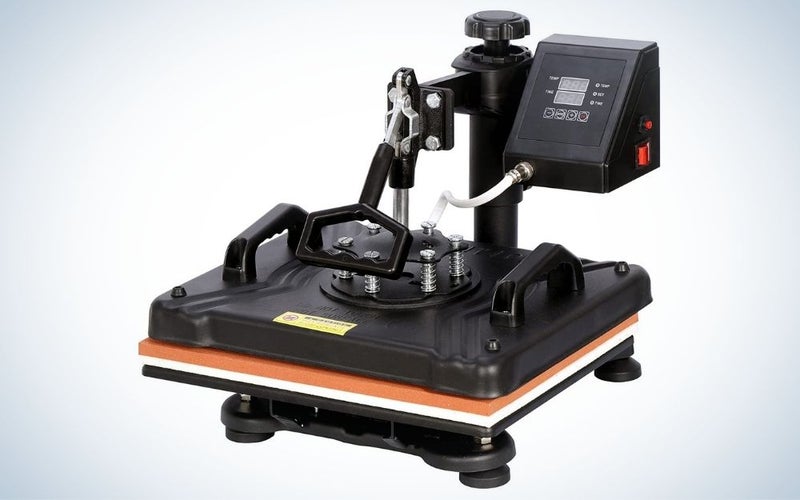 Specs
Printing method: Heat press
Printing area: 12 x 15 inches
Dimensions: 20.6 x 19.6 x 20.2 inches
Weight: 55.8 pounds
Pros
Sturdy body for durability
360-degree rotation for high precision
Full-range pressure-adjustment knob 
Intelligent timer and alarm
Easy to use
Cons
The 1200W heating element takes relatively long to heat to the desired temperature
The F2C 5-in-1 pro heat press machine perfectly combines form and function. It is sturdy enough to withstand usage by both novices and pros. This heat press has many useful features—a non-stick surface, swing-away 360-degree rotation, and a full-range pressure-adjustment knob.  Despite its industrial-grade metallic body, it's relatively portable and can be used on small working surfaces, making it ideal for someone who doesn't have a dedicated workspace.
But what makes this the best machine for t-shirt printing? For starters, it is very easy to use. You can easily change the settings with the adjustable pressure knob, the temperature control, and the timer. The 12 x 15-inch plate allows for printing relatively large designs, while built-in structural support helps maintain flatness for even distribution of heat and pressure.
Secondly, this machine outperforms its competitors with its many features. For example, it comes with attachments that allow you to print on apparel, mugs, plates, and hats. And because it can rotate 360 degrees, it allows for heat and pressure application on different areas.
Interestingly, the machine's versatility is also its undoing. Its attachments are heavy and cumbersome to change out. And because it's not a dedicated t-shirt printing machine, it doesn't accommodate extra-large prints. Also, its 1200 W heating element takes a while to heat up to the desired temperature.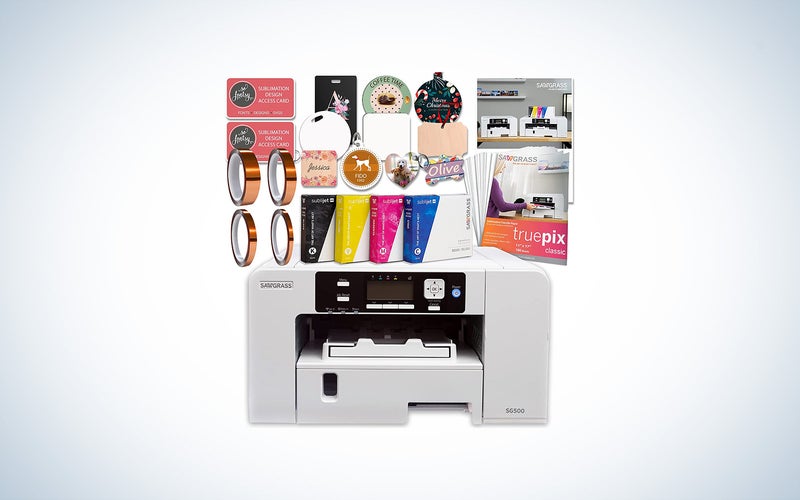 Specs
Printing method: Dye sublimation printing
Printing area: 8.5 x 14 inches
Dimensions: 15.75 x 17.25 x 8.5 inches
Weight: 15 pounds
Pros
Comes with lots of materials to get started
Offers a high, 4880 x 1200 resolution
Easy to use
Produces consistent quality
Cons
Pricey
Sawgrass ink is expensive
Sublimation printing is the process of transferring ink from special paper onto a shirt (or another type of object) using heat. This results in the ink fusing into the fabric, instead of a separate material simply being adhered onto the shirt, which is liable to peel off. The Sawgrass Virtuoso SG500 is a dye sublimation printer that is already set up for you to dive right into this technique. 
This Sawgrass printer is easy to use for t-shirt printing and very beginner-friendly. It features built-in maintenance software, which automates the nozzle cleaning process, keeping your print heads cleared and in top shape. It also optimizes the amount of ink that gets used in the cleaning process. That's extra helpful since you'll need to use Sawgrass ink in the printer, and that ink is pricey.   
The printer offers a high resolution of 4880 x 1200, which will allow you to create highly detailed designs. It can even print photographs for t-shirts. It comes with the Sawgrass Virtuoso Print Manager software to help you get quality, vibrant prints every time. And it provides access to Sawgrass CreativeStudio, an online design program. It makes sublimation printing easy, even for beginners.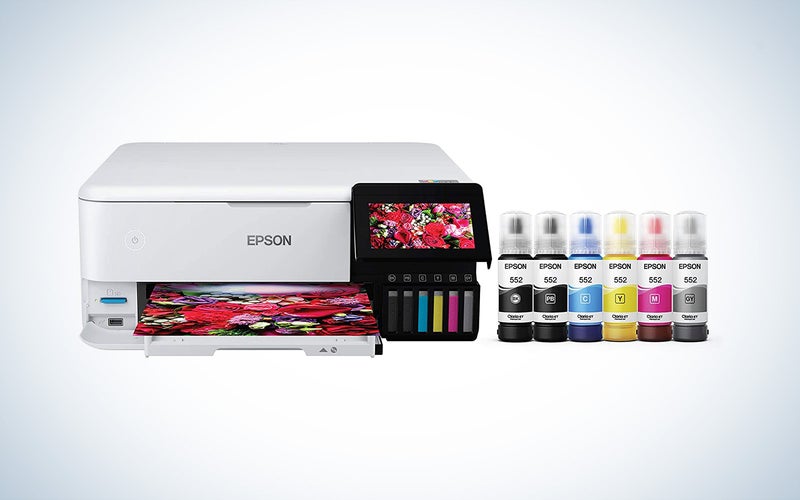 Specs
Type of printing/transfer: Inkjet printer
Printing area: 8.5 x 14 inches
Dimensions: 24.1 x 15.9 x 13.7 inches
Weight: 18.5 pounds
Pros
Produces high-quality prints
Relatively low operating costs
Supports wireless and Wi-Fi-direct printing
Can work as a sublimation printer
Has a built-in scanner and copier
Cons
Somewhat expensive upfront cost
The Epson EcoTank ET-8500 is a high-quality inkjet printer. It's not a sublimation printer right out of the box, but it can easily be converted to a sublimation printer. And the inclusion of a scanner makes this more well-rounded than a dedicated sublimation printer. For best—and easiest—results, you should complete the conversion process with a brand new printer, but be aware that it does void the warranty, and it can only be used as a sublimation printer moving forward. 
To convert it from a standard printer to a dye-sublimation machine for t-shirt printing, simply inject sublimation ink into the ink tanks. Even though it requires converting, the machine holds its own against the best dedicated dye-sublimation printers. It has a maximum print resolution of 5760 x 1440 dpi, which results in highly detailed prints, perfect for printing photos on shirts. 
The ink tanks hold plenty of ink, so your ink could easily last for months, based on your usage. And the ink tank design is more eco-friendly since they use less plastic than traditional ink cartridges. The printer utilizes six colors, with is more than a traditional inkjet printer. The result is more accurate and nuanced colors in your designs or photos, giving you all-around better quality results.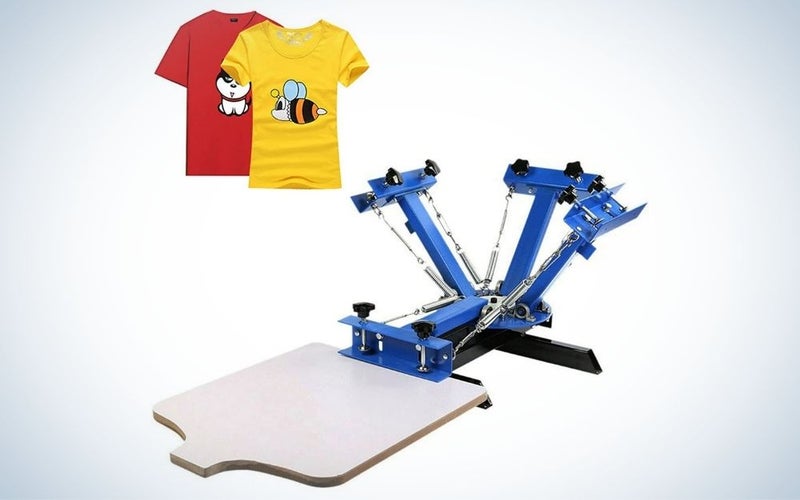 Specs
Printing method: Screenprint
Printing area: 21.7 x 17.7 inches
Dimensions: 55 x 7.9 x 32 inches
Weight: 43.2 pounds
Pros
Easy to assemble
High-quality prints
Sturdy build
Large printing area
Desktop design saves space
Cons
Not great for mass production
It's hard to line up the holes during assembly
VEVOR is a custom screen printing machine that's ideal for a variety of materials. This machine can print on fabrics, metal, wood, paper, glass, and more. It allows you to print your designs on just about anything that is flat and accepts screen printing ink. And the four-color one-station screen printing machine makes printing multi-color designs more efficient. Simply attach your different screens and rotate to print as needed. 
The VEVOR Screen Printing Machine is easy to assemble, easy to use, and its design ensures it doesn't take up much space. It's ideal for people with limited space or those who only print occasionally. It is the best t-shirt printer for small businesses or artists, but it has a few downsides. It is not ideal for mass production, so we don't recommend it for busy settings.
Best third-party printer: Custom Ink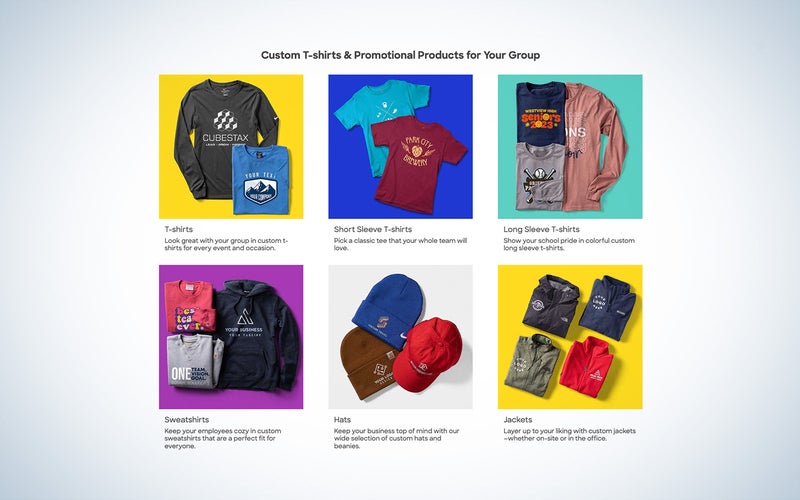 Specs
Printing method: Drop shipping
Printing area: Variable
Dimensions: N/A
Weight: N/A
Pros
Large variety of shirts and product types
Free and easy-to-use design library
Excellent customer service
Ability to ship to different addresses
Cons
Number of options may be overwhelming
Some shirts offer limited options when ordering less than six
Sometimes, you don't want to mess with doing it yourself. T-shirt printing typically requires fairly expensive equipment and, depending on the process, may require multiple pieces of equipment. If you don't plan on printing t-shirts on a regular basis, it doesn't make sense to invest in all the tools and materials. That's where a third-party company comes in. 
Custom Ink is one of the top choices for t-shirt printers for many reasons. They offer an extremely extensive selection of shirts in all sorts of colors, prints, shapes, and sizes. You can even print on jackets, vests, and activewear, along with an assortment of products beyond shirts. The options are nearly limitless. And the results are extremely high-quality and consistent. 
Custom Ink is excellent for design-savvy and design novices alike. You can either upload your fully complete design or use the Design Lab and to access a wide variety of fonts and over 68,000 pieces of art. You'll also get access to excellent customer service and have the ability to ship to more than one address to make your life easier.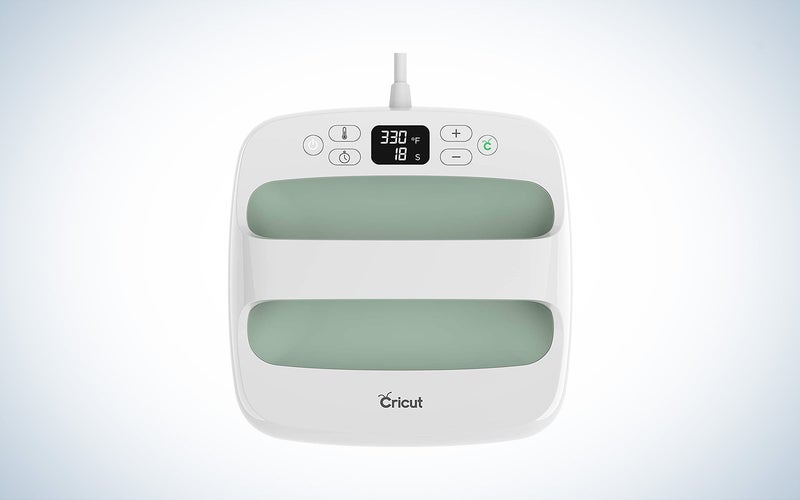 Specs
Type of printing/transfer: Heat press
Printing area: 9 x 9 inches
Dimensions: 13.14 x 7.36 x 13.58 inches
Weight: 8.66 pounds
Pros
Easy to use
Lightweight and portable
Quick to heat up
Affordable
Cons
The Cricut EasyPress 2 is one of the most affordable heat press options available for transferring your vinyl design or sublimation prints. It is a relatively small device, so it's ideal for those creating t-shirt designs at home. And it's fairly lightweight, making it easier to use. And it's compatible with iron-on (HTV), Infusible Ink, and sublimation products, so you'll be able to make a range of t-shirt designs. 
This heat press gets up to 400 ºF from edge to edge for consistent results. You'll have access to the online Cricut Heat Guide so that you use the correct time and temperature settings for the type of transfer you are completing. And the auto-off feature gives you peace of mind. 
Unfortunately, the EasyPress 2 only covers a nine-by-nine-inch area, so you won't be able to create very large designs with it. Cricut makes a nine-by-twelve-inch heat press as well, should you need something larger. Both come with an insulated Safety Base, so you don't have to figure out where to set the press when it's hot. And while you'll need a printer to accompany your Cricut machine and EasyPress, the relatively low price of this heat press makes it easier to get started.
Things to consider when shopping for the best t-shirt printers
Whether you're getting a t-shirt printer for commercial or personal use, the quality of the prints as well as the type of prints you can create will depend on the machine you get. So while it's important to read reviews and product descriptions, your individual needs should determine the printer you choose. Here are some things to consider when shopping for the best t-shirt printer.
Your printing needs
Do you intend to print t-shirts as a hobby or for business? Or do you want to try small-scale printing first before launching a t-shirt printing business? How many t-shirts do you plan to print every month? A small inkjet printer will do for casual use, while a sublimation printer will be a better choice for more polished results. If you plan on printing a high quantity of t-shirts, you'll want to invest in a DTG printer.
Printing method
There are quite a few different printing methods for t-shirt printing, all of which have their pros and cons. Direct To Garment (DTG) printers spray a thin layer of ink that soaks into the fabric somewhat, resulting in a softer print. They are great for highly detailed designs that require smooth transitions between colors, such as photos. Because they are similar in function to a traditional inkjet printer, you can switch between designs without any difficult setup changes. But DTG printers are expensive, so it's probably more than you need unless you are printing high-volume orders.
Screen printing is one of the most common—and oldest–methods of printing on shirts. It essentially involves pushing ink through a stencil (the screen) onto fabric, with a different screen needed for each color. Screen printing results in highly durable and extremely vibrant designs with nearly unlimited color choices, which is why many artists prefer it. It is great for bulk orders but isn't ideal for highly detailed designs. 
Dye sublimation is ideal for t-shirts covered in print. It utilizes a special color vaporizing technique that results in soft, breathable prints. Sublimation only works on synthetic fabrics like polyester, though, and it can be expensive. 
Heat press printing is best for those who want to experiment with their own designs and are just getting started. You can print off a design on your inkjet or laser printer onto special transfer paper and then use heat and pressure to press the design onto the shirt. It won't hold up as well to washing as other methods but is more beginner-friendly.
Material costs
While the cost of the printer itself is important in deciding what t-shirt printer to buy, you should also look into the material and operation costs. Also, keep in mind that many t-shirt printing techniques require two devices: A printer and a device like a heat press to transfer the design. Heat press printing is the most affordable technique despite requiring two devices, as you can use a standard inkjet printer. 
Screen printing is also reasonably economical. But the cost will go up as you get into more complex designs with lots of colors, requiring multiple screens per design. The labor required to set up screens also makes the printing process inefficient for small orders. 
DTG printing is not cheap, as it requires specialist ink chemistry and an extremely expensive printer. They are intended for commercial or high-volume t-shirt printing, with the cost out of reach for most individual users. 
Maintenance
Maintenance should be a top consideration when shopping for t-shirt printers. Choose a printer with automated cleaning capabilities and low maintenance costs. You'll also want something with minimal manual maintenance time. Some printers will send you an alert when they need cleaning, so you don't have to keep track of when you last cleaned it.
FAQs
Q: How much does a t-shirt printer cost?
A t-shirt printer can cost between $100 and $30,000. The retail price largely depends on the printer's technology, features, and usage. Small printers designed for personal use or small business setups cost less than industrial printers. Screen printers are the most affordable t-shirt printers, while DTG printers are the most expensive. 
Q: What is the most efficient method of t-shirt printing?
The most efficient method of t-shirt printing, especially for smaller-scale production, is screen printing. Depending on the design, the ink quality, the mesh count of the screen, and other factors, you can get up to 500 shirts printed from a single gallon of ink. Screen printing machines also make printing designs very quick and straightforward, even when multiple colors are involved.
Q: Is inkjet or laser better for heat transfers?
Inkjet is better than laser for heat transfers because the print paper is easily available, and inkjet printers are easy to use. But inkjet printing has a higher printing cost, and the printers are slow. If printing speed is crucial, get a laser printer. You can use laser printers with self-weeding heat transfer papers, which transfer only the printed image.
Q: Is it safe to use a t-shirt printing machine at home?
Yes, it's safe to use a t-shirt printing machine at home. Many t-shirt printing methods that are best for home use utilize basic inkjet printer technology, which is perfectly safe. And some t-shirt printing tools—such as heat presses— have built-in safety features that prevent injuries and accidents. 
Q: Are there portable models of t-shirt printers?
Yes, there are portable models of t-shirt printers, depending on what printing method you are using. One t-shirt printing technique simply involves printing a design via an inkjet printer and transferring it to a t-shirt with a heat press. There are compact, portable printer options available, as well as smaller heat presses. You will have to bring two devices, which can be cumbersome, but it is possible to get a portable setup. 
Q: Which technology is the most economical?
The most economical t-shirt printing technology is screen printing. The technique, also known as silk screen printing, can print hundreds or thousands of t-shirts quickly and cheaply—depending on the machine you get. The printed designs last a long time without losing their quality.
Final thoughts on the best t-shirt printers
Printing t-shirts can be a fun and rewarding process, whether you tackle it as a hobby or want to make it a business. There are many different methods for printing t-shirts, with benefits and disadvantages to each. The best t-shirt printer will help you create the type of print you want and work well with the designs you come up with.
Why trust us
PopPhoto has a long history of delivering the opinions of some of the sharpest and most prolific camera dorks the world has to offer. Since 1937, we've been reviewing cameras, providing wisdom from well-known photographers, and generally just nerding out about all that goes into making great pictures. Our current crop of writers and editors have decades of professional photography and camera writing experience among them. Collectively, we've probably shot with just about every camera and lens combo you can imagine—as well as some obscure stuff you may not even know about. Remember the Casio Tryx folding camera? PopPhoto does.
We also get that buying a camera is a big decision, which is why we're dedicated to helping folks choose the right one (or, in our case "ones") for their needs. Case in point: Handing over top dollar for an expensive rig may leave you unsatisfied if it doesn't fit your preferred shooting style. Sure, a $6,000 sports-oriented DSLR can capture landscapes, but do you really need to do it at 30 frames-per-second? No, you don't.