We may earn revenue from the products available on this page and participate in affiliate programs. Learn more ›
Updated Feb 6, 2023 1:13 PM
When you want ample screen space to work but you don't want to dominate your entire desk, dual monitor stands are the way to go. An extra monitor can simplify a ton of different computing tasks. It makes work much more efficient and less complicated, whether that's editing photos or working on writing up that next blog post. Think of the time you'll save not having to switch between tabs over and over. While you can simply use the stands that come with your monitors, a dual monitor stand will elevate–literally and metaphorically–your setup, making it more comfortable to use and less cluttered.
How we picked the best dual monitor stands
Like many of you, the writers and editors at Pop Photo stare at computer screens for extremely long periods of time. As a result, we've identified some of the ideal features in a monitor stand. We focused on a range of monitor stand styles, from freestanding to desk and wall-mounted. Features like articulation ranges, maximum height, and the size of the monitors supported were crucial factors for us. We also strove to find products at a range of price points to suit different budgets. And lastly, warranty offerings were considered, especially for the more expensive stands.
The best dual monitor stands: Reviews & Recommendations
With the jargon out of the way, we can get into the actual picks. As a reminder, there is a lot of overlap in this product category so any of these may work for your specific needs.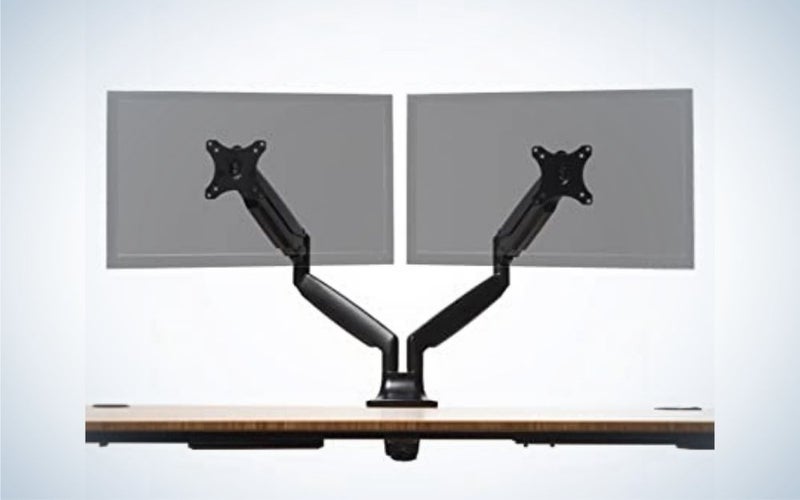 Why it made the cut: The Fully Jarvis Dual Monitor Mounting Arm supports monitors as large as 32 inches, has slick cord management, and has a 15-year warranty.
Key features:
Max monitor weight:19.8 pounds
Compatible monitor size: 13 to 32 inches
Max height: 19.8 inches
Color options: Black, silver, white
Pros
Available in three colors
15 year warranty
Built-in cord management
Offers good height
Cons
As with the Fully Jarvis single mounting arm, the 15-year warranty is one of the things that puts this dual monitor arm ahead of the rest. Most have only 10 years or less. It can support two monitors up to 32 inches and nearly 20 pounds, so you can get some large displays for surrounding yourself in your documents or games. 
The gas-activated arms can rotate from portrait to landscape, tilt 45 degrees, swivel 180 degrees, and rotate 270 degrees at the base. All these adjustments mean that you can really customize your monitors' positions. It also has tension adjustments should your two monitors weigh different amounts.
This dual mounting arm has a small but sturdy stand that can attach to your desk with either a clamp or grommet and is compatible with desks between 0.4 and 3.35 inches thick. It has fully hidden built-in cord management so that you can hide away all those ugly cables. And it comes fully assembled, so all you need to do is attach your monitors, clamp it onto your desk, and you are ready to go.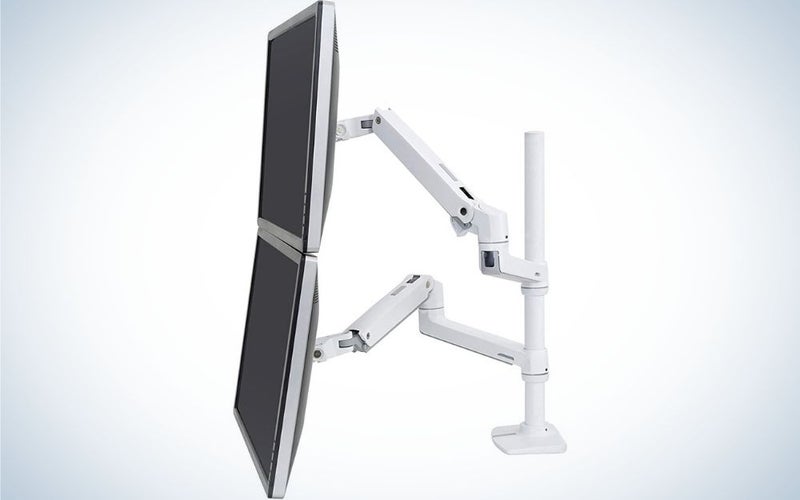 Why it made the cut: This premium option offers impressive flexibility for monitors up to 40 inches.
Key features:
Max monitor weight: 22 pounds each
Compatible monitor size: Up to 40 inches
Max height: 23 inches
Color options: Matte black, white, polished aluminum
Pros
Holds large monitors
Allows for vertically stacked monitors
Lots of adjustability
10 year warranty
Good cord management
Cons
Expensive
Requires assembly
Ergotron makes some excellent monitor stands, and the LX Dual Stacking arm with Tall Pole is no exception. It can support monitors up to 40 inches, which is larger than most of its competition can support. The center pole is 23 inches tall, so the monitor that utilizes the top arm can go as high as that, plus some additional extension from the arm.
One of the selling points of this desk mount is that you can either have the monitors next to each other horizontally or vertically. The arms also move in virtually any direction, offering a 360-degree screen pan and rotation. You will truly be able to fine-tune your setup to your exact liking.
This dual monitor stand is definitely not a cheap option. But it is extremely sturdy and has been life-span tested to ensure it will last over time even with the arms being moved around. It is worth the investment, especially if you want top-tier quality for large monitors.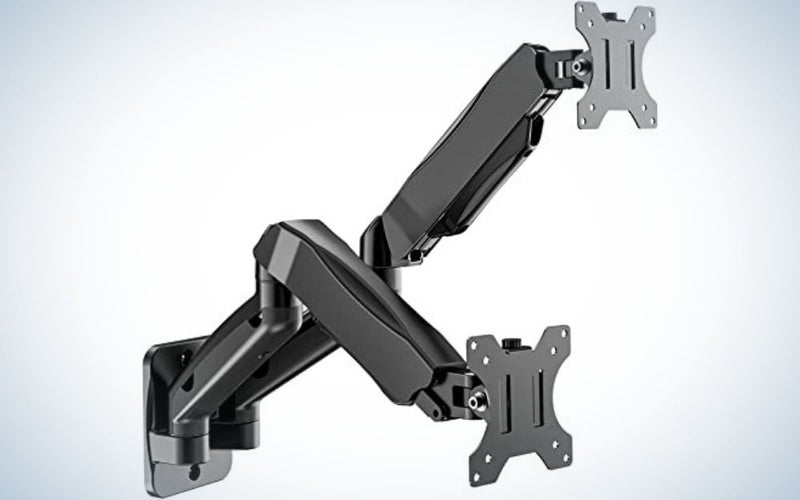 Why it made the cut: This WALI dual wall mount allows you to entirely free up desk space while holding two monitors up to 27 inches each. 
Key features:
Max monitor weight: 14.3 pounds
Compatible monitor size: Up to 27 inches
Max height: Adjustable up to 9.5 inches
Color options: Black
Pros
Adjustable tension on arms for different monitor weights
Lots of articulation
Wall mount frees up all desk space
Built-in cable management
Cons
Can't hold very heavy monitors
Wall-mounted monitor arms are a nice choice because they allow you to fully reclaim your desk space. This WALI option has gas spring-activated arms for smooth movements. You can adjust the tension on each arm as well, should your monitors be different weights.
Since this is wall-mounted, you can decide how high you need it to be. The arms give you 9.5 inches of adjustable height, so if you want to move your monitors higher or lower after installing them, you do have some wiggle room. They can also extend 17 inches, rotate from landscape to portrait, tilt +75°/-45°, and swivel 90° in each direction. 
It won't hold the largest monitors since it maxes out at 27 inches and only 14.3 pounds per arm, but it should be plenty for most. And for the price, you really can't beat it.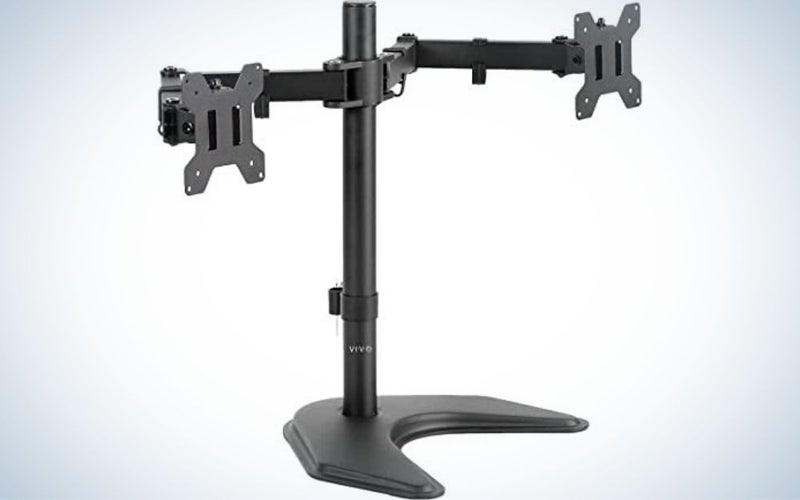 Why it made the cut: The VIVO STAND-V002F is an affordable freestanding monitor stand that supports two monitors up to 27 inches and has full articulation to adjust their positioning.
Key features:
Max monitor weight: 22 pounds
Compatible monitor size: 13 to 27 inches
Max height: 18 inches
Color options: Black or white
Pros
Very affordable
Can hold fairly large monitors
Lots of articulation
Heavy-duty base for stability
Cons
A little challenging to attach monitors
Can tip if monitors are extended too far
Dual freestanding monitor stands offer a simple upgrade that saves space and adds versatility compared to stands included with a monitor. This VIVO stand can support monitors up to 27 inches and 22 pounds each, giving you plenty of capacity for your displays. It's also very affordable, so you don't have to break the bank to get an upgraded stand.
The Vivo offers full articulation and can tilt, swivel, and rotate, even accommodating portrait or landscape orientation monitors. The center pole stands 18 inches tall, so you can lift your monitors high enough to make your workspace much more ergonomic. 
The 13 by 10.5 inch base is sturdy and has padding on the bottom to keep your desk from getting scratched. You do need to make sure that the monitors are within the stand's center of gravity, as extending them too far forward or back will cause the stand to tip, potentially damaging your monitors.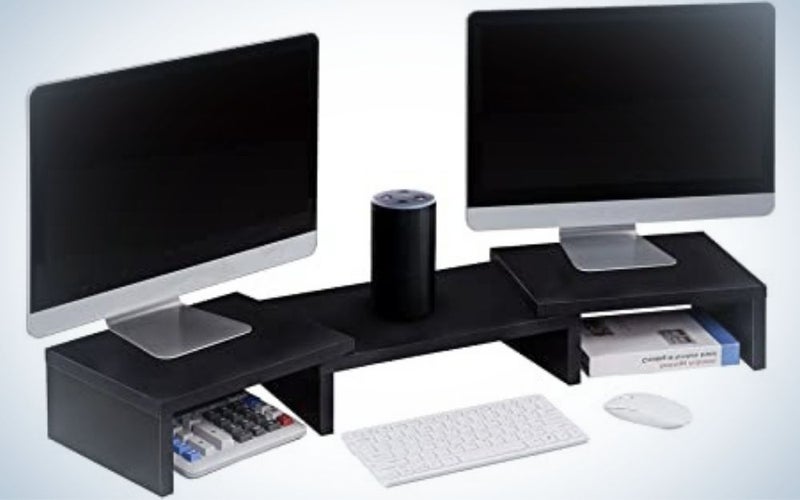 Why it made the cut: For a simple solution, this riser offers space for two monitors and some additional surface space, plus room underneath for desk organization.
Key features:
Max monitor weight: Not provided
Compatible monitor size: Not provided
Max height: 4.64 inches (side risers) 
Color options: Black, cream gray, marble, retro brown, white
Pros
Very simple
Lots of color options
Monitor angles are customizable
Length is adjustable
Cons
Monitor risers are a simple solution to make your workspace more ergonomic while also freeing up a little desk space. The Superjare monitor is an attractive riser that comes in five different color options so that you can choose which suits your style best.
This riser has three sections so that you can customize how large the stand is. If you want to accommodate larger monitors, simply extend the three pieces all the way. Or, if you'd prefer to save some desk space and have smaller displays, push them together for a smaller footprint. In addition, you can adjust the angle of the side risers to look at your monitor straight on, even when it's off to the side.
The max monitor size is not provided, but the base of your monitor stand shouldn't be any larger than 9.25 by 11.61 inches when the riser is fully extended. 
Things to consider before buying a dual monitor stand
Stand type
There are a handful of different options for types of dual monitor stands that offer various features. The most straightforward option is a riser. Risers are essentially little tabletops on which your monitors can sit. They usually only lift your monitor between two and four inches and require a large desk space. But you do get some space back underneath the riser. Plus, they will frequently offer additional organizational tools like drawers and pen holders.
Freestanding monitor stands are what comes with your monitor, though there are dual monitor versions for holding two screens on the same unit. These sit on top of your desk, so they will take up some of that precious desk space. However, you can put it on a riser to get some space back. They generally won't have as much adjustability as monitor arms, but they are more affordable. You also need to be careful not to throw off the center of gravity of freestanding dual monitor stands, as they can get unstable and tip.
Monitor arms offer more articulation than the options above, so you can really customize your setup. They will either clamp onto your desk or mount to the wall, which means they free up the most desk space of all the options.
Monitor size
Once you decide on the style of stand that you want, you'll need to verify that you get the right size for the monitor you have (or will be purchasing). When it comes to monitor size, you need to pay attention to both the diagonal measurement and the weight because stands are limited in how large–and small–a screen they can support for both of those specs. 
When getting a dual monitor stand, you may even want to go slightly under the maximum screen size since you could be limited on how much you can adjust the display angle if it is right at the max supported size.
If you opt for a monitor riser, you also need to note the size of the monitor stand base that comes with your monitor if that's what you are sticking with.
Height
The height of your dual monitor stand is an essential piece of how ergonomic–and thus comfortable–it will be. The height you need will depend on your height, the screen size, and if you are standing or sitting. Some monitor stands are specifically designed to offer more height, which is ideal for those who are a bit taller than the average person. Stands can sometimes raise a monitor just a few inches while an arm may be able to push a screen more than a foot to 18 inches above the surface of the desk.
Adjustability
Some dual monitor stands will allow you to adjust the positioning of your screens in almost every direction, whereas others will offer only upwards or downwards tilt. If you need to move your screen frequently due to changing positions or showing someone else your display regularly, look for a dual monitor display that offers full adjustability. Full articulation is also useful if you really want to fine-tune your screen angle to compensate for a crooked desk or cluttered surface.
FAQs
Q: Should you get a dual monitor stand?
If you have two monitors and want a more organized, customizable manner of holding them, then you should get a dual monitor stand. Of course, there is nothing inherently wrong with leaving your two monitors on the separate stands they came with. But, a dual monitor stand will make your setup more ergonomic, free up desk space, and give you more control over their positioning.
Q: What is the best position for two monitors?
For most users, the best position for two monitors is side by side at the same height. This position allows you to easily and naturally scan back and forth between different monitors and materials you have on each. It can also make it easier to drag windows and applications in between monitors. 
Q: How do I maximize desk space with two monitors?
You will want a wall-mounted dual monitor arm to maximize desk space with two monitors. Wall-mounted dual monitor arms, as it sounds, mount to the wall, meaning you don't have anything monitor-related on your desk at all. The arms will somewhat extend over your desk, but they won't take up any desk surface space.

If you are in a situation where you can't mount something to the wall (perhaps a brick wall or renting restrictions), a desk clamp is the next best thing. Of course, desk clamps still require some desk space, but usually, it's just a matter of a few inches.
Q: How much does a dual monitor stand cost?
Dual monitor stands vary in cost substantially, depending on features like adjustability, display type, and the size monitor it supports. You can generally find a dual monitor stand anywhere from $40 for a simple freestanding stand to nearly $500 for a fully articulated desk clamp stand for heavy monitors.
Q: Do dual monitor stands work for all monitors?
For the most part, dual monitor stands work for all monitors, as long as the size monitor you have is compatible with the stand. Of course, the monitors also need to be mountable, which most are. 

One thing to be aware of is that some monitor stands will be compatible up to a certain size monitor, say 27 inches, but will be a bit tight with two monitors of that size attached at once. That could mean that you won't be able to adjust positioning as much as you would like, so it may be good to go with a stand that supports a slightly larger monitor size than what you actually want or have.
Final thoughts on the best dual monitor stands
Dual monitor stands are an ideal way of keeping your workspace organized and more user-friendly. They can also greatly improve the ergonomics of your setup, making it easier to crank out your work.
Related: The best vertical monitors