Using a drone to film the Daytona 500 for live TV is just as complicated as it sounds
Fox had a free-flying drone filming one of NASCAR's biggest races for the first time ever.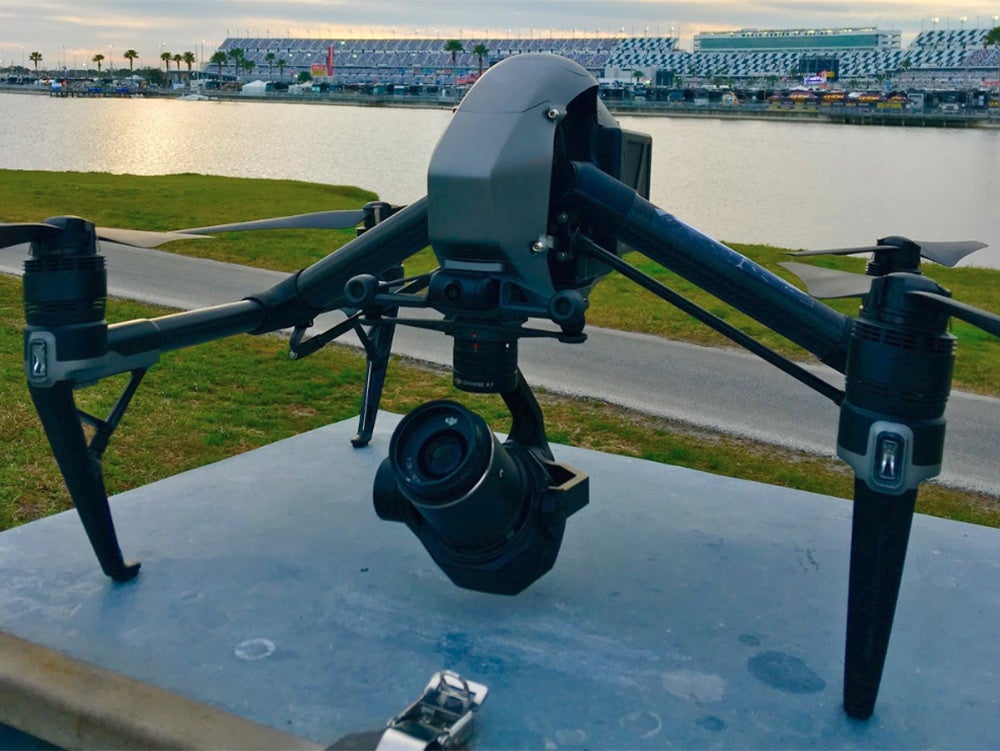 A couple weeks ago, the Nascar season kicked off with the Daytona 500. It was an exciting race with a number of crashes — especially towards the end — but the camera footage added an extra element of interest this season. Fox Sports used an untethered drone to shoot the race live and send the footage straight to the broadcast.
Fox Sports has worked with HeliVideo Productions for years on live drone cameras, but Daytona was the company's biggest venue yet for the tech. The use of an untethered drone is key. Last year, the camera-toting crafts were tethered to the ground with a cable for safety and data transmission purposes. Using an unencumbered drone allows for much more storytelling flexibility for venues like a large racetrack.
As Daytona International Speedway is directly adjacent to the Daytona Beach International Airport — and the Daytona 500 is a major sporting event with many tens of thousands of attendees and an FAA-issued Temporary Flight Restriction in the area — the list of agencies involved in getting sign-off on flying a drone was long.
According to Fox, they had to work with the FAA, Daytona Airport Flight Operations, the FBI, the Volusia County Sheriff's Department, Daytona Beach Police, Daytona Beach Fire and Rescue, the owner of the track, and Nascar itself to get clearance before takeoff.
"We believe it is the first time an untethered drone was flown legally in a 'temporary flight restriction' zone," said Michael Davies, Fox Sports senior vice president of Field & Tech Operations. "The FAA took a very hands-on and helpful approach to shepherding our team through the rules."
The Fox Sports team only received final approval to run the DJI Inspire 2 on Friday, two days before the race, and flight was only allowed on the backstretch where there is no fan seating. Flying over the track during the race was totally verboten, lest the drone fall out of the sky and land on a car traveling at 200 mph.
It's unlikely for a drone to plummet like that, but it's not unheard of. Back in 2015, a falling craft nearly struck World Cup ski racer, Marcel Hirscher, during a high-speed run down the mountain.
RELATED: A beginner's guide to flying your drone without crashing it
The drone flying above Daytona was an Inspire 2 with DJI's Zenmuse X7 Super 35mm camera attached, allowing the team to send broadcast quality video straight from the drone into live production. The 1080p camera on the drone used standard Wi-Fi to connect to the camera operator. Then it went on a fiber line to the live production truck, converted to 720p (which is what Fox broadcasts in), and then on to the production video switcher and replay system. Emmy Award-winning and FAA-licensed drone pilot Eric Austin was flying the craft as part of a long-running production partnership between Fox Sports and Austin's HeliVideo Productions.
"We tested with drone footage at a Supercross indoors event a few years ago, but not during the live event," explained Fox Sports spokesperson Erik Arneson. "We've used it for beauty shots at the US Open golf tournament and at NHRA [drag racing] events." But the use of a drone for live footage during a major sporting event was a first, especially for such a high profile race as the Daytona 500.
Though it's cool to have a drone making live TV, it remained a bit of a gimmick for this broadcast. It was only used for a couple brief shots, but long term, like the hovering, wire-guided Skycam over football games, live drone shots open up a lot of possibilities for live sports storytelling.
RELATED: Gifts for people who love flying drones
"Daytona is a bit of a petri dish for production tech experimentation because it's very early in the year and is such a huge, open environment," explained Brad Cheney, Fox Sports VP of field operations. "Some of the tech will be used at other sporting events through the year."