Hasselblad 500EL Electric NASA Moon Camera on eBay for $75,000
The knobs are bigger so you could use them with space gloves. So. Cool.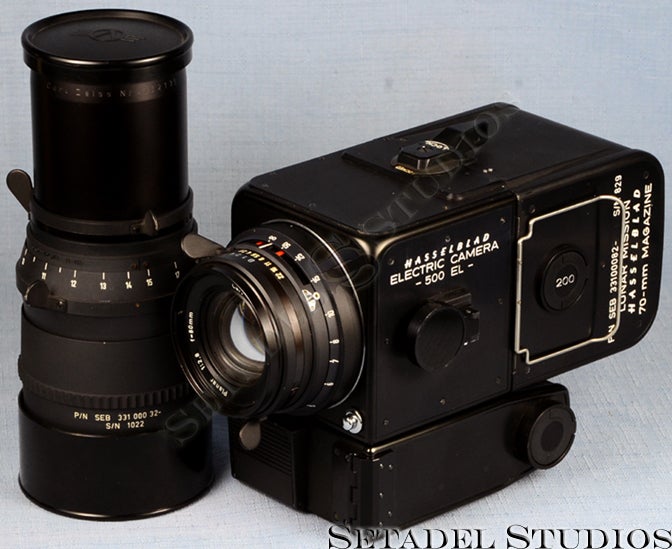 If you're as nerdy about space as you are photography, then this eBay auction might have you dialing the number for the mortgage company. Up for grabs right now is a Hasselblad 500EL Electric NASA edition, complete with all the modifications it would need to make a trip to the moon.
According to the listing, it was a gift to the head of Canadian Distribution for the camera company and remained in his private collection before going up for sale.
The camera looks mostly like a typical Hasselblad, but it has some very distinct modifications that made it usable by astronauts. One of the biggest changes is that there's no mirror or waist-level finder to reduce weight. The knobs have been enlarged so they can be operated in huge moon gloves, and the handle on the dark slide (thin piece of metal that allows you to change film backs without exposing your film) has a larger handle that's easier to grab.
The camera comes with a Carl Zeiss Planar 80mm F/2.8C lens, as well as 250mm Carl Zeiss Sonar 250mm F/5.6 C lens, both of which have also been modified for easier use in oversized gloves.
To make it even sweeter, the camera includes a bunch of original Hasselblad documentation about their moon camera program.
The price is predictably steep — the shipping alone is listed at $1,500 — but there aren't that many of these around. In fact, the actual ones used on the moon are still there, jettisoned after the mission to save weight.
It's a fantastic collectible, but if we bought it, we'd have to shoot with it. The thought of it missing out on the moon, then sitting in a glass case for the rest of its life is just too sad. It's even more sad now that the 500-series cameras have been officially discontinued by Hasselblad.
Want more space camera stuff? See what NASA does to get their DSLRs ready to go to space.
So, who wants to split it?