Canon EOS 80D camera review
Performance and value make the Canon EOS 80D one great DSLR.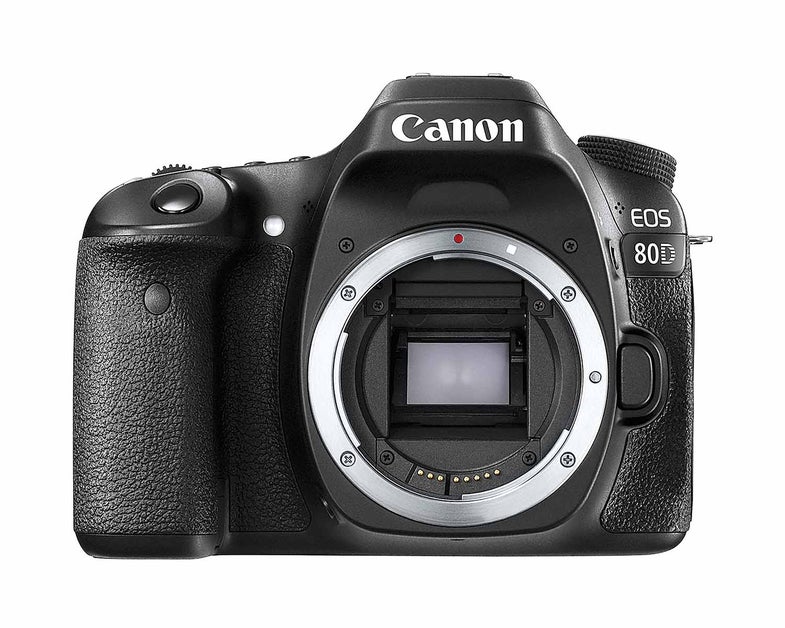 We may earn revenue from the products available on this page and participate in affiliate programs. Learn more ›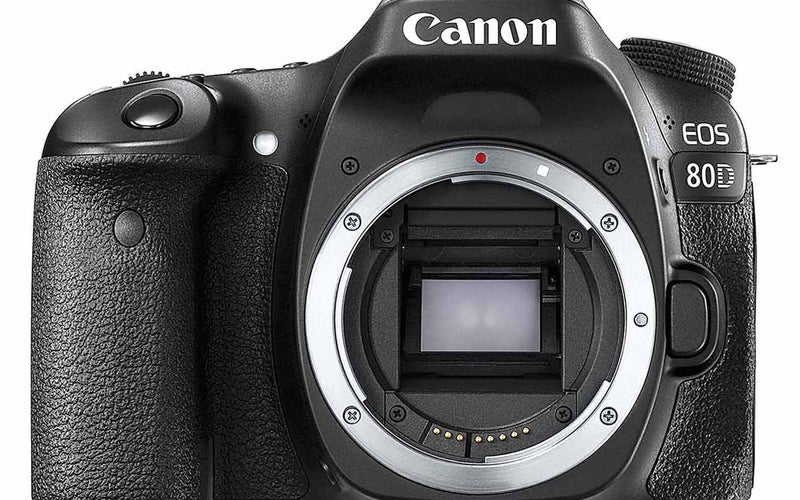 If you're not a pro photographer or would rather avoid the expense of a full-frame camera, a model such as Canon's EOS 80D, with a 24.2MP APS-C-sized CMOS sensor, represents one of the best combinations of performance versus cost. In this case, you get enough resolving power to make prints larger than 11×14 inches; fast bursts of 7 frames per second for up to 110 large, fine JPEGs or 25 RAW frames before the buffer fills; and a 45-point phase-detect autofocus system as well as Canon's innovative Dual Pixel CMOS AF for live view and video shooting. Shutter speeds as fast as 1/8000 sec and sensitivity up to ISO 25,600 help tackle challenging shooting environments, while the 63-zone, 7,560-pixel metering system helps you get a proper exposure. And it sells for $1,199, body only, or $1,549 kitted with an EF-S 18–135mm f/3.5–5.6 IS USM lens.
Interested to find out if its image quality lives up to its impressive specs, we brought the Canon EOS 80D to the Popular Photography Test Lab and then took it out into the real world for field testing.
In the Test Lab
Even though the 80D has 4 million more pixels than the 70D, Canon managed to keep noise under better control. As a result, the 80D earned an Excellent rating in overall image quality from its lowest sensitivity of ISO 100 through ISO 1600—two stops further than the 70D. This matches the result that Nikon's D7200 got when we tested it in our July 2015 issue. However, neither of these DSLRs extend their Excellent scores up to ISO 3200 as the little Sony A6300 did in last month's test.
As most cameras do these days, the 80D aced our color accuracy test with its average Delta E of 7.9, coming in just below our cutoff of 8.0 for top honors in this lower-is-better test. Sony's A6300 barely beat this with a 7.8, while the Nikon outperformed both with a 6.8. All three of these cameras capture accurate colors far better than the average consumer film ever did.
Capturing 2780 lines per picture height at ISO 100, the 80D easily earned an Excellent rating in our resolution test. This puts it very close to the 2825 lines that both the Nikon D7200 and the Sony A6300 got at the same sensitivity setting. The Canon does a good job of holding its resolving power as sensitivity increases, with 2725 lines at ISO 1600 and 2560 at ISO 6400. After that point, resolution drops faster: to 2100 lines at the camera's top normal sensitivity of ISO 16,000 and 1950 at the top expanded setting of ISO 25,600.
In our noise test using DxO Analyzer 6.1, the 80D earned our highest rating of Extremely Low at its lowest two ISO settings and kept noise to a Low or better rating up to ISO 1600. This was the limiting factor in its image quality range. Above ISO 1600, its noise amplifies more quickly, reaching an Unacceptable rating at ISO 6400. To its credit, though, the 80D doesn't become tremendously noisy even at its highest sensitivity.
However, it didn't suppress noise quite as well as its rivals, for the most part. Nikon's D7200 kept noise to an Extremely Low rating through ISO 400, earned a Low or better rating up to ISO 1600, and didn't reach Unacceptable until ISO 25,600. (At that high ISO, the Canon outperformed it with a lower standard deviation of 3.7 versus 4.) Sony's A6300 also garnered an Extremely Low rating only at ISO 100, but it maintained a Low or better rating up to ISO 3200, reaching Unacceptable at ISO 25,600 with a 3.6.
What does all this add up to? All three cameras do a wonderful job of delivering clean, detailed images at lower and mid-level ISOs. It becomes a bit of an exercise in splitting hairs to compare them, though Nikon has a bit of an edge when it comes to taming noise. Canon deserves credit for being able to increase resolution over its earlier 70D while maintaining its impressive noise control.
Our autofocus test showed extremely fast results from the brightest portions of our test all the way down to the dim conditions equivalent to a moonlit field. At EV12, the brightest level in our test, the 80D locked focus and captured an image in 0.35 sec. It didn't drop below half a second until EV 2. Thereafter, it slowed to 0.72 second at EV 0, but it didn't end up over a second until EV -2. Canon rates the system to function down to EV –3, but due to equipment limitations we only test down to EV –2.
In the Field
The 80D's body design is very similar to that of the 70D, which was itself very similar to the popular 60D of a few years back. The nice, large grip feels secure in the hand whether held up to your eye or down at your side and gives plenty of room for your fingers. The four buttons next to the top LCD status display give you quick access to AF, drive mode, ISO, and metering. Thanks to a tiny raised dot on the ISO button, you can easily find that one while shooting and orient yourself to easily pick out any of the other three. With a little practice we were changing those settings quite quickly.
Dual command wheels let you independently adjust both aperture and shutter speed in manual mode. When in aperture or shutter priority, the back wheel gives direct access to exposure compensation. The Q button on the back leads you to the quick menu where you can change the most important settings on a dashboard-style display. While there aren't a whole lot of customizable buttons on the 80D, we weren't left wanting many since the control system is quite well thought out.
The latest version of Canon's Dual Pixel CMOS AF functioned well for us. It can be set to focus slightly faster than the 70D did and can be slowed to your choice of seven slower speeds for dramatic effect. While Canon's new EF-S 18–135mm f/3.5–5.6 IS USM kit zoom or any of its STM lenses will provide near-silent focusing, older Canon EF glass also works well with the imager based focusing system. For amateur video shooters, it's a great way to shift focus. Plus, it'll work with face detection to keep focus on the person in your scene if you want.
The footage we shot looked very nice. Colors appear accurate and there's plenty of detail. We noticed little in the way of artifacts and saw only a minor amount of jello effect in very fast-moving subjects.
While the burst speed didn't get an upgrade, 7 fps is plenty fast for most situations and should be more than enough to capture, say, your progeny on the lacrosse field. The buffer depth now allows up to 110 JPEGs, compared with the 70D's 65, or up to 25 RAW images versus 16 with the 70D. This puts burst shooting ahead of the D7200's 100 JPEGs or 18 RAWs at 6 fps. The A6300 eclipses both of these with 11 fps, but it can hold only 45 JPEGs or 21 RAW shots before the buffer fills.
The Bottom Line
If you're looking for a DSLR with an APS-C sensor, the 80D is an excellent choice. It competes well against its main competitor, Nikon's D7200. These two are so close in performance that it's difficult to declare one a winner over the other. Plus, both systems have a more-than-ample selection of glass available from their respective manufacturers as well as third-party lens and accessory makers. We also compared it to Sony's A6300 since it sells for a similar price and also uses an APS-C sensor. But this ILC's body is significantly smaller than the 80D. This can be an advantage with smaller prime or zoom lenses, but with larger glass, a bigger body can provide a more balanced feel.
Even as hyperbolic voices claim that the end of the DSLR era is nigh, shooting with the very pleasantly mature technology of the Canon EOS 80D reminds us just how good it can be to photograph with a body that works so well with really nice lenses. Even better? It won't break the bank.
Specifications
| | |
| --- | --- |
| Imaging: | 24.2MP effective, APS-C-sized CMOS sensor captures images at 6000×4000 pixels with 14 bits/color in RAW mode |
| Storage: | SD, SDHC, SDXC. Stores JPEG, CR2 RAW, RAW + JPEG |
| Video: | Up to 1920x1080p30 MPEG-4/H.264 MOV; built-in stereo mic, stereo minijack mic input; Dual Pixel CMOS AF with continuous AF and face detection in video and live-view mode; maximum clip length approximately 29 min 59 sec |
| Burst Rate: | Full-sized JPEGs (Fine mode): 7 fps up to 110 shots; RAW (14-bit): 7 fps up to 25 shots when using a UHS-I memory card |
| AF System: | TTL phase detection with 45 focus points (all cross-type at f/5.6, center dual cross-type at f/2.8); 27 points active at f/8 (9 of the 27 are cross-type). Single-shot and continuous with predictive focus tracking. |
| Shutter Speeds: | 1/8000 to 30 sec, plus B (1/3- or 1/2-EV increments); shutter rated to 100,000 cycles |
| Metering: | TTL metering using 63-zone, 7,560-pixel RGB+IR sensor with evaluative, centerweighted, partial (approx. 6.0% of finder), and spot (approx. 3.8% of finder) metering; 1–20 EV (at ISO 100) |
| ISO Range: | ISO 100–16,000 (in 1/3- or 1-EV increments); expandable to ISO 100–25,600 |
| Flash: | Built-in pop-up with TTL autoflash, GN 39 (ISO 100, feet), covers 28mm angle of view; flash sync to 1/250 sec |
| Viewfinder: | Fixed eye-level pentaprism |
| LCD: | Articulating 3-in. LCD touch screen with 1,040,000-dot resolution; 7-step brightness adjustment |
| Output: | Hi-Speed USB 2.0, mini HDMI video, minijack headphone |
| Battery: | Rechargeable LP-E6N Li-ion, CIPA rating 960 shots |
| Size/Weight: | 5.5×4.1×3.1 in.; 1.6 lb with card and battery |
| Street Price: | $1,199, body only; $1,549, with EF-S 18–135mm f/3.5–5.6 IS USM lens |
| Info: | canoneos.com |