Camera Test: Nikon D7200 DSLR
A league-leading DSLR for all-around shooters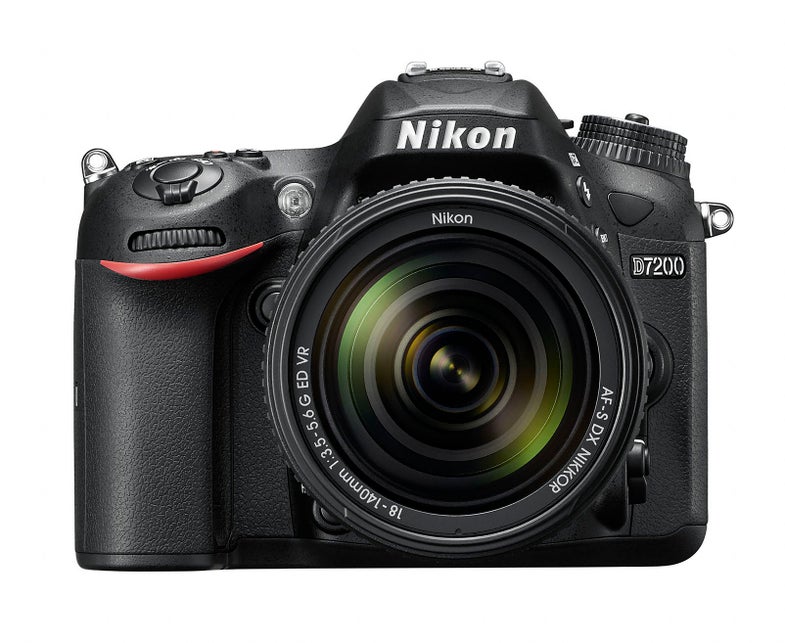 We may earn revenue from the products available on this page and participate in affiliate programs. Learn more ›
If you're serious about photography but find full-frame DSLRs too pricey, a camera like Nikon's D7200 will likely catch your eye. With enough resolution to make large prints, bursts speedy enough to keep up with fast-paced sports, and the versatility of high sensitivity, a model in this class will meet most enthusiasts' needs. While this new $1,197 (street, body only) DSLR is very similar to the D7100, Nikon has made the buffer deeper to get more out of the 6-frame-per-second bursts, added black-and-white JPG capture at ISO 51,200 and ISO 102,400, and built in Wi-Fi. Movie recording has been refined, notably with the addition of the Flat Picture Control setting to allow more control of dynamic range in postproduction.
How does the Nikon D7200 stack up against similar cameras, such as Canon's EOS 70D, Pentax's K-3, and Sony's Alpha 77II? We ran it through the rigors of our Popular Photography Test Lab and extensive field-testing to find out.

With results very similar to those of its predecessor, the Nikon D7200 earned an Excellent rating in overall image quality from ISO 100 through ISO 1600. To achieve this overall rating, a camera must earn an Excellent rating in color accuracy, serve up an Excellent rating in resolution, and score a Low or better rating in noise. The Nikon D7200 easily won an Excellent rating in color accuracy with an average Delta E of 6.7 from uncompressed TIFFs generated from losslessly compressed, 14-bit NEF RAW files converted in Nikon's Capture NX-D, the software that comes with the camera. Its 24.2MP APS-C-sized (Nikon calls it DX format) CMOS sensor managed to capture 2825 lines per picture height at ISO 100 in our resolution test. That's almost exactly what the D7100 captured, and it beats the Pentax K-3 (2750), Canon 70D (2630), and Sony A77II (2620). Of course, at lower ISOs all of these cameras provide enough detail for prints as big as most people want to make with them.
Toward the top of its sensitivity range, the Nikon D7200 holds a respectable portion of its resolving power. For instance, at ISO 12,800 the Nikon served up 2325 lines; the Pentax topped it with 2375 lines, but the Canon reached only 2220, a level to which the Sony dipped one stop earlier, at ISO 6400. Going monochrome with the Nikon D7200, the only option at the two top sensitivities, netted us 2050 lines of resolution at ISO 51,200 and 1900 lines at ISO 102,400, though noise at those sensitivities was heavy.
Keep in mind that Nikon's new Capture NX-D software doesn't automatically vary the amount of noise reduction applied for each ISO. We'd very much like Nikon to provide some defaults for noise reduction to indicate where it thinks the best starting point is for each level of sensitivity. Since it didn't, we did what we've done with cameras that ship with Adobe Photoshop Lightroom: We applied noise reduction at 0, 25, 50, 75, and 90 percent and then judged which level provides the best balance of noise control and resolving power at a given ISO. In this case, it was with 25% noise reduction at ISO 100, 50% from ISO 200 through 6400, and 75 at ISO 12,800 and 25,600. Since at ISO 51,200 and 102,400 you can only shoot black-and-white JPGs, we tested those files straight from the camera.
At these settings, the same ones we used to process the resolution test images, the Nikon D7200 kept noise to a Low or better rating through ISO 1600. At the lowest three sensitivities, the camera earned our highest honors of an Extremely Low rating. Better still, the Nikon D7200 didn't reach Unacceptable noise levels until its top standard sensitivity of ISO 25,600. For comparison, the Canon 70D held Noise to a Low or better rating up to ISO 400 and reached Unacceptable by ISO 6400; the Pentax K-3 turned in Low or better ratings up to ISO 800 and Unacceptable at ISO 3200. Which won this race? Sony's A77II, with Low or better noise ratings up to ISO 3200; like the Nikon, it reached Unacceptable at ISO 25,600.
In our AF test, the Nikon D7200 focused quickly at brighter light levels, managing to lock and capture an image in 0.33 sec at EV 12. It was able to lock and capture in less than half a second at EV 4, which is roughly equivalent to a dimly lit room in a home. Dipping down to nighttime-level darkness of EV 0, the Nikon D7200 could focus and shoot in under a second. While Nikon rates the AF effective down to EV –3, our test ends at EV –2, where the AF became less consistent in its timing but averaged 1.37 sec in our test.

Sharing a very similar design with its predecessor, the Nikon D7200 is a very comfortable camera to use. Dual command wheels make it much easier to control exposure manually than with single-wheel entry-level DSLRs. The grip's shape feels natural in the hand, and a cutout area on the inside gives your fingertips a comfortable place to land.
The control system is nice, with plenty of customizable buttons and dials. You can even reverse the direction of exposure indicators and dials in case you're accustomed to another camera system's controls. We just wish there were a way to let one of the command wheels adjust exposure compensation when shooting in aperture- or shutter-priority mode—we've become quite used to being able to doing that with a wheel on other cameras and found ourselves craving direct access rather than having to hold down a button while turning a wheel; it would also open up the exposure comp button to be reassigned to something else. Hidden in the right side of the grip is a pair of SD memory card slots. These give you the usual options for mirroring or parceling out different file types between the cards, as well extra storage space.
The monitor remains a 3.2-inch LCD with 1,228,800-dot resolution. It also remains fixed in place. Of the three competing cameras mentioned earlier, only the Pentax uses a fixed screen. For shooters who plan to capture video without a big rig, or who, like us, have come to enjoy the versatility of an articulating or tilting screen, this is a small flaw.
One nice addition: This time around, Nikon built in Wi-Fi for instant sharing and remote camera viewing and control through a smart phone or tablet. This is the first of the company's higher-end cameras with this increasingly common feature. Burst shooting is the one area where the Nikon doesn't really compete: Action shooters might point to the Pentax K-3's 8.3 fps, the Sony A77II's 8 fps, or the Canon 70D's 7 fps, and ask, what gives? The same question arises on seeing the deeper buffer for RAW capture of the Pentax and Sony. Still, it wasn't too long ago that the Nikon's burst rate of 6 fps was considered more than adequate in a camera of this class, and we still consider it plenty fast for shooting sports. If you acquiesce to a further 1.3X crop in your image frame, you can up the Nikon D7200's burst speed to 7 fps. Videographers should appreciate the movie capture of the Nikon D7200. We saw little in the way of the dreaded jello effect, and footage we captured looked relatively clean and full of detail. Regular capture tops out at 1920×1080 at 30 fps, but you can get to 60 fps if you accept the same kind of 1.3X crop that allows a faster burst speed. You can also use the HDMI output to send an uncompressed 8-bit 4:2:2 signal to an external recorder through the HDMI output. There are also options for zebra stripes to help monitor exposure, a flat picture control for those who choose to do color grading in postproduction, and an automatic time-lapse mode.

Overall, the Nikon D7200 is a worthy upgrade from the D7100, though you may not feel the need to step up from that body unless you are serious about video or need the added buffer depth in burst shooting. In comparison to other cameras in this class, the case for it strengthens. We were happy to see that it has Wi-Fi built in. (The only competitor that doesn't include this is the K-3, though that is about to be replaced by the K-3 II, which does have Wi-Fi.) The Nikon D7200 also has a moderate amount of weather sealing, though not as much as the Pentax.
More importantly, we're struck by the image quality that you can get from the Nikon D7200 and by its noise control. Sony's A77II, the major competitor in this arena, uses an electronic instead of an optical viewfinder. For some shooters this will prove a boon, since it gives you access to menus without having to take your eye off the finder; others may see the EVF as a detriment and gravitate toward this Nikon. One thing we know from our own testing: The Nikon D7200 is an incredibly capable camera that offers a massive amount of versatility at a price that should appeal to a wide array of photographers. With the added benefit of compatibility with the vast number of accessories and lenses made for the Nikon system, it's hard to find fault with the Nikon D7200.
Specifications:
Imaging: 24.1MP effective, DX-format CMOS sensor captures images at 6000×4000 pixels with 14 bits/color in RAW mode Storage: SD, SDHC, SDXC. Stores JPEG, NEF RAW, or RAW + JPEG files Video: Records up to 1920x1080p60 in MPEG-4 H.264 format; built-in stereo microphone; stereo microphone input; approx. 10-min maximum clip size at highest quality Burst Rate: Full-sized JPEGs (Fine), up to 100 shots at 6 fps; RAW (14-bit), up to 18 shots at 6 fps using a UHS-I compatible SD card AF System: TTL phase-detection with 51 illuminated focus points (15 cross-type points, center point supports f/8 maximum aperture); single-shot, continuous, predictive focus tracking; tested sensitivity down to EV –2 (at ISO 100, f/1.4), rated down to EV –3 Live View: Full-time contrast-detection Shutter Speeds: 1/8000 to 30 sec, plus B (1/3-EV increments); shutter rated to 150,000 cycles; flash sync to 1/250 sec Metering: TTL metering using 2,016-pixel sensor; evaluative (Matrix), center-weighted (75% weight given to 8mm circle in center of the frame), and spot (approx. 2.5% of finder at center); range, 0 to 20 EV (at ISO 100), 2 to 20 EV when using spot metering ISO Range: ISO 100–25,600 (in 1/2- or 1/3-EV steps), expandable to allow black and white capture at ISO 51,200 and ISO 102,400 Viewfinder: Fixed eye-level pentaprism LCD: Fixed 3.2-in. TFT with 1,228,800-dot resolution, 11-step brightness adjustment Output: Hi-Speed USB 2.0, mini-HDMI video, and stereo mini jack audio Battery: Rechargeable EN-EL15 Li-ion; CIPA rating, 1150 shots Size/Weight: 5.4×4.2×3.0 in., 1.7 lbs with a card and battery Street Price: $1,197, body only; $1,697 with 18–140mm f/3.5–5.6G ED DX VR lens Info: nikonusa.com