The Cameradactyl OG 4×5 hand camera is a cheap, fun way to try out 4×5 film photography
These plastic camera bodies take standard 4x5 film holders and come with the option of traditional ground glass or an acrylic alternative.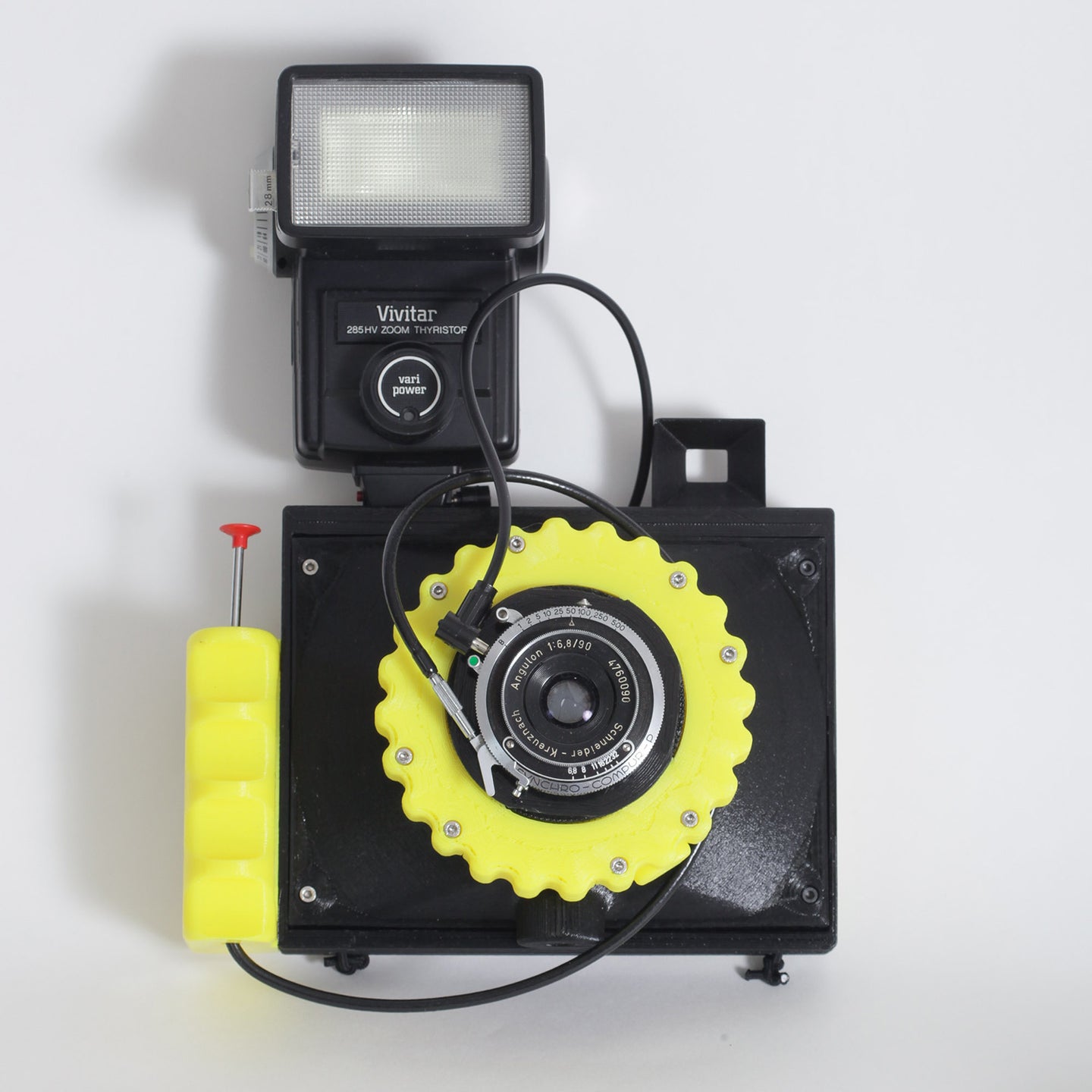 We may earn revenue from the products available on this page and participate in affiliate programs. Learn more ›

4×5 photography isn't a form in which enthusiasts can easily dabble. It's expensive, finicky to work with, and typically requires collecting a lot of old gear to even get started. Once you're over those hurdles, however, creating images the really old fashioned way can be very rewarding.
The accessibility of 3D printing has brought plenty of new takes on old cameras to the market in the last few years. These cameras are typically more affordable, lightweight, and easier to fix when something goes wrong than vintage gear. Ethan Moses creates his 3D printed Cameradactyl cameras with this in mind.
The Cameradactyl OG 4×5 hand camera is his newest creation and although it integrates some of the colorful pops of his earlier cameras, it also looks like a solid starter camera for someone who is interested in trying their hand at 4×5 film photography.
The cameras are available through the Cameradactyl website now for $200. You can choose custom accent color, ground glass material, and nosecone length to fit your shooting style.

The 3D-printed camera has a helical focusing mount, hand grip, a lensless viewfinder, and a locking focus ring. It also has a ground glass for focusing and composing that comes in regular glass or etched acrylic. The OG takes standard 4×5 film holders, and will also hold a film holder on the outside of the focusing screen for extra protection inside your bag.
In case you have never shot 4×5 before, each double-sided film holder can hold two pieces of film that you have to load in the dark before you go shooting.

Moses says his personal setup of this camera has a 127mm f/4.7 Kodak Ektar lens, shutter, cable release, viewfinder, light meter, accessory rangefinder, and one loaded Fidelity Elite film back, for a total weight of just 2lbs, 10 oz.

"Given how I use things, my personal preference is to make things very strong and as light as they can be," Moses writes.

To get shooting you will need a large format lens, a mechanical cable release, a focusing loupe, a 4×5 film holder, and some 4×5 film.

While the cost of shooting 4×5 film is still very expensive, a camera like this one is a lot less likely to have light leaks than a vintage camera that uses focusing bellows, which can crack and break over time.
More info about the Cameradactyl cameras can be found here.