You Can Now Buy a Limited Edition Olympus E-M10 II Camera Wrapped In Tan Faux Leather
A synthetic leather wrap offers better grip and classier looks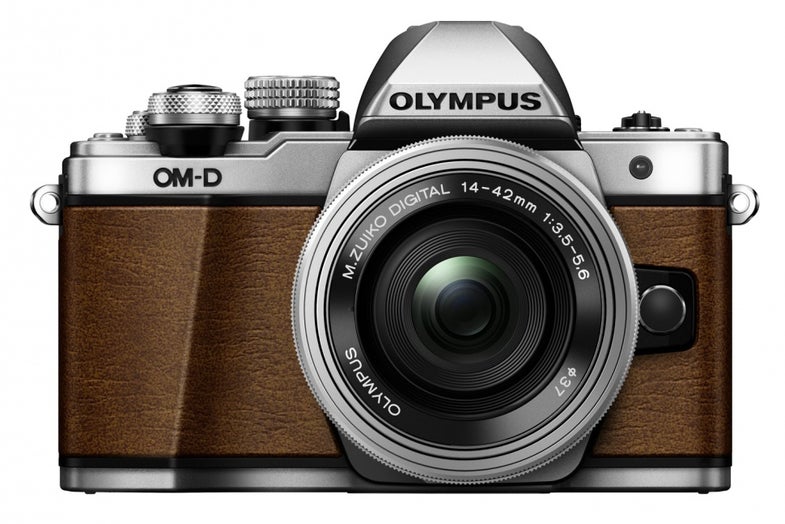 We may earn revenue from the products available on this page and participate in affiliate programs. Learn more ›
The big news out of Olympus today is obviously the rebirth of the iconic PEN-F camera into the digital age, but they also have a rather handsome limited edition to announce as well. This OM-D E-M10 II is wrapped in decorative leather-like material.
The camera is functionally identical to the normal-looking model, but it's like they put a classy tweed jacket on it to really class up the joint. It comes with a matching strap as well as the standard 14-42mm electronic kit zoom lens for a retail price of $899.
While hardcore camera heads will typically scoff at limited edition cameras like this, it seems like these releases may be a significant indicator for Olympus's future strategy. With this limited edition and the release of the stylish new PEN-F, they're clearly increasing their emphasis on aesthetic. The classic look of the OM-D series has always appealed to me and the new PEN is as classic as they come. It certainly doesn't seem to be hurting its ability to make excellent pictures, so investing some effort into making their cameras look good seems like a smart move to me.
And hey, at least it's a whole heck of a lot cheaper than those crazy expensive Leica limited editions.