Viral photo illustrates the difficulties of photojournalism in 2018
The AP's chief photographer in Washington captured the frame last night during a fundraising campaign.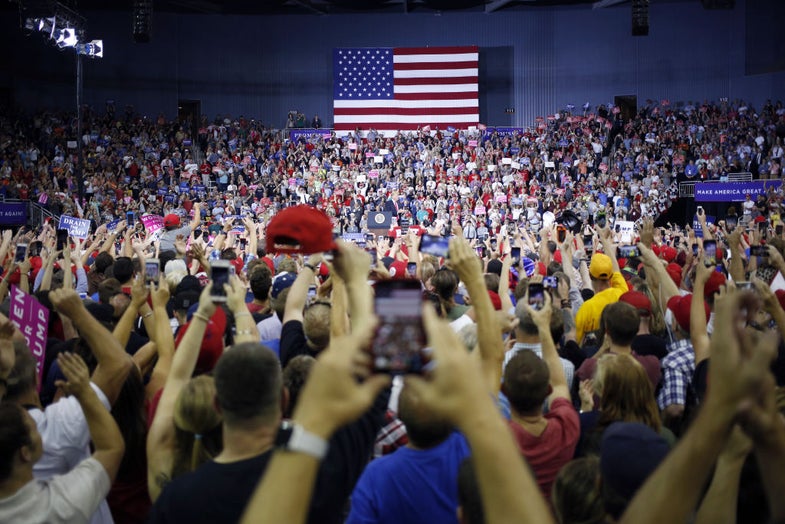 Timing is everything as a breaking news photographer, and AP photographer Evan Vucci's frame from Trump's campaign rally to support U.S. Senate Candidate Mike Braun last night, shows why it's essential to always be aware of your surroundings when covering the news.
The viral image shows a volunteer blocking the lens of a press photographer who was attempting to shoot images of a protest that was attending the rally.
"A volunteer member of the advance team for President Donald Trump blocks the lens of a photographer trying to take a photo of a demonstrator during a campaign rally in Evansville, Indiana," Vucci wrote in the caption of the image.
Vucci's now-viral image is the direct result of being aware of all of your surroundings when photographing a news event—we're guessing he only had a split second to compose the frame and fire the shutter. A moment later the impact of a volunteer attempting to censor a reporter's coverage of a campaign event would have been lost.
According to the San Francisco Chronicle the volunteer featured in the image has been removed from the campaign trail for his actions.
Oliver Knox, president of The White House Correspondents' Association, said that they actions came from an "inexperienced volunteer, who understands that he acted in error" and that the campaign "promises that this will not happen again."
Cheers to Vucci for being in the right place and acting quickly to capture this frame.