Video: Geoffrey Berliner's Massive Collection of Antique Camera Lenses
An assortment of more than 1,500 lenses from photography's history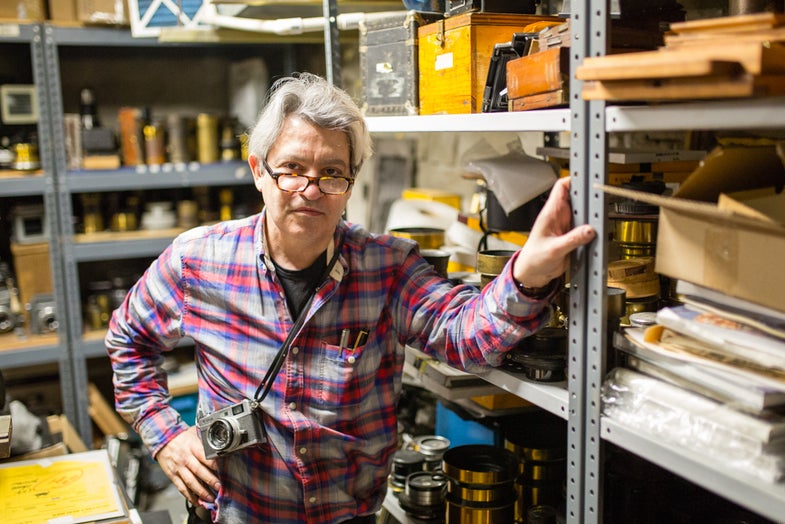 Photography runs through Geoffrey Berliner's blood and it only takes one-step into the basement of New York City's Penumbra Foundation, where he serves as Executive Director, to understand his dedication to the medium.
One level below Penumbra's Tintype Studio you will find an oversized storage locker teaming with rare photographic lenses from the earliest days of photography. Lenses big and small line the shelves, cover every available surface and even spill onto the floor. There are rare lenses like the Jamin-Darlot Stereo Universal portrait and landscape casket from the 1860s; a C.C. Harrison & Schnitzer New York Globe lens, which was likely used by photographers documenting the westward expansion, and a number of Petzval portrait lenses.
"My collecting is very catholic," Berliner says. "I'm not just looking for one kind of lens, I accept them all. I'm very interested in special effects lenses, soft focus lenses, these hollywood glamour lenses, early lenses, Petzval lenses … the lens is very important, it is basically the engine of photography."
Although Berliner regularly uses many of these lenses in the Tintype Studio or to teach Penumbra workshops, not everything he owns is in pristine shooting condition.
"The collection is more about studying and understanding the development of photographic optics," he says. A number of the lenses that line his shelves are prototypes with various optical and mechanical quirks, some of which are appealing, and others not so much.
In the 15 years he has been collecting, Berliner estimates that he has nearly 1,500 lenses. He picks them up at antique camera shows, always has an eye on eBay and, at this point, says enough people know about his basement stash that they'll contact him directly if they find something really special. Over the year's he has picked up duplicates and even triplets of certain styles—all as a way to keep studying the progression of early photographic optics.
"You have to be a lens detective," he says. "You have to look at these things, be bothered by them, say why is that and what can we learn from it."