| | | | | | |
| --- | --- | --- | --- | --- | --- |
| Best charging phone case | | Alpatronix Store Battery Case for iPhone 12 Pro & iPhone 12 | | SEE IT | Perfect for extending your phone's battery life. |
| Best biodegradable phone case | | Pela Compostable Phone Case | | SEE IT | An earth-friendly phone case option. |
| Best phone case for photographers | | Moment Phone Case for Creators | | SEE IT | A phone case designed for photographers. |
We may earn revenue from the products available on this page and participate in affiliate programs. Learn more ›
Updated Apr 19, 2022 1:36 PM
For many of us, our cell phones are one of the most essential items we own, which makes it only natural that we would want to protect them with the best phone cases on the market. With a plethora of options online, it can be daunting to figure out exactly which product is ideal for you: maybe a biodegradable phone case, a phone case with a cardholder, or a phone cover that is simply affordable.
Whether you're just starting to browse, or you already know exactly what you're looking for, this list has been curated to help you sift through your options more quickly to find exactly what you need without the overwhelm. Here are some of the best phone cases on the market:
How to shop for the best phone cases
There are a lot of options, and a lot of features to consider when looking for the best phone case. You may have seen so many different products that you might find it hard to even know what factors or features you ought to consider. Taking a look at the following considerations will help you narrow down your search, and find the best phone cases for your primary concerns.
Can't rely on your phone battery? Get a phone case for charging
If your phone has trouble maintaining a charge, the best phone case for you has the potential to make this problem go away. We've all been there: halfway through the day—you're not even done with work—and your phone battery is already drained down to two percent. It's frustrating and inconvenient. You could carry around an extra charger, or charging pack, but ideally, your phone's lifespan would just be better.
A charging phone case can support the battery of your device so that it's able to last longer. If a product like this sounds ideal, make sure to check how much extra battery life the case is able to add to your phone, and think about whether that will help your phone last as long as you need it to. Another thing to consider is the shape of the case; while this functionality can be a godsend, many of these phone cases look bulky or add extra length or width to your phone in order to fit the extra battery. You may want to choose a case that looks more discrete, solely for aesthetic purposes.
This charging phone case is a great option for someone looking to extend their phone's battery life. With a subtle, smooth design, one might not even detect the full charging pack on the back of phone case. However, it is still able to pack your phone with an extra full charge. That means you could spend extra hours scrolling through TikTok each day without having to anchor yourself to a charging station. It works with wireless charging as well!
Want a cell phone case that's environmentally friendly?
With one-and-a-half-billion phone cases ending up in landfills each year, you might want to consider choosing an environmentally friendly option, like a biodegradable phone case. If this describes you, then you'll want to look at materials and processing.
The best phone cases for someone who cares about the environment have to be made mindfully. So what is your phone case made out of? You'll want to stay away from traditional plastics, which take lifetimes to fully decompose. And even if the case is made out of natural materials, where are those materials sourced? While options like cork, for example, can be super stylish and natural, they're also often collected and shipped via boat or plane from environments that were relatively limited on resources to begin with.
You might also want to look at the company manufacturing the products. Do they take any additional efforts to offset their carbon footprint? Make sure the manufacturer isn't just trying to make a buck off of greenwashing.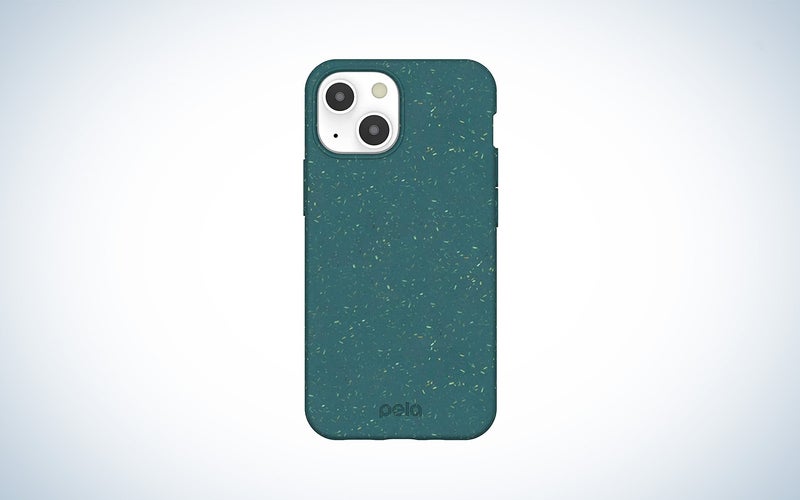 This flax-based biodegradable phone case meets industrial composting standards in the US, and four other industrialized countries—and it can be composted safely in your own backyard. Pela, the manufacturer, also donates money from each purchase to ocean cleanup and preservation initiatives. So this purchase not only allows you to prevent putting more plastic into the environment, but also helps you to actively take plastics out of the ocean.
Do you plan on taking a lot of photos or videos?
The best phone cases for photographers are of course going to be the ones that expand your phone's picture-taking capabilities, and that maximize the control you have over various artistic choices. Frequent content creators know that production value can be improved with audio recording tools, lenses, filters, lighting, and more.
Many cases will not support this, and the last thing you want to do is take off your bulky phone case so that you can fit an anamorphic lens onto it, leaving your phone—and lens—vulnerable to damage. And you don't want to shoot with a naked camera because, after all, you're a master of your craft; giving up your camera's adaptability is basically giving up creative control. What you need is a phone case that allows you the flexibility of a traditional camera build.
If you're a photographer hoping to upgrade your phone's camera, the Moment case is right for you. Each of these cases has a special lens mount on top of your phone's built-in camera, and by buying additional Moment Lenses you can adjust your phone's camera to your needs. The company manufactures a wide variety of fisheye, wide-angle, anamorphic, macro lenses, and more. Plus these accessories are future proof—since they mount to your case rather than your phone, you'll easily be able to keep using these same lenses, regardless of future phone upgrades—even across brands. So if next year you switch to an iPhone, or an Android, or whatever else you may be into, you'll still be able to use your original collection of cell phone lenses.
Sick of carrying around a bulky wallet? Get a protective phone case with a cardholder
If you've never had a wallet phone case before, you should know that combining essentials makes life a little easier. There are a variety of card-holding cases and cell phone accessories to choose from, so you'll want to keep in mind how a product such as this can best serve you.
First off, you'll want to think about how you plan on using this case. Is its purpose to give you one less essential to remember as you walk out the door, or do you just want greater ease of access for a few high-use items?
Then, think about what this protective phone case will need to hold. Maybe you have a handful of cards, or like to have cash on hand. You might also have student, membership, or professional IDs that you need to have on your person regularly. You'll want to be sure that the case you choose will have space for everything you need so that it won't be overstuffed, worn out, and replaced all too soon.
At a glance, this phone case looks like a simple, fashionable leather phone case; its multifunctional "flip" cover, however, opens to reveal a fully functional wallet, with room for your cards, cash, and ID. In this way, the case allows you the opportunity to carry your financial necessities discreetly without compromising storage options or accessibility. The flip cover also serves you the dual functionality of a kickstand, so you can watch videos hands-free. Additionally, this leather phone case with card holder is wireless charging compatible. That means, if you prefer charging your phone wirelessly, you won't have to worry about taking your case off and on again every time you charge.
Make sure you keep your phone dry at all times with the right phone case
If you will be spending a lot of time by the beach, or in the snow, you may want to look specifically for a waterproof phone case.
You of course want your phone to be fully protected in water—many phones have hardware that can already handle the occasional splash, but if this is a feature you'd like to see, you want it to go above and beyond for you. Make sure the case is waterproof up to at least a few feet of water.
In addition, you'll want to make sure a case like this won't hold you back at all. Many waterproof phone cases are bulky or may interfere with some of your phone's features.
If you're planning on getting wet, ORDBTY's waterproof phone case is a great option for you. Its fully sealed body protects your phone for up to 8 feet of water, so in addition to handling heavy splashes, you could even use this case to shoot some underwater photos in your pool. And it does this with no compromise to your phone's features; your speakers, face recognition, touch screen, cameras, and even wireless charging will all still work.
Do you need an especially protective phone case?
While the best phone cases on the market can come packed with features, they all share one primary goal: protect your phone. If you're someone who simply wants to make sure your phone is as safe as possible, many of the options above may simply not be protective enough. If this sounds like you, be on the lookout for phone covers that are made out of stronger materials. Many of these materials may be on the thicker side. If the safety of your phone is your utmost concern, do a cost-benefit analysis while looking at products to decide if that extra bulk on your phone will be manageable for your situation. Take into consideration how this may affect other features of your device, such as wireless charging.
This OtterBox phone case is designed for the most extreme damage prevention. It's built with multiple layers of plastics and rubbers to keep your phone safe drop after drop, and it has tabs covering your phone's charging port to protect it from dust damage. While many thick cases in this category may hinder some of your phone's features, the OtterBox Defender is able to maintain its strength without compromising things like wireless charging.
The only compromise on this protective phone case is its size. It's built thick, with raised edges around your camera and screen. This is an intentional feature built for extra protection, but if you're concerned about the real estate in your pocket or bag, you may want to consider another option.
The best phone cases on a budget: What you can get for under $10
This category has a lot of affordable options; even if you're looking for special features, ít's very likely that you'll be able to find a cheap cell phone case that still provides many—if not all—of the traits you were initially looking for. However, the market for these products is very saturated, and it can be daunting to shuffle through endless pages of cell phone cases that feel essentially the same. So if your goal is simply to protect your phone without breaking the bank, this is the best phone case we've found that doesn't break the bank.
The Temdan Clear Case does exactly what you need a phone case to do: it protects your phone. Its clear design is hardly noticeable, allowing you to show off the aesthetic of your naked phone's original craftsmanship. But looking bare doesn't mean being bare; this case still protects your device from drops, spills, and more. No frills, no bulk—just polished, simple protection.
FAQs
Q: Why is a phone case important?
A phone case helps protect your phone from damage. This is important for extending the lifespan of your phone. Additionally, if your phone is insured, many insurance companies will examine your phone's hardware to decide if it is eligible to be covered, and will reject devices with scratches and knicks on the corners, which happen when your phone is dropped. If your phone is in a case, you can prevent these small damages to make sure your device is fully covered by your insurance, should it ever need to be replaced.
Q: Can a phone case affect battery life?
Yes and no. If you're buying a typical phone case with no electronic features, your battery life should remain exactly the same. However, some phone cases may deliberately use or support your phone's battery life, and these can directly cause your phone battery to either drain faster, or last longer.
Q: What is the most durable phone case?
The most durable phone case on the market is the OtterBox Defender. This case is strong because it has many layers of defense, including a hard plastic outer shell around its softer rubbery center. Despite this, they can also add a lot of bulkiness to your device, making it harder to fit your phone into your pockets or bags.
A final word on shopping for the best phone cases
The best phone cases on the market come with all sorts of different shapes, sizes, aesthetics, and features. No matter the type of phone cover you're looking for, you'll be sure to find the cell phone protection you need at an affordable price.