| | | | | | |
| --- | --- | --- | --- | --- | --- |
| Best Set | | Altura Photo Thick Protective Neoprene Pouch Set for DSLR Camera Lens | | SEE IT | This collection of neoprene cases in small, medium, large, and extra-large will keep cushion and keep your lenses away from water. |
| Best Versatile | | Peak Design Field Pouch | | SEE IT | This sleek pouch also has room for batteries and SD cards, is water-repellent, and has a hook that can attach to your belt for easy access. |
| Best budget | | Selens Black Protective Drawstring Soft Neoprene Pouch | | SEE IT | This case is water-resistant, comes with a drawstring close, and is easy on the wallet. |
We may earn revenue from the products available on this page and participate in affiliate programs. Learn more ›
Updated Feb 7, 2023 9:55 AM
Camera lenses are a major investment for every kind of photographer and a good lens is typically more expensive than the camera body to which it is attached. Lenses can cost thousands of dollars and so when you aren't shooting with them you want to keep them safe. A good lens case or pouch is a great way to keep your camera lenses safe between shoots. The best camera lens cases will keep your precious glass safe and sound in your gear bag when you are traveling, making sure that your lenses are ready to go when you need them most.
Protect your investment with the best lens cases and pouches
Lenses are one of the most important camera accessories that a photographer can have. Swapping out a lens is the fastest way to change the perspective and the mood of what you are shooting. Big telephoto lenses allow you to capture incredible details from far away, while macro lenses reveal details in the smallest items up close. Fast prime lenses are extremely versatile tools, great for portraits, street photography, and everyday life. But a good lens loses its value if it becomes scratched up or dropped.
Storing your lenses in dedicated lens pouches when you aren't using them is an excellent way to protect your expensive glass from the elements. Lens pouches come in a variety of sizes, make sure you consider what lenses you will be putting inside of them when you are shopping. Your lenses should fit snugly inside of the pouches, but the pouches should still be able to close easily. A snug lens pouch means it is less likely that lenses will be damaged by drops and falls or jostling around inside your bag. Think of the lens pouch as bubble wrap for your expensive lenses.
The best camera lens cases: Reviews & Recommendations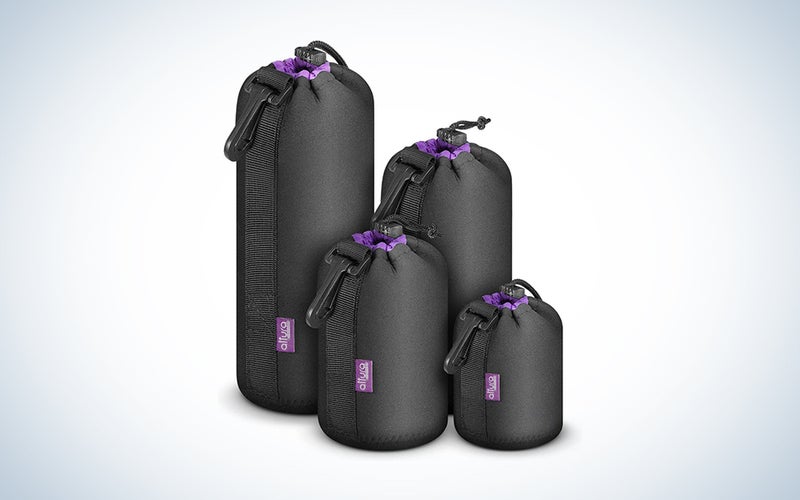 If you are a photographer with a large collection of lenses you will want pouches for each of them. This four-pack works with DSLR or mirrorless lenses and has a small, medium, large and extra-large size to keep all of your focal lengths safe and sound. These pouches are made of water-resistant neoprene, have a soft faux fur lining, and feature a belt loop and snap swivel clip for convenient travel.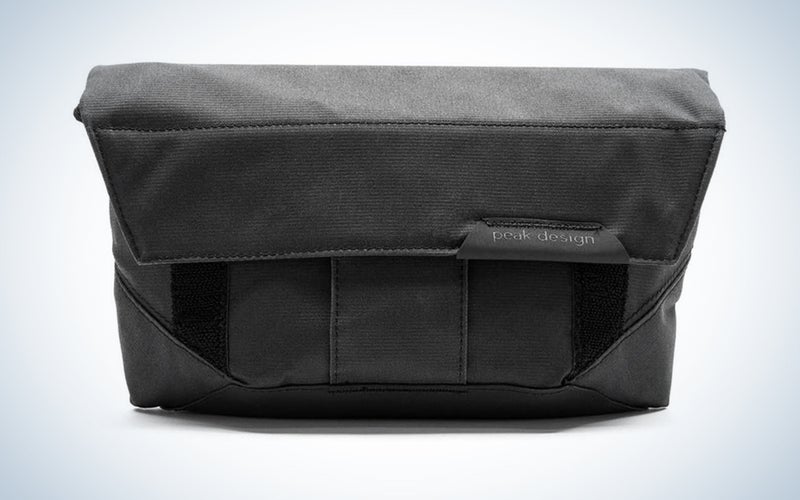 Peak Design has upped the design element with the stylish Field Pouch. In addition to keeping your lens safe this pouch has additional room for SD cards, batteries, and other camera accessories. It's made of 400D nylon canvas with DWR coating that repels water, has a roll-top design that makes it good for holding a lot or a little gear, and has loops on the back so that it can be attached to your belt, so your lenses are always in arms reach while you are shooting.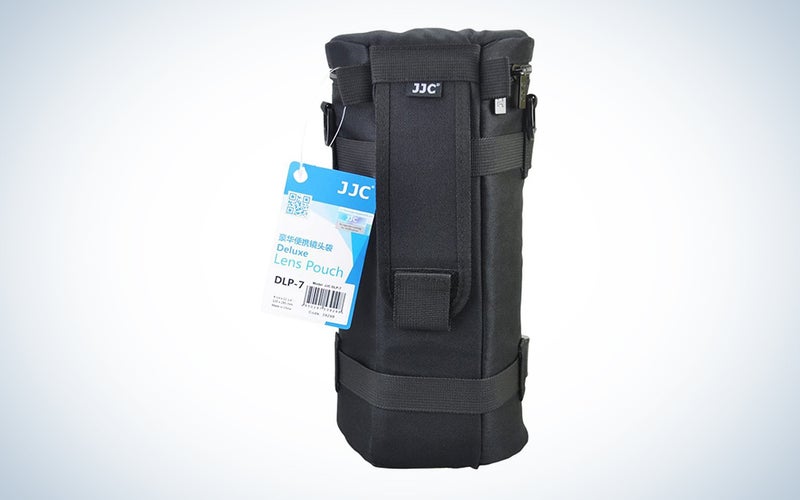 Large telephoto lenses that are 500-600mm need a lot more space than your standard focal lengths. This lens pouch is designed for your big (and usually expensive) pieces of glass in mind. It's water-resistant, has a mesh pocket inside the lid for storing your lens cap or body cap when the lens is in use, and is designed for lenses in the 150mm-600mm and 200-500mm range. It features rear double touch belt loops, webbed eyelet loops for a shoulder strap, or two d-rings for attaching a shoulder strap.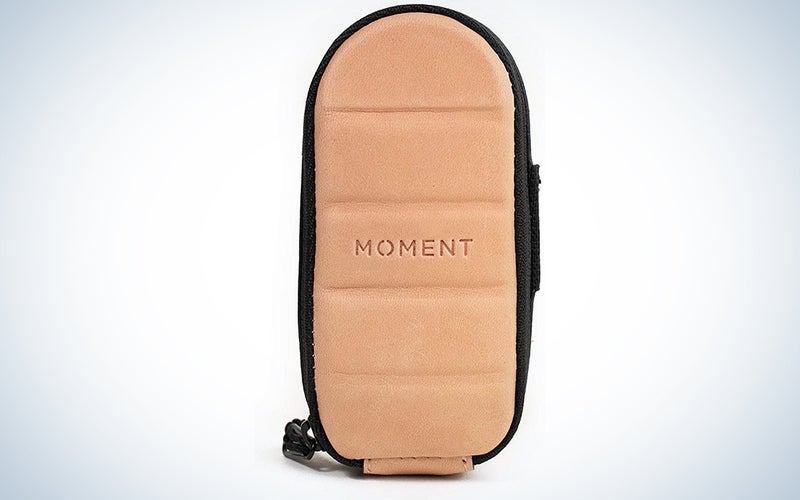 Little lenses designed to be used with your mobile phone are a lot more likely to get damaged if you aren't storing them in a lens pouch between use. This tiny pouch is designed specifically with them in mind. It can store two Moment Lenses, is weatherproof, and attaches to the straps of your backpack for easy access. This lens pouch is available in tan or black leather.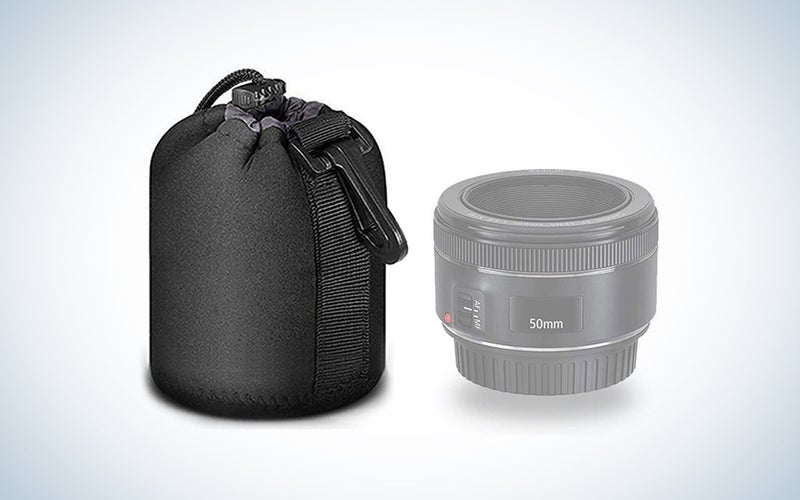 Selens neoprene lens pouch is a great low-cost option for smaller lenses. This one has a very simple design and lacks any soft inner lining found on more expensive lens pouches, but still provides protection against the weather. It has a belt loop and snap and swivel clip for transportation and a drawstring to keep it closed.
Things to consider when selecting the best camera lens cases
When shopping for the best camera lens cases or pouches, look for something that is made of waterproof or water-resistant material. Thick neoprene and nylon canvas are two very popular materials for lens pouches and are good for protecting your camera lenses from the elements. Most lens pouches are lined with a soft inner material as well. Look for something that either has a drawstring or zipper for closure—an open lens pouch won't do much good at keeping your lenses safe.
Many lens pouches feature belt loops so you can attach the lens pouch to your hip while you are shooting. This is a great way to keep your additional gear within arms reach and a much more attractive carrying solution to the old-school photography lens vests favored by journalists. Some lens pouches will feature small zippered pockets inside for storing lens caps and backs when you are shooting with the lenses.
The most important thing to keep in mind when shopping for a lens pouch is the size of the lenses that you will be stored in each pouch. Lens pouches come in a variety of sizes and if a lens is too big for the pouch or the pouch is too big for the lens the pouches aren't going to offer much protection to that precious piece of glass. These are some of our favorite lens pouches for keeping your gear safe.
FAQs
Q: What makes a good lens case?
Look for a lens pouch or case that is weather-resistant, has some kind of soft inner lining, and a way to securely close the pouch once the lens is inside of it. A lens pouch with belt loops will allow you to secure the pouch to your belt so it's easily accessible when you are shooting. Make sure you buy the correctly sized lens pouch for the lenses that you will be storing inside.
Q: What accessories do I need for my camera?
A camera body, a lens, a battery, and a memory card are the essentials for getting started with photography, but you will likely want to invest in some accessories for your collection. A camera bag and lens pouches will help keep your gear safe in transit and an upgraded strap will increase your comfort when shooting. A flash will let you do more in difficult lighting situations and adding lenses to your collection will make what you can do with your camera more versatile.
Q: What are the three essential camera lenses?
Choosing the correct camera lenses depends a lot on what you are planning to shoot. A 24-75mm telephoto lens is a versatile lens, it's the reason that it's often packaged with DSLR camera bodies. If you can afford it, it's worth investing in one that has a fast f/2.8 aperture, rather than the f/4 that most kit lenses have. A fast prime lens in 50mm or 35mm is an excellent second lens to have in your collection. A cheap 50mm (known as the nifty fifty) can be purchased for around $100. A standard third lens is a longer zoom, something in the 75mm-200mm range is plenty for most photographers. Storing your lenses in lens pouches when you aren't using them is a great way to protect your investment.
The best camera lens cases keep your gear safe so you can use it for years to come
The best camera lens cases come in all different sizes and you will want to make sure that you are selecting the right size for the lenses in your collections. Storing your lenses in lens pouches or cases will help keep them safe when you aren't shooting. Look for lens pouches that are water-resistant and padded. Lens pouches that are lined with something soft on the inside is an added bonus. A lens pouch with belt loops will allow you to store the lens on your hip while you are shooting, meaning that your extra gear will always be within arm's reach.